United States to acquire Thales' advanced ground segment technology to respond to distress signals
The United States (NOAA) has chosen Thales' ground station as part of the NOAA SARSAT system.
The contract includes one MEOLUT Next, engineering support and optional maintenance services for 2,5 years.
Based on Thales Alenia Space's powerful and compact MEOLUT Next phased array solution
Cannes, October 15, 2018 -  The National Oceanic and Atmospheric Administration (NOAA) in United States, has chosen Thales to develop and build an operational ground station in the southwest part of the country, at Holloman Air Force Base in New Mexico, to track Global Navigation Satellite System (GNSS) satellites* operating in medium Earth orbit (MEO). The ground station will receive and process 406 MHz distress beacon signals from the MEO satellites being tracked, and relay them to the US SARSAT (Search and Rescue Satellite Aided Tracking) program's Mission Control Center (USMCC), via US government communication links, for validation and distribution to rescue authorities. This ground station will be designated the National Oceanic and Atmospheric Administration's (NOAA) Southwest USA Medium-Earth Orbit Local User Terminal (SUSA MEOLUT), and will be an integral part of the MEO-based ground system operated by the USMCC.
SUSA MEOLUT will be working in conjunction with NOAA's two operational MEOLUTs, located at the US Coast Guard's (USCG) COMMSTA stations in Honolulu and Miami. It is expected to be an operational part of the NOAA SARSAT system on a 24/7 basis. The MEO system, which provides distress alert and location data for search and rescue (SAR) authorities in near real-time, uses spacecraft and ground facilities to detect and locate signals from the 406 MHz distress beacons.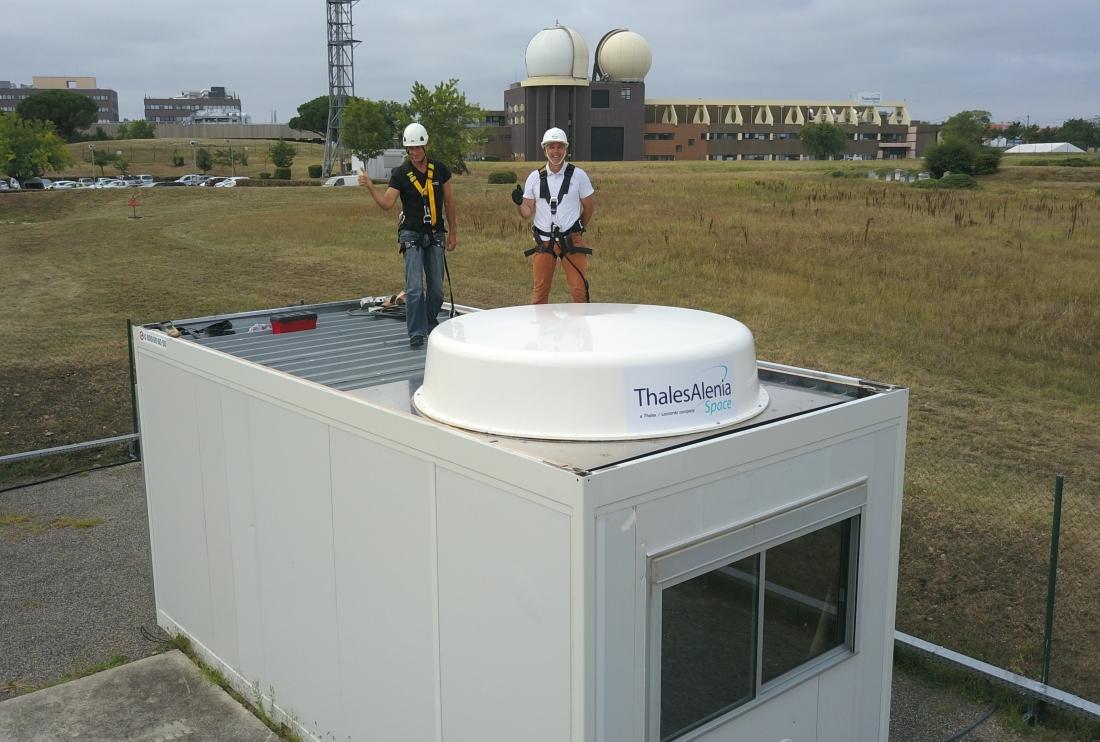 By deploying Thales Alenia Space's powerful and compact MEOLUT Next phased array solution, the United States will benefit from the world's first spaceborne search and rescue system of this type. Thales Alenia Space, a Joint Venture between Thales (67 %) and Leonardo (33 %), designs, designs, operates and delivers satellite-based systems for governments and institutions, helping them position and connect anyone or anything, everywhere. Since being commissioned in 2016, MEOLUT Next has delivered unrivaled performance, detecting distress signals from more than 5,000 km away. Both France, Europe, Canada and Togo have already ordered Thales Alenia Space's MEOLUT Next, and several more potential international customers are expected to announce their decisions shortly.
"We are confident that our solution will meet and exceed NOAA SARSAT's expectations, and provide decisive help to the UASA region," said Philippe Blatt, Vice President, Navigation France at Thales Alenia Space. "Today, MEOLUT Next is the only solution in the world capable of processing second-generation beacons in real time. Its operational efficiency was recently recognized by Space & Satellite Professionals International (SSPI) for its humanitarian contributions and the European Commission as well as governments of Togo and Canada have already selected this technology."
This new capability saves lives. On July 2, 2017 at 6:30 a.m., 70 kilometers off the coast of Sardinia, a 12-meter sailboat with three people aboard triggered its Cospas-Sarsat beacon when its rudder broke and its engine failed. Its VHF radio out of range, the sailors quickly realized they were in a critical situation with waves over four meters high and the wind blowing at 40 knots. MEOLUT Next was able to receive and process their distress signals in less than five minutes, providing accurate positioning to authorities. An airplane identified the boat less than two hours after the beacon was triggered and a helicopter airlifted the crew to safety, saving all three lives.
* GPS-USA, Galileo-European Commission, Glonass-Russian Federation, Beidou/Compass-China
Notes to Editor
COSPAS-SARSAT
Cospas-Sarsat is an intergovernmental organization of 44 Administrations around the world founded by Canada, France, Russia and the United States. Operational since 1988, this global satellite-based search and rescue distress alert detection and information distribution system is best known for detecting and locating emergency beacons activated by aircraft, ships and hikers in distress. Today, some ships, aircraft and multi-activity adventurers are equipped with respectively 1,000,000, 300,000 and 800,000 Cospas-Sarsat distress beacons. To date (2017), the Cospas-Sarsat service has saved more than 47,000 lives (currently around 2,500 per year).
MEOLUT Next
Conventional MEOLUT (Medium Earth Orbit Local User Terminal) systems use large parabolic antennas and are limited by how many satellite signals they can receive. Thales Alenia Space's MEOLUT Next solution is compact, measuring less than six square meters, with the ability to track up to 30 satellites, significantly enhancing the distress beacon detection rate while expanding the coverage zone. Since there are no mechanical components, hardware maintenance costs are the lowest on the market.
About Thales Alenia Space
Drawing on over 40 years of experience and a unique combination of skills, expertise and cultures, Thales Alenia Space delivers cost-effective solutions for telecommunications, navigation, Earth observation, environmental management, exploration, science and orbital infrastructures. Governments and private industry alike count on Thales Alenia Space to design satellite-based systems that provide anytime, anywhere connections and positioning, monitor our planet, enhance management of its resources, and explore our Solar System and beyond. Thales Alenia Space sees space as a new horizon, helping to build a better, more sustainable life on Earth. A joint venture between Thales (67%) and Leonardo (33%), Thales Alenia Space also teams up with Telespazio to form the parent companies' Space Alliance, which offers a complete range of services. Thales Alenia Space posted consolidated revenues of 2.6 billion euros in 2017 and has 7,980 employees in nine countries. www.thalesaleniaspace.com
Thales Alenia Space – Press Contacts:
Sandrine Bielecki   
Tel: +33 (0)492 927 094    
sandrine.bielecki@thalesaleniaspace.com
 
Chrystelle Dugimont
Tel: +33 (0)492 927 406
chrystelle.dugimont@thalesaleniaspace.com
Cinzia Marcanio    
Tel: +39 (0)641 512 685             
cinzia.marcanio@thalesaleniaspace.com