KT SAT and Thales Alenia Space sign contract for KOREASAT 6A communications satellite
Paris, September 12, 2022 – KT SAT Corporation Ltd. (KT SAT), the leading satellite service provider in South Korea, and Thales Alenia Space, the joint company between Thales (67%) and Leonardo (33%), signed the contract for the KOREASAT 6A communications satellite.
KOREASAT 6A will replace the current  KORESAT 6 satellite and will deliver both fixed satellite service (FSS) and broadcasting satellite service (BSS) to South Korea. It will be positioned in geostationary orbit at 116° East.
As program prime contractor, Thales Alenia Space is responsible for the design, construction, testing and ground delivery of the satellite, followed by orbital positioning and in-orbit testing services. In addition, Thales Alenia Space will train and support the customer's on-site engineering team and will provide operational assistance throughout the satellite's lifetime.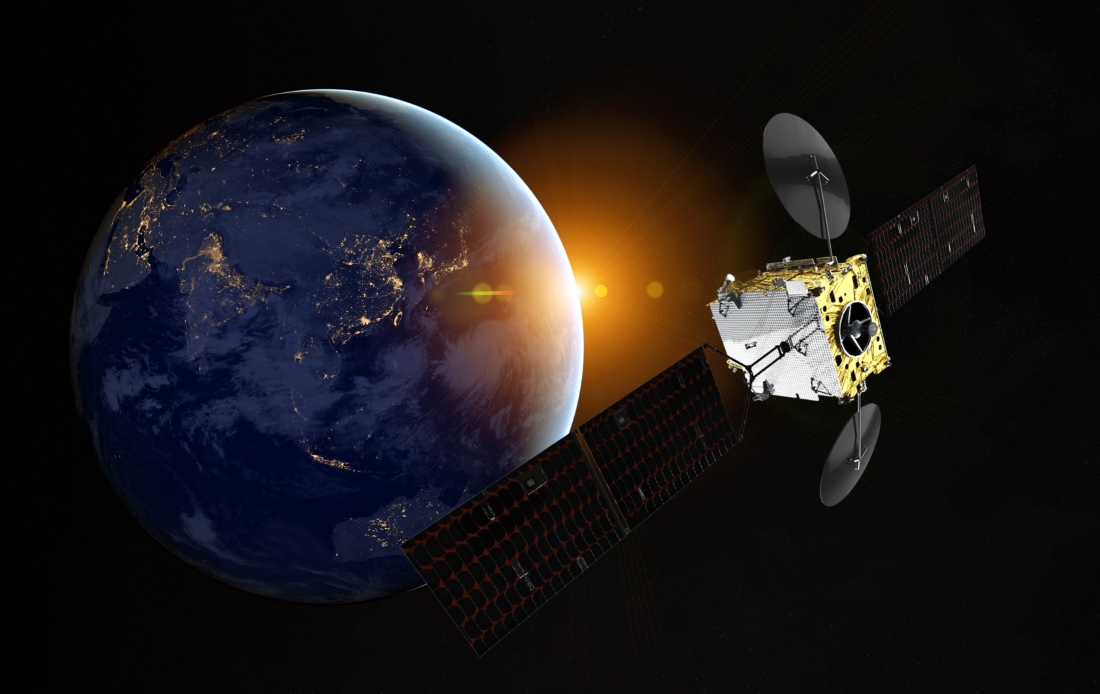 Built on Thales Alenia Space's proven Spacebus 4000B2 platform, KOREASAT 6A will be fitted with six BSS transponders and 20 FSS transponders to cover all of South Korea. Slated for delivery in the fourth quarter of 2024, KOREASAT 6A will weigh about 3.5 metric tons at launch and offers a design life of 15 years.
"I would like to thank KT SAT for their ongoing trust in Thales Alenia Space," said Hervé Derrey, President and CEO of Thales Alenia Space. "This contract opens a new chapter in the long-standing and successful collaboration between our companies: KOREASAT 6A is the fifth satellite to be built by Thales Alenia Space for KT SAT".  
David Kyungmin Song, CEO of KT SAT said "After running a competitive process with multiple bidders, We are very pleased to announce the selection of Thales Alenia Space for the construction of our new satellite. KOREASAT 6A will ensure KT SAT's ability to provide the highest quality satellite services to its loyal customers over the long-term. We are looking forward to achieving a sustainable growth in KT SAT's satellite business in cooperation with Thales Alenia Space. "
Illustration: © Thales Alenia Space/Briot
ABOUT KT SAT
Since the establishment of Kumsan Satellite Service Center in 1970, KT SAT (wholly owned by KT) has been leading Korea's broadcasting and telecommunication industry for over 50 years in Asia. KT SAT deploys a total of five satellites to provide user-customized services and global satellite coverage over Asia, the Middle East and Africa. KOREASAT reaches majority of regions where customers need satellite service, covering from Asia to Africa with C-band Hemi Beam and providing very high powered Ku-Band Regional Beam in South East Asia and Sub-Saharan Africa. Leveraging the abundant experience and expertise of a global operator, KT SAT provides high performance connectivity for broadcasting, data, and government services. www.ktsat.com
ABOUT THALES ALENIA SPACE
Drawing on over 40 years of experience and a unique combination of skills, expertise and cultures, Thales Alenia Space delivers cost-effective solutions for telecommunications, navigation, Earth observation, environmental management, exploration, science and orbital infrastructures. Governments and private industry alike count on Thales Alenia Space to design satellite-based systems that provide anytime, anywhere connections and positioning, monitor our planet, enhance management of its resources, and explore our Solar System and beyond. Thales Alenia Space sees space as a new horizon, helping to build a better, more sustainable life on Earth. A joint venture between Thales (67%) and Leonardo (33%), Thales Alenia Space also teams up with Telespazio to form the parent companies' Space Alliance, which offers a complete range of services. Thales Alenia Space posted consolidated revenues of approximately 2.15 billion euros in 2021 and has around 8,900 employees in 10 countries with 17 sites in Europe and a plant in the US.
THALES ALENIA SPACE – PRESS CONTACTS
Sandrine Bielecki    
Tel: +33 (0)4 92 92 70 94    
sandrine.bielecki@thalesaleniaspace.com
Catherine des Arcis    
Tel.: +33 (0)6 78 64 63 97    
catherine.des-arcis@thalesaleniaspace.com
Marija Kovac      
Tel: +39 (0)6 415 129 91            
marija.kovac-somministrato@thalesaleniaspace.com