Thales Alenia Space and British Astronaut Helen Sharman inspire students to fly their own science experiments on MARSBalloon 2021
Thales Alenia Space fosters children STEM ambitions with MARSBalloon project, that offers students the chance to design their own science experiments and test technologies that could one day be destined for Mars.
Bristol, March 12, 2021 – According to a survey commissioned by Thales in the UK to evaluate the impact of the pandemic on children's carrier aspirations, the result shows that a third more UK children (35 %) are inspired to pursue a future career in Science, Technology, Engineering and Mathematics (STEM).
2,000 children aged 5-16 across the UK, now consider a career as a doctor or nurse to be the most inspiring (29%) closely followed by an astronaut (25%).  Children have also been particularly engaged by scientific discoveries over the last 12 months, with parents citing health care workers (50%), the scientists behind making Covid-19 vaccine rollout (31%) and the Mars Rover landing (24%) as the events that have most inspired their children.
However, the research also showed that there are still barriers that exist prohibiting children from pursuing a career in STEM.
The top five barriers to a STEM career:
Not given enough information about a career in STEM – 38%
Parents don't know enough about a career in STEM to advise children – 33%
Not enough media coverage – 31%
Not enough role models – 28%
It's seen as too hard to succeed in  -  21%
Inspiring Future Martians
To provide students with the opportunity to channel their interest in STEM into action, Thales Alenia Space in the UK is launching its eighth annual MARSBalloon project – run by its team of enthusiastic graduate space engineers. In June 2021 the project will launch over 150 experiment capsules designed by UK school children up into the atmosphere via a high altitude balloon, testing student ideas for technologies that could one day be destined for Mars. The project is supported by Helen Sharman, the first British astronaut in space, who will be the perfect space exploration ambassador.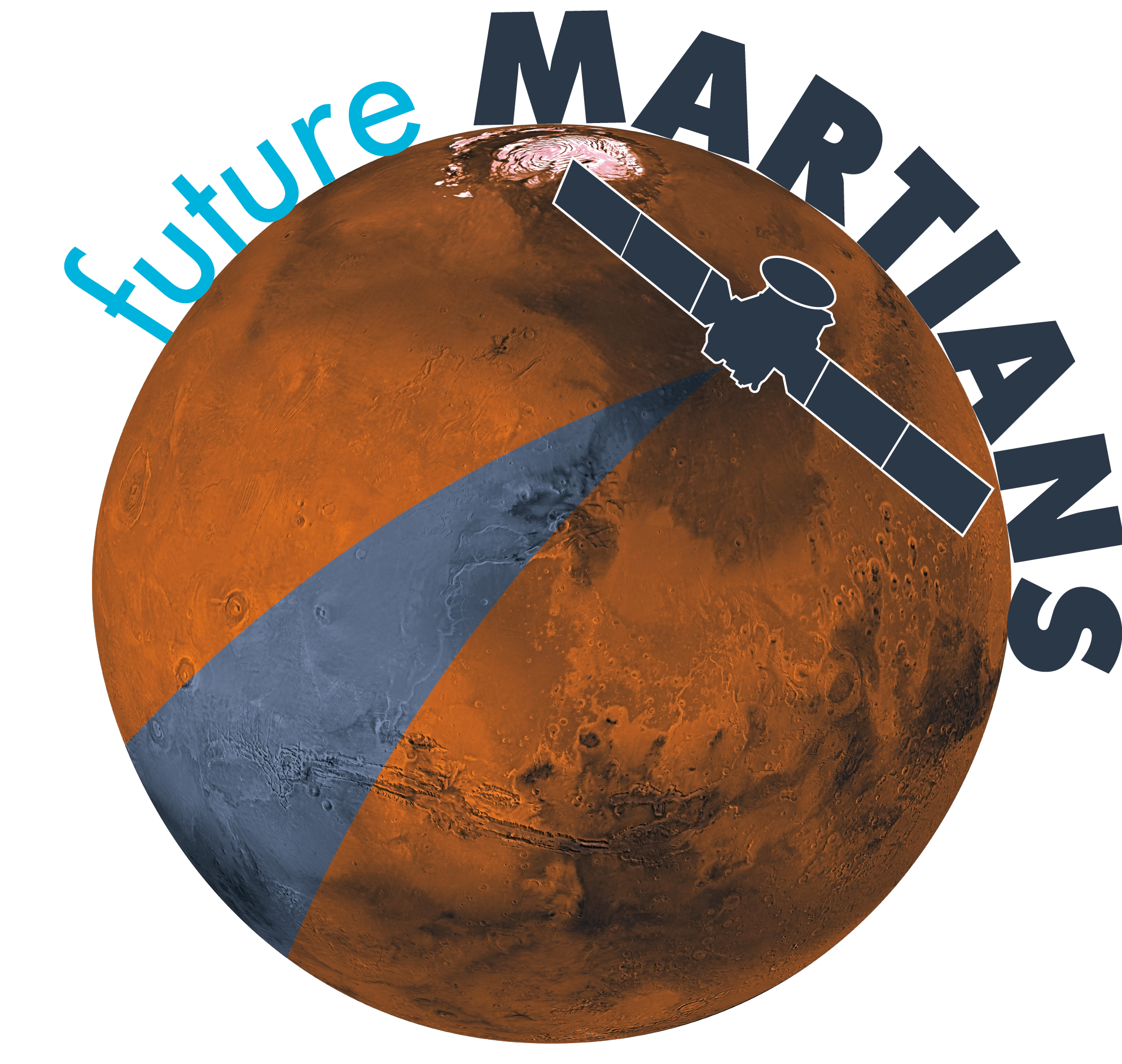 This project is open to any school in the UK. There is no cost to take part in the project other than that of experiment materials and postage. Students can work together to create Mars experiments that fit inside a Kinder Egg™ capsule, putting in anything from electronics, materials, seeds,  and even food. Previous examples of experiments include testing the effect of Martian conditions on rubber bands, ink, memory sticks and 3D printed materials.
During the launch the balloon will ascend to 30km, more than twice the height of commercial airliners, in approximately one hour. It will then burst and the experiment tray will return to Earth via a parachute. The experiments will be collected and returned to the schools for students to analyse the results.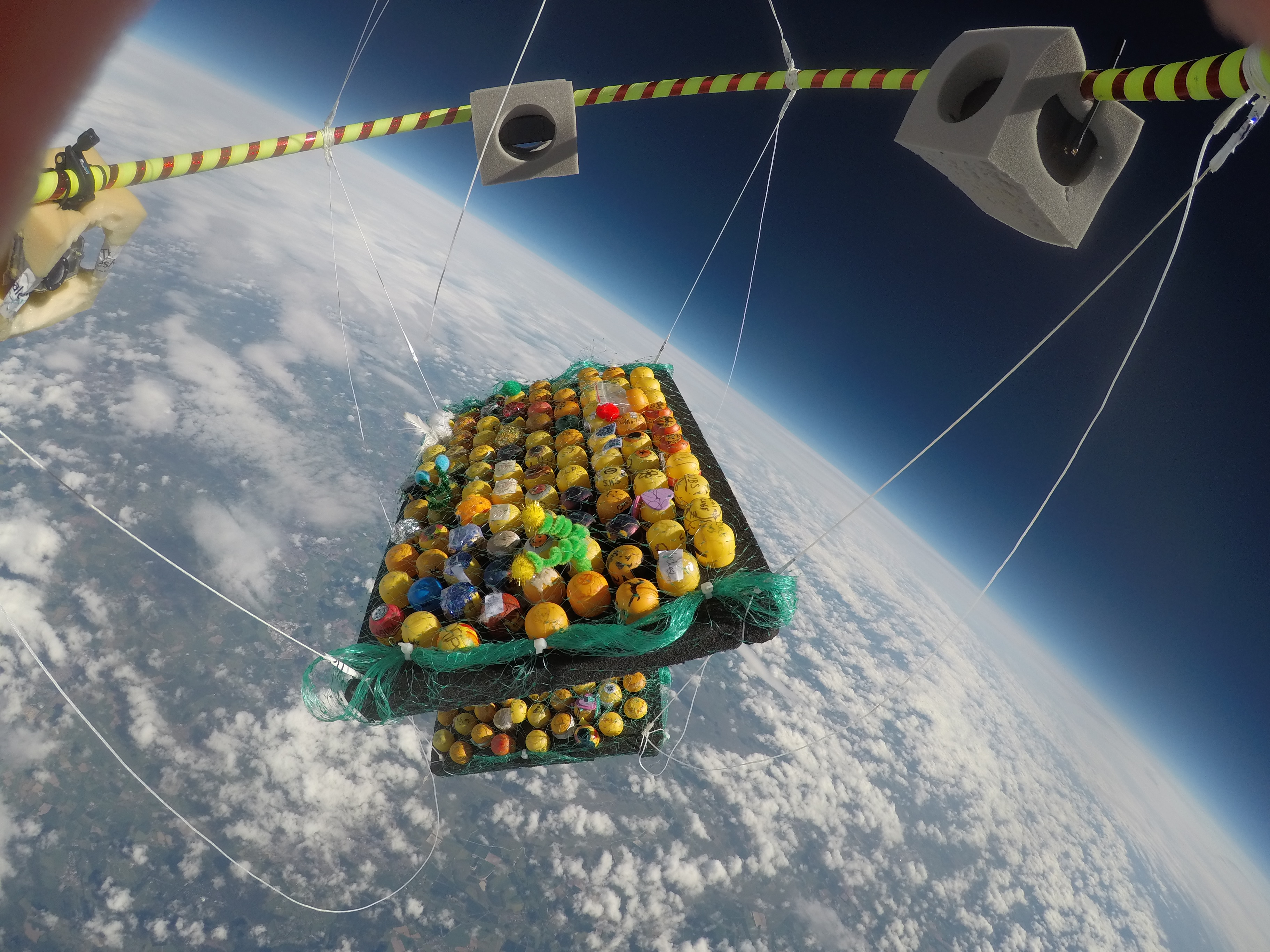 © Thales Alenia Space
The experiments will experience conditions very similar to the surface of Mars including temperatures as low as -50°C. This will allow students to test the response of electronics, materials, plants and even food to the conditions outside of a future Mars base, helping future explorers to prepare for this strange and hostile environment.
Helen Sharman CMG, OBE, HonFRSC, the first British astronaut in space, who said: "I am passionate about showing children how science is relevant to our lives and of course I believe space is one of the most exciting areas. So far humanity has launched 50 missions to the red planet and we are only just beginning to understand the planet's environment. It's entirely possible that Mars may be able to one day support a human colony, and it's crucial that a future generation of astronauts is inspired to try and overcome the biological and technological challenges in order to make that a reality. The MARSBallon project is helping to make space exploration tangible, accessible and most importantly fun!"
Andrew Stanniland CEO Thales Alenia Space in the UK said: "The Space industry, like many other industries across the UK, is acutely aware of the importance of attracting and retaining highly skilled people and the benefits of having a diverse workforce to innovate and prosper. We want to harness students' curiosity about the world around them from a young age by providing a fun, hands-on experience with MARSBalloon to encourage them on a path into a future career in STEM. The idea for the MARSBalloon was inspired by our own graduates because they wanted to show just how exciting and diverse careers in space, engineering and science can be. UK school teachers interested in entering their class or club can register now and help inspire the next generation of British scientists and astronauts like Helen Sharman."
Registrations on the MARSBalloon project are open until 1st April 2021. More information can be found on the project and how to register here and a teacher's pack here.
Thales Alenia Space at the heart of Space Exploration
Thales Alenia Space confirmed its European leadership in space exploration and its world leadership in pressurized space station modules, since it will be supplying three key parts of the lunar space station Gateway: I-HAB, ESPRIT and HALO. Gateway is part of NASA's Artemis program, designed to land a crew on lunar soil by 2024. This program will also support plans to send humans to Mars in the near future. The Company is also the only European company involved in the design of NASA's Human Landing System (HLS), as part of the Dynetics-led consortium recently selected by the American space agency NASA. The company will also be contributing to VIPER, the NASA rover designed to look for water at the Moon's South Pole.
In addition, Thales Alenia Space was chosen to build two modules for the first commercial space station planned by Axiom Space, and contributes to the Orion spacecraft.
Within the scope of program contracts awarded by the European Space Agency (ESA), Thales Alenia Space will play a major role in the Mars Sample Return (MSR) mission, it has won a design study contract for the Comet Interceptor mission, and will team up with AVIO to build Space Rider, Europe's autonomous and reusable space transport system.
Notes to editors.
*The research was carried out online by Research Without Barriers – RWB. All surveys were conducted between 4th March 2021 and 8th March 2021. The sample comprised 2,007 UK parents of 5-16 year-olds. All research conducted adheres to the UK Market Research Society (MRS) code of conduct (2019). RWB is registered with the Information Commissioner's Office and complies with the DPA (1998).
Positions on the MARSBalloon project positions are allocated on a first come first serve basis and registation is open until 1st April 2021. More information can be found on the project and how to register here and a teacher's pack here.
ABOUT THALES ALENIA SPACE
Drawing on over 40 years of experience and a unique combination of skills, expertise and cultures, Thales Alenia Space delivers cost-effective solutions for telecommunications, navigation, Earth observation, environmental management, exploration, science and orbital infrastructures. Governments and private industry alike count on Thales Alenia Space to design satellite-based systems that provide anytime, anywhere connections and positioning, monitor our planet, enhance management of its resources, and explore our Solar System and beyond. Thales Alenia Space sees space as a new horizon, helping to build a better, more sustainable life on Earth. A joint venture between Thales (67%) and Leonardo (33%), Thales Alenia Space also teams up with Telespazio to form the parent companies' Space Alliance, which offers a complete range of services. Thales Alenia Space posted consolidated revenues of approximately 2.15 billion euros in 2019 and has around 7,700 employees in nine countries. www.thalesaleniaspace.com
THALES ALENIA SPACE – PRESS CONTACTS
Jill Hutchinson       
Tel: +44 7854 959805       
jill.hutchinson@thalesaleniaspace.com
Sandrine Bielecki    
Tel: +33 (0)4 92 92 70 94    
sandrine.bielecki@thalesaleniaspace.com
Tarik Lahlou        
Tel: +33(0)6 87 95 89 56    
tarik.lahlou@thalesaleniaspace.com
Cinzia Marcanio            
Tel: +39 (0)6 415 126 85             
cinzia.marcanio@thalesaleniaspace.com
Marija Kovac            
Tel: +39 (0)6 415 129 91      
marija.kovac-somministrato@thalesaleniaspace.com
THALES UK – PRESS CONTACTS
Adrian Rondel               Tel: ++44 7971 414052              adrian.rondel@uk.thalesgroup.com