Thales Alenia Space, OHB System partner, reaches key milestone in development of Copernicus CO2M satellites
Contract amendment signed for development and qualification
of two payloads for the CO2M mission
Cannes, May 23, 2022 – Thales Alenia Space, a joint venture between Thales (67%) and Leonardo (33%), has signed an amendment to its CO2M contract worth €169 million with project prime contractor OHB System for the development and qualification of the payloads for the first two satellites in the CO2M mission, part of Europe's Copernicus program. Copernicus is the core satellite Earth-observation program of the European Commission and a cornerstone of the European Space Agency's (ESA) activities in this field, providing Earth-observation data for environmental protection, climate monitoring, natural disaster assessment and other social tasks.
The signature of this amendment marks a crucial milestone in the pursuit of the CO2M project to develop a European anthropogenic greenhouse gas monitoring capability. ESA has renewed its confidence in the ability of project partners OHB System and Thales Alenia Space to meet this challenge. The amendment paves the way for the qualification and development of two CO2M mission payloads: the Protoflight Model (PFM) and the Flight Model 2 (FM2). These two payloads will be delivered mid-2024 to OHB System for integration on the two satellites (PFM and FM2) scheduled to undergo their final reviews in October 2025.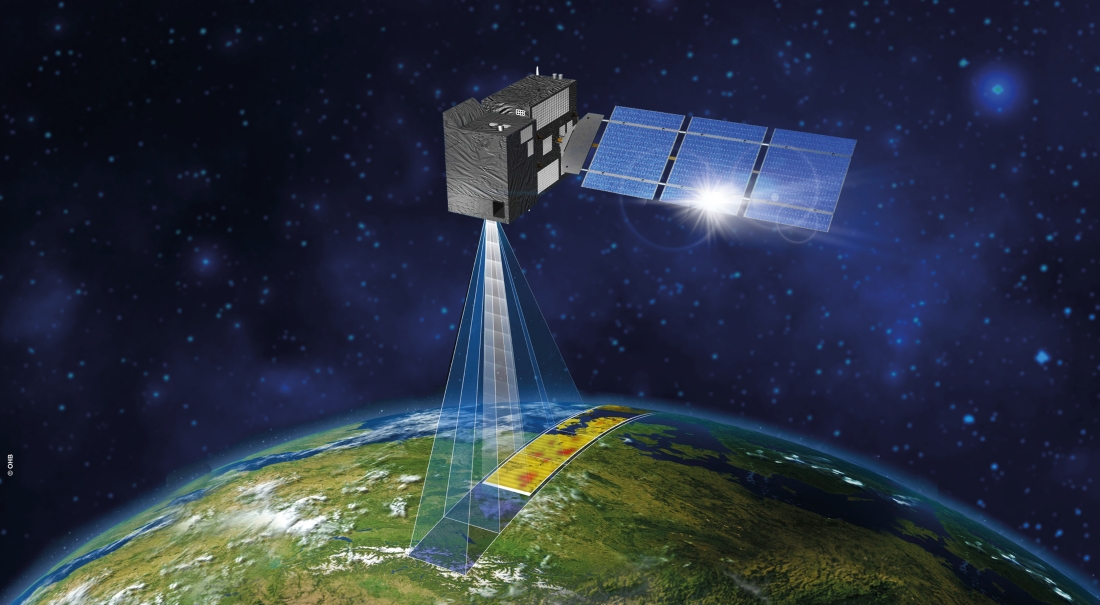 CO2M © OHB
 
The goal of the CO2M mission is to measure human-induced atmospheric carbon dioxide (and methane). These measurements will reduce current uncertainties in estimates of emissions of carbon dioxide from the combustion of fossil fuels at sub-continental scales. This will provide the EU with a unique and independent source of information to assess the effectiveness of public policies, and to track their impact on decarbonizing Europe and meeting national emissions reduction targets.
"We are proud to pursue the development of the Copernicus CO2M mission alongside ESA and OHB System," said Hervé Derrey, CEO of Thales Alenia Space. "Thales Alenia Space will continue to bring its flight-proven expertise in Earth observation to this mission, which is essential to meeting the ambitious goal of measuring atmospheric carbon dioxide produced by human activities."
Thales Alenia Space will deliver the payloads for the first two models (PFM and FM2) of the COM2 mission to OHB System mid-2024. Each payload will comprise three instruments:
-    A combined CO2/NO2 (carbon dioxide/nitrogen dioxide) instrument based on a near-infrared and shortwave-infrared spectrometer provided by Thales Alenia Space in France
-    A Multi-Angle Polarimeter (MAP) based on four identical cameras, contained in a dedicated optical unit, provided by Thales Alenia Space in the UK
-    A Cloud Imager (CLIM), derived from the flight-proven ProbaV instrument, provided by OIP Sensor Systems in Belgium
The CO2M payload will simultaneously deliver highly accurate measurements of CO2 and NO2 concentrations (with the CO2/NO2 instrument), measurements of aerosol density (with the MAP instrument) and cloud detection and mapping (using the CLIM instrument), thereby ensuring maximum accuracy and error corrections in CO2 concentration measurements.
CO2M will measure images of total column CO2 with the resolution, accuracy, time sampling and spatial coverage required to provide the key space component input of the Operational Anthropogenic CO2 Emissions Monitoring & Verification Support (MVS) Capacity.
The atmospheric measurements made by the combination of satellites and in-situ networks, especially CO2M, will provide Europe with a unique operational capability that will contribute to the global monitoring of fossil CO2 emissions1 , meaning CO2 emissions arising from anthropogenic activities, add carbon in the climate system with a huge impact on climate change.
More about industrial contributions
Leonardo will provide the attitude sensors (SPACESTAR). Thales Alenia Space in Spain will provide the S-band transponder (SBT) and the Instrument Control Unit (ICU), Thales SESO the collimator and the mirror VIS&NIR SPA imagers, and Thales Alenia Space in Switzerland the telescope and the 2D slit.
1 Sum of CO2 emissions from fossil fuel combustion, process CO2 emissions from cement production, process CO2 emissions from metal (ferrous and non-ferrous) production, CO2 emissions from urea production, urea application and agricultural lime, emissions from the combustion of biofuel (carbon-neutral over one year) and from land use, land-use change and forestry (including large-scale biomass burning of forest or peat fires).
ABOUT THALES ALENIA SPACE
Drawing on over 40 years of experience and a unique combination of skills, expertise and cultures, Thales Alenia Space delivers cost-effective solutions for telecommunications, navigation, Earth observation, environmental management, exploration, science and orbital infrastructures. Governments and private industry alike count on Thales Alenia Space to design satellite-based systems that provide anytime, anywhere connections and positioning, monitor our planet, enhance management of its resources, and explore our Solar System and beyond. Thales Alenia Space sees space as a new horizon, helping to build a better, more sustainable life on Earth. A joint venture between Thales (67%) and Leonardo (33%), Thales Alenia Space also teams up with Telespazio to form the parent companies' Space Alliance, which offers a complete range of services. Thales Alenia Space posted consolidated revenues of approximately 2.15 billion euros in 2021 and has around 8,900 employees in 10 countries with 17 sites in Europe and a plant in the US.
THALES ALENIA SPACE – PRESS CONTACTS
Tarik Lahlou        
Tel: +33 (0) 5 34 35 35 67    
tarik.lahlou@thalesaleniaspace.com
Catherine des Arcis    
Tel: +33 (0)4 92 92 72 82    
catherine.des-arcis@thalesaleniaspace.com