Thales and Dubai Roads and Transport Authority save 15% energy of Dubai metro
Rail transportation is widely known as an excellent alternative for energy efficiency. Thales has developed an Automatic Train Control system, which uses smart and efficient algorithms. These algorithms enable a driverless train to follow optimized running curves - to save energy while improving punctuality.

In partnership with RTA, Thales has achieved significant energy savings on Dubai Metro lines. The percentage achieved in real Dubai Metro operation conditions has reached 15%.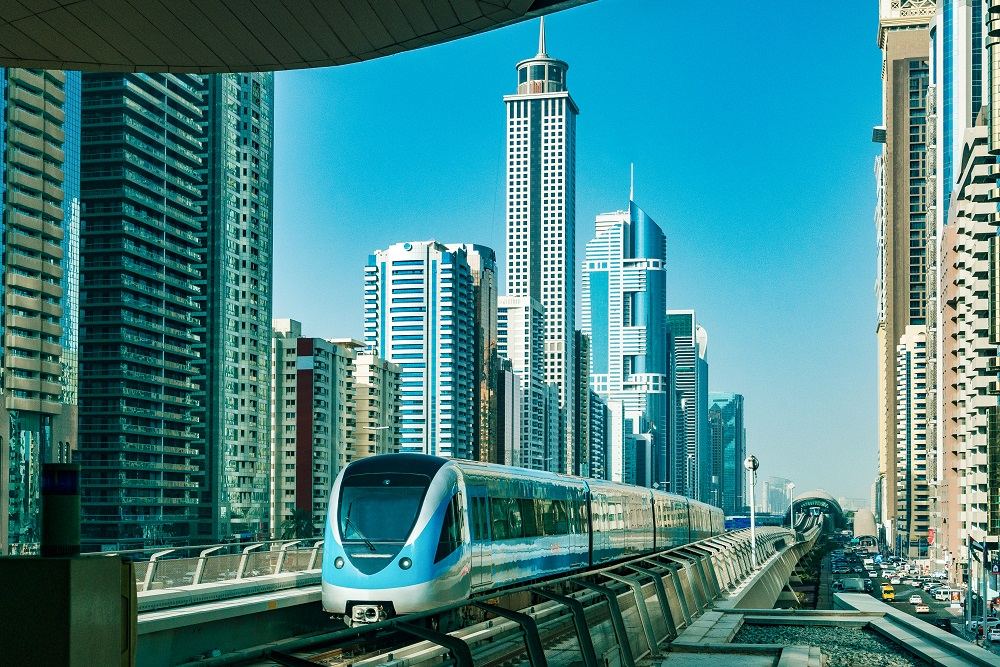 In service since 2009, the Dubai Metro is the longest driverless metro in the world, offering optimal life-cycle costs due to low maintenance overheads and operating costs. It is equipped with an entire package of Thales solutions including SelTracTM CBTC signalling solution.
Thales ATC system (Automatic Train Control) has smart algorithms on how an automatic driverless train is driven following optimized running curves to achieve ​ energy savings results with minimum negligible impact on the travel time. It is using ​ coasting techniques in ​ predefined locations between the stations, which are carefully selected and optimized. The topography of the lines and the train speed at different locations of the metro lines are fully integrated in the software getting maximum use of train coasting mode.
In July 2022, Thales demonstrated in partnership with RTA, significant energy savings on Dubai Metro lines. The function is flexible and configurable. The Operator can decide to enable it or disable it. The function can also be used during the preparation of the Timetable and hence energy saving is achieved automatically using a pre-defined Timetable.
The percentage of Energy saving achieved in real Dubai Metro operation conditions has reached 15%. The impact on the travel time is negligible. This is a clear tangible contribution towards minimizing the carbon footprint in the environment, in line with Dubai Government aspirations and directives, and reduces the RTA electricity costs considerably.
This innovation is of paramount importance to RTA and Thales, both partners have shared views and full engagement in reducing their carbon footprint. This concrete and measurable success demonstrate once again both entities environmental social responsibility and commitment to be active actors for a sustainable and greener future.
"We are endeavoring to achieve record levels of sustainability across all metro operations and related facilities. The operation of the metro requires meticulous plans and processes in line with the top globalstandards of the industry to ensure the highest rates of quality, health, safety and environment (QHSE) and enhance the sustainability of operations. Such a drive is also compatible with RTA's vision to become 'the World Leader in Seamless & Sustainable Mobility'. Energy saving in any entity constitutes an environmental responsibility and this goal is achievable through a variety of initiatives relating to the maintenance and replacement as well as the investment in power-saving technology." - Abdul Mohsin Kalbat, CEO of RTA's Rail Agency
"At Thales UAE, we are working hard to contribute to Thales Environmental, Social and Governance (ESG) strategy through three pillars: making the world safer, greener and more inclusive. We are very proud to be working with RTA to support the Vision of its wise leadership to achieve the sustainable development goals. For the UAE, Thales is committed to building a future that we can all trust through industry, innovation and education" - Bernard Roux, CEO of Thales in UAE
This RTA and Thales success is one among other innovations and initiatives that both historical partners are collaborating on, the two entities are continuously striving to realise meaningful technical innovation to increase the metro efficiency, the passenger's happiness and experience. The new leading technologies such as AI, Machine Learning, Big Data/Predictive Analytics Edge Computing, etc. are thoroughly investigated for concrete applications to the urban rail industry for a smarter, safer and greener future.