Thales and Etihad Rail sign a Memorandum of Understanding to support sustainable transportation projects in the Middle East
This MoU will allow Thales and Etihad Rail to develop a collaboration on rail control, smart stations and ticketing technologies. ​

This collaboration is part of Etihad Rail's determination to develop technologies that support achieving smart and sustainable mobility.

Thales digital solutions contribute to green mobility by reducing by up to 15% CO2 emissions from the metro and railway stations.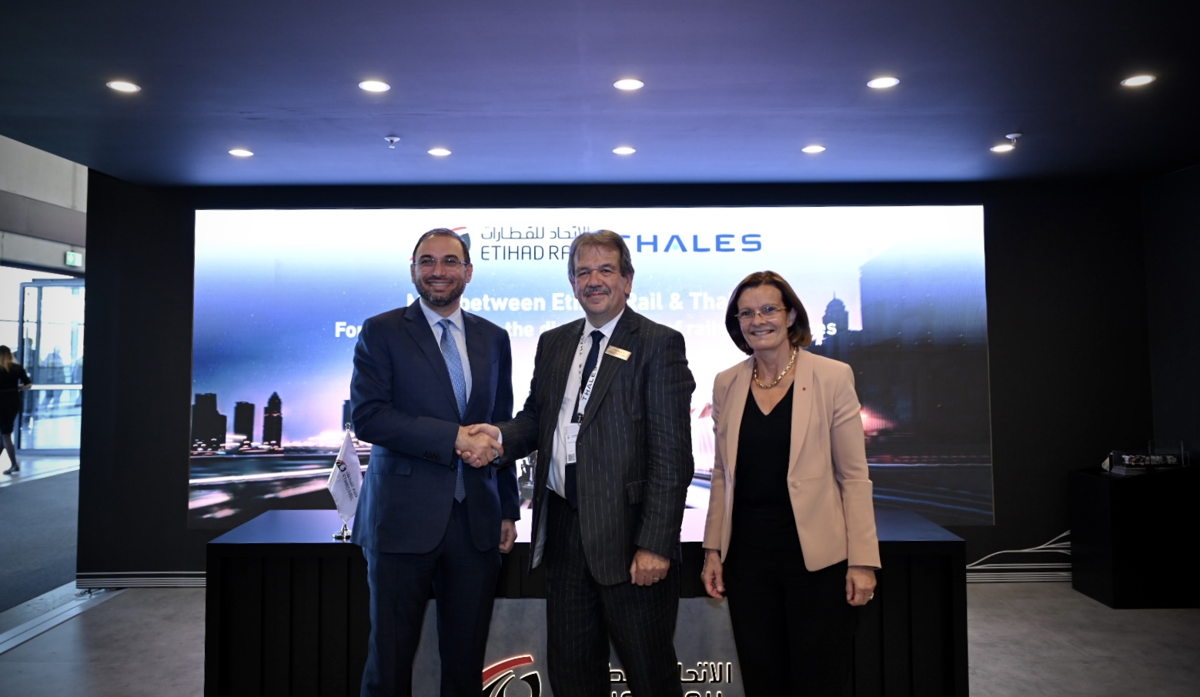 The signing took place during InnoTrans exhibition in Berlin and was signed by officials from both sides. ​
With the aim to support the UAE's economic development and the growth of the rail industry in the UAE and the region, Etihad Rail has decided to sign a MoU with Thales. Through this association, the two parties will collaborate in various areas, which include: new generation rail control; European Train Control System (ETCS) Level 3; driver advisory system; intelligent traffic operation; asset management; real time passenger flow; data driven operation control centre; video analytics; connectivity and passenger entertainment system; booking and ticketing system, and mobility and integration solutions between various modes of transport.
"We are very pleased to sign this MoU with Etihad Rail. This new partnership demonstrates the key partner role played by Thales throughout the world to help its customers meet the challenges they have to face. It proves also the high recognition of Thales expertise in rail domain. Finally, this collaboration will represent a significant step to highlight Thales presence in the Middle East region." - Millar Crawford, Executive Vice-President, Ground Transportation Systems, Thales
As a partner, Thales is proud to work hand in hand with major transportation operators all around the world to develop technologies and help them meet the challenges they encounter.
"We are delighted to sign a MoU with Thales, which will support us to achieve our mission of developing and operating a rail network that incorporates state-of-the-art technologies and provides safe, sustainable, and reliable solutions. Through this partnership, we assure our clients that we are developing the UAE National Rail Network as per the highest international standards, to meet their requirements and support them in meeting their business objectives, driving a sustainable, resilient, and cost-effective supply chain." - Ahmed Al Musawa, Executive Director of Passenger Sector, Etihad Rail
* Tracking Transport 2020. IEA. May 2020, https://www.iea.org/reports/tracking-transport-2020