The people we all rely on to make the world go round – they rely on Thales. In a world that is increasingly fast paced, unpredictable and full of opportunities, they come to us with big ambitions: to make life better and to keep us safer.
Combining a unique diversity of expertise, talents and cultures, our architects design and deliver extraordinary high technology solutions. Solutions that make tomorrow possible, today. From the bottom of the oceans to the depth of space and cyberspace, we help our customers think smarter and act faster - mastering ever greater complexity and every decisive moment along the way. Whatever it takes.
years we've been operating in Romania
Employees including R&D engineers
Thales is  expanding its presence in Romania through the development of a Group Engineering Competence Centre (ECC), reinforcing its position as a leader in all its markets. The ECC will deliver solutions beyond ground transportation, in a number of core Thales business areas, from space and defence, to security and aeronautics.
The ECC delivers a first class Thales engineering capability in Romania thanks to the existing ecosystem of skilled engineers and the agile environment that Bucharest has to offer. Both the needs of the local market and export markets will be catered for, meaning those who join Thales will have the opportunity of working on diverse projects with a high level of complexity, innovating in all the different markets we are present in.
As a global technology leader, Thales has the capabilities, the strength and desire to address new challenges and new opportunities ahead in Romania. With our engineers and researchers, we have unparalleled capability to design and deploy equipment, systems, and services to meet the most complex security requirements. Thanks to the Bucharest-based Competence Centre, we will have a greater capability to serve Romania's ambitions.
Building on its position as a leader in the rail transport industry, Thales in Romania is diversifying its activities to become a front runner in all of our core markets. Our Engineering Centre in Bucharest is becoming a strategic site in Thales Group, with high-level projects and career opportunities across all of our businesses: Defense, Security, Space, Aerospace and Ground Transportation.  The highly skilled engineers and talented researchers Romania has to offer will provide the capability to deliver the best, innovative and digital solutions to our customers, both locally and globally.

Pierre-Eric Pommellet,ex-Chief Operating Officer, Thales Group.
Science & Technology
Thales's international growth strategy is based on the development of world-class expertise as close as possible to its customers. In Romania, Thales set up Thales Systems Romania (SRL), initially to meet the needs of the local rail sector. Today the company specialises in software development for rail transport and is contributing to Thales's activities in international markets including Austria, Finland, Germany, Norway, South Africa and Spain.
In the field of science and technology, Thales in Romania is involved in the European laser research project ELI-NP (Extreme Light Infrastructure-Nuclear Physics), responsible for the turnkey development and supply of a complex scientific instrument.  Providing its Romanian partners with a high-power laser system that will deliver the highest power in the world, 2x10 Petawatts (i.e. 20 million billion watts), Thales has also developed a special technical and scientific training programme to train our local engineers and technicians to install and operate the system for European research programmes. The laser was installed at Romania's nuclear physics institute (IFN-HH) in Magurele, near Bucharest, 2016 and it will be fully functional in 2019.
Defence and security
 
Building on its strong ties with Romania in civil markets, Thales is seeking to expand its defence and security activities to support the modernisation of the armed forces and security services. As a trusted partner of the Romanian armed forces, Thales supplies tactical radio systems and a secure military tele-communications network. In 2013, the Romanian Navy selected Thales to supply an airborne anti-submarine warfare system.  The Group is also a major player in cybersecurity and a leading supplier of Hardware Security Modules to protect data transfers.
Digital Identity & Security  
 Some of our references in Romania are:
Romanian electronic passports including enrollment and personalisation equipment and application
Banking payment cards and digital banking solutions to several banks in Romania,
Passport readers for government and commercial applications
G2 Tachograph digital cards for local drivers in accordance with  EU regulation  165/2014
Working primarily with mobile network operators (MNO) since the inception of mobile telecom services in Romania
PKI solutions for various governmental and commercial entities in Romania
Remote/digital signing for telekom operators 
Digital tokens for government and commercial applications
Transportation
Thales GTS  supplies signalling solutions for main line and urban rail systems, integrated communications and supervision systems, revenue collection systems and associated services. Countries, cities and transport operators rely on Thales' ground transportation solutions to adapt to rapid urbanization and meet new mobility demands – locally, between cities and across national frontiers.
Our expertise in signalling, communications, fare collection and cybersecurity gives people and goods the connected journey they need to move safely and efficiently. And no matter how challenging the project, we stay by your side, committed to helping you creating the digital railways of the future.
With more than 20 years' experience on the Romanian market, Thales rail signalling solutions  revitalise existing rail networks and ensure greenfield installations start off right. Thales won multiple signaling projects to refurbish CFR Romanian legacy systems, that increased the capacity of  passenger and freight networks, and accompany CFR to build future network.
As of January 2019, Thales in Romania has moved to a brand new state of the art office in the Orhideea Towers, one of the most modern and popular office complexes in the Western part of Bucharest city centre. This move represents the fast pace at which Thales in Romania is growing and the desire to provide employees with the best working environment possible. One of the advantages of being in this area is the close proximity to the Politechnica University of Bucharest, one of our key university partners.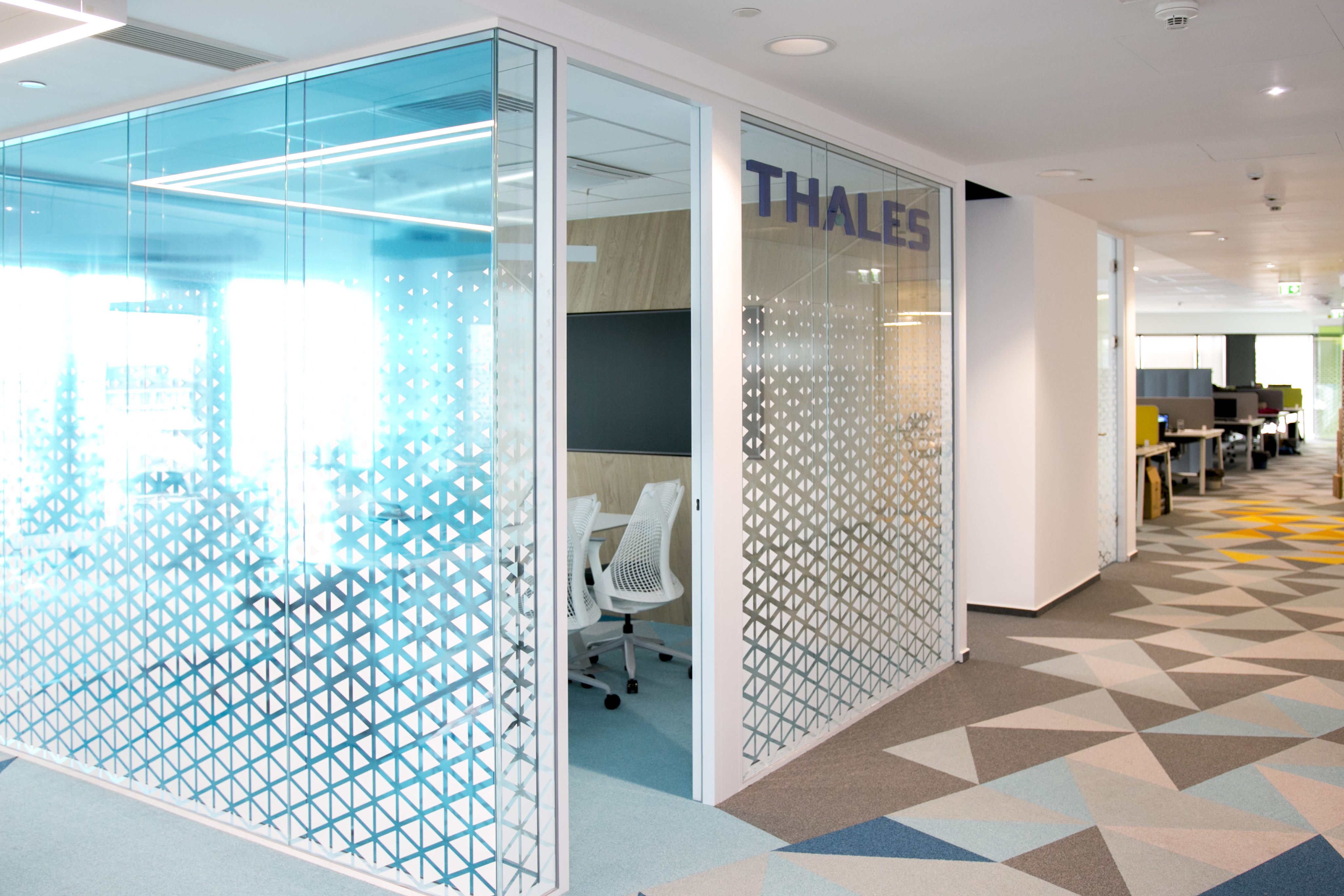 Thales Romania is not just growing fast, but is also gaining a central role within the Thales group. We need a working space that stimulates creativity and networking, which is adapted to the young professional's expectations. This is very much in our philosophy that people need a comfortable and friendly working environment. The new premises are spacious, ideally located near the City's center, easily accessible and featuring all the modern day amenities. We are looking forward to welcoming you to our new offices.

Silviu Agapi, Country Director for Thales in Romania