Thales, together with its partner Diehl Aerospace, offers a shipset of dissimilar computers optimized for Fly By Wire (FBW) flight control architectures of eVTOLs and electric fixed wing aircraft.
Thales' solution is ideal for a wide variety of Vertical Takeoff and Landing (VTOL) vehicle designs: lifterpusher, thrust-conversion, multicopter and tilt-wing. Thales'solution is also perfectly adaptable to light fixed wing aircraft, regardless of its propulsion system.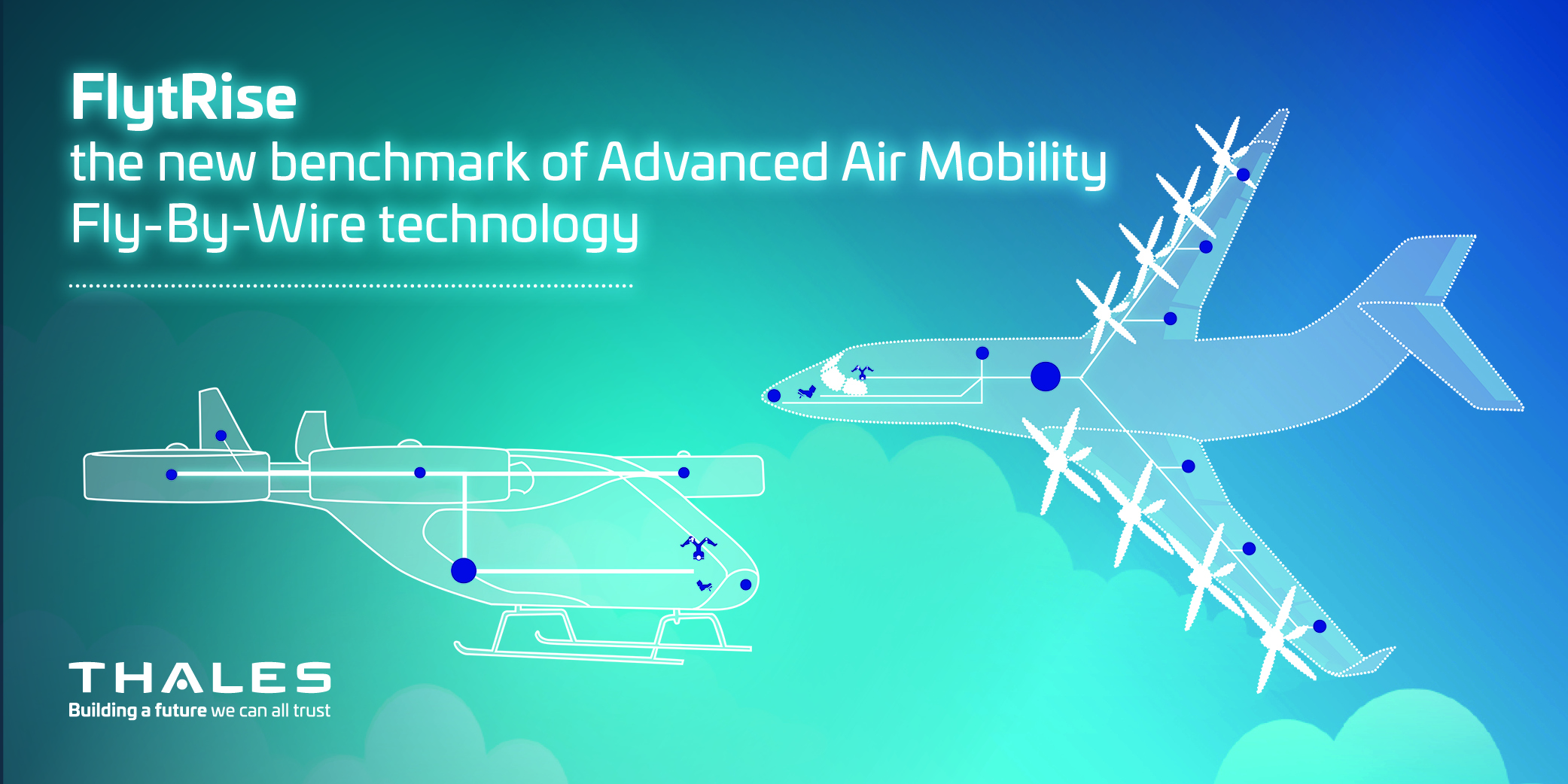 Compact and lightweight flight controller meeting the highest safety standards
FlytRise solution consists of three primary flight control computers (eFCC) and one secondary flight control computer (eBFCU) in a typical configuration. Together, they provide a high integrity, high availability computing platform satisfying the highest safety objectives required by certification authorities.
The eFCC is designed and manufactured by Thales while the eBFCU is provided by Diehl Aerospace. The result is a flight control platform with fully dissimilar units, offering the highest level of availability and common mode failure robustness, easing the certification process.
These units' core functionality is to process flight control laws ensuring the control, stability, and envelope protection of the aircraft. In addition, their processing power is sized to accommodate additional pilot assistance, avionics and autonomy functions. Both the eFCC and eBFCU integrate a large number of interfaces providing maximum flexibility to airframers while eliminating the need for additional onboard electronics.
Fly by wire to improve airplane, electric jet and air taxi performance
Flight control systems are critical to flight safety, calculating and adjusting the position of the aircraft's control surfaces and managing engine thrust. Electrical flight control systems are progressively replacing conventional mechanical systems and offer significant advantages in terms of safety, performance and reliability, as well as reducing aircraft weight and improving passenger comfort.
Flight Controls for e-VTOL and electric fixed wing aircraft to ease certification
FlytRise combines a unique solution based on fully dissimilar computers that guarantees an ultimate common mode robustness. Both equipment offer the highest level of integrity for urban and commercial operations to provide efficiency and availability. Together with the development environment provided by Thales with successful certification processes for the last 40 years, FlytRise is the right path to certification.
Thales FlytRise will fly onboard the CityAirbus
Drawing on its long-standing experience of electrical flight controls, which dates back to the 1980s with the pioneering fly-by-wire systems for the Airbus A310, and with a total of 12,000 aircraft equipped to date, Thales is joining Airbus and Diehl to write the next chapter in the future of air mobility.
The fully electric CityAirbus NextGen is designed to carry up to 4 passengers in a zero emissions flight in multiple applications. CityAirbus is being developed to fly with a 80 km range and to reach a cruise speed of 120 km/h, making it perfectly suited for operations in major cities for a variety of missions.
It is optimized for hover and cruise efficiency, while not requiring moving surfaces or tilting parts during transition. Designed with simplicity in mind, CityAirbus NextGen will offer best-in-class economic performance in operations and support. Its first flight of a prototype is planned for 2023.