Unique combined certified avionics and tactical mission capability
FlytX  Retrofit for Mission Helicopter combines piloting and mission information in front of tactical airborne operators. It upgrades helicopter flight decks with an innovative touchscreen display solution and connects with all your existing sensors. The future of aviation is now! 
FlytX is a turnkey and customizable solution for civil, military and para-public helicopter modernization on models such as: 
AS550 / AS355 / H125 / H125M
EC135 / EC145
B412EP / B412SP
AS532
Mi-8/Mi-17
Example of EC135 cockpit easily upgraded with a large touchscreen display
Avionics cockpit upgrade to improve your mission
FlytX Retrofit for Mission Helicopter is a solution with a single large avionics touchscreen display to upgrade your aging helicopter cockpit and to dramatically increase crew efficiency. It is designed to merge avionics and mission needs for tactical airborne operators in front cockpit stations (Emergency First Responders & Military) by displaying Tactical Map and EOS integration, Electronic Warfare System, Primary Flight Display, Mission Radio Management System, etc.
The applications used and screen layout (half or full display) can be changed at any time during the mission depending on mission phases using icon shortcuts.
FlytX Retrofit for Mission Helicopter solves obsolescence and regulation mandates such as Traffic Advisory capability. This flight deck upgrade significantly increases Flight Safety and delivers new levels of operational efficiency.
The new way to operate with FlytX innovative connected solution
Each mission helicopter operator has their own applications hosted on tablet, mission computer or ground center servers and connected to the operator's network (of which 4G and LTE).
FlytX offers the ability to connect any third party or operator applications to the cockpit and interface with it directly on the 15-inch large touchscreen display ensuring total segregation from the avionics world (safety and cybersecurity). The use of tablet-like interaction has made it possible to bring consumer world interfaces to the avionics world (two-finger zoom/de-zoom, map displacement and scrolling).
With FlytX, the pilots may choose the applications needed to share them directly on the avionics display whatever the necessary functions and applications, coming from the consumer world or the professional one, from air navigation to interactive or raster maps. This applies both to applications we already use today and future ones.
Half PDF & Nav Apps.displays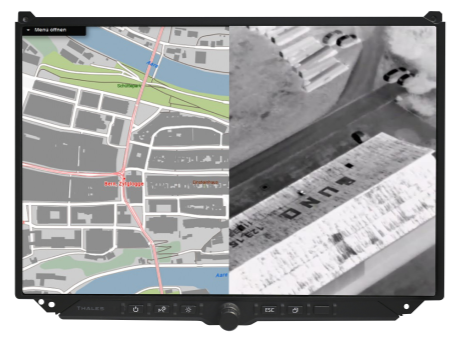 Half Mission Apps & EOS displays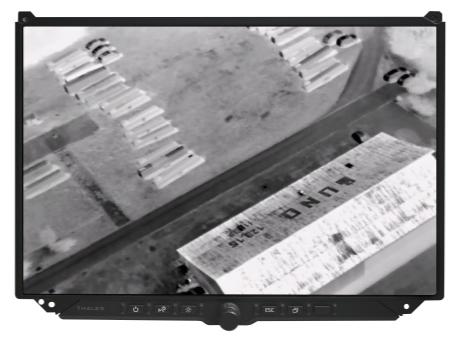 Full EOS display
A single large display to save downtime and installation costs
FlytX Retrofit for Mission Helicopter is a turnkey solution, affordable and easy to install in different-sized cockpit thanks to its 15-inch integrated modular avionics display hosting all computing functions. This unique property dispenses from the addition of dedicated mission LRUs and reduces weight, space and installation costs. Moreover, the virtualization of control panels, moving from buttons to touch interactions, has brought additional gains in weight and LRUs.
Example of AS550 cockpit upgrade
Customizable with existing equipment
FlytX Retrofit for Mission Helicopter is designed to be integrated easily in customer cockpits and to interface with existing sensors. The modification kit does not impact safety-critical assets (AutoPilot, Flight Controls), engine, and vehicle parameters to minimize certification risks and collateral impacts.
The upgrade kit can be connected with all sensors, external equipment and mission assets already installed on board the helicopter.
Installation can be performed by the customer's MRO, local integrator or military maintenance facilities with the support of Thales.
The future of aviation is now.