Multi Mission All-in-one – Know your threats
Saturated battle spaces can significantly challenge armed forces' ability to gather accurate information on all potential threats. Yet, for accurate Airspace Protection the key is in the detail. A Multi-mission medium-range radar offering more time-on-target, such as the Ground Master Multi Mission All-in-one (GM200 MM/A), are a real game changer to protection on the ground. 
Watch out for the pinpoint detail
In today's theatres of operations armed forces face high intensity, fast paced threats environments. The growing presence of Unmanned Aerial Vehicles (UAV) is of particular concern. No longer only used as Intelligence, Reconnaissance and Surveillance (ISR) assets, UAVs are deployed increasingly as armed swarms, capable of adding to the clutter of Rocket, Artillery and Mortar (RAM) to saturate adversary defences. 
Building on the proven success of the Ground Master 200 (GM200), the GM200 MM/A has been designed to increase the GM 200's performances by 40 percent. It has been fitted with Thales 4D AESA technology (also found in the GM200 MM/C, NS50, NS100, NS200, SM400, SMART-L MM, Ground Fire, Sea Fire) that gives it unrestricted multi-beam steering flexibility in elevation and bearing. 
This powerful technology greatly enhances the ability of armed forces to face ever more complex and high-threat environments. By enhancing detection, identification and tracking of targets that are becoming increasingly small, agile and very low flying, whether fast or slow, the GM200 MM/A offers operators more time-on-target to see threats in greater detail.
Ground Master 200 Multi Mission All-in-one (GM200 MM/A) - a real game changer to protection on the ground.
Tackle your mission with confidence
One of the latest additions to the GM200 family of multi-mission radars, the GM200 MM/A also offers the same advantages as the GM200. 
As an efficient multi-mission Medium-Range Radar, it also provides air defence weapon co-ordination for Very Short Range Air Defence (VSHORAD) up to Medium-Range Air Defence (MRAD) Surface to Air Missile (SAM) systems, as well as warfighter warning. It also offers the same levels of autonomy, featuring the all-in-one approach of a single 20ft shelter containing the radar, a mast, a Power Generator Unit (PGU) and an operational cabin to accommodate two operators. Transportable on a truck and deployable for operations in 15 minutes, with a decamp time of 10 minutes, the GM200 MM/A provides operators with crucial asset survivability and are the key benefits of this radar.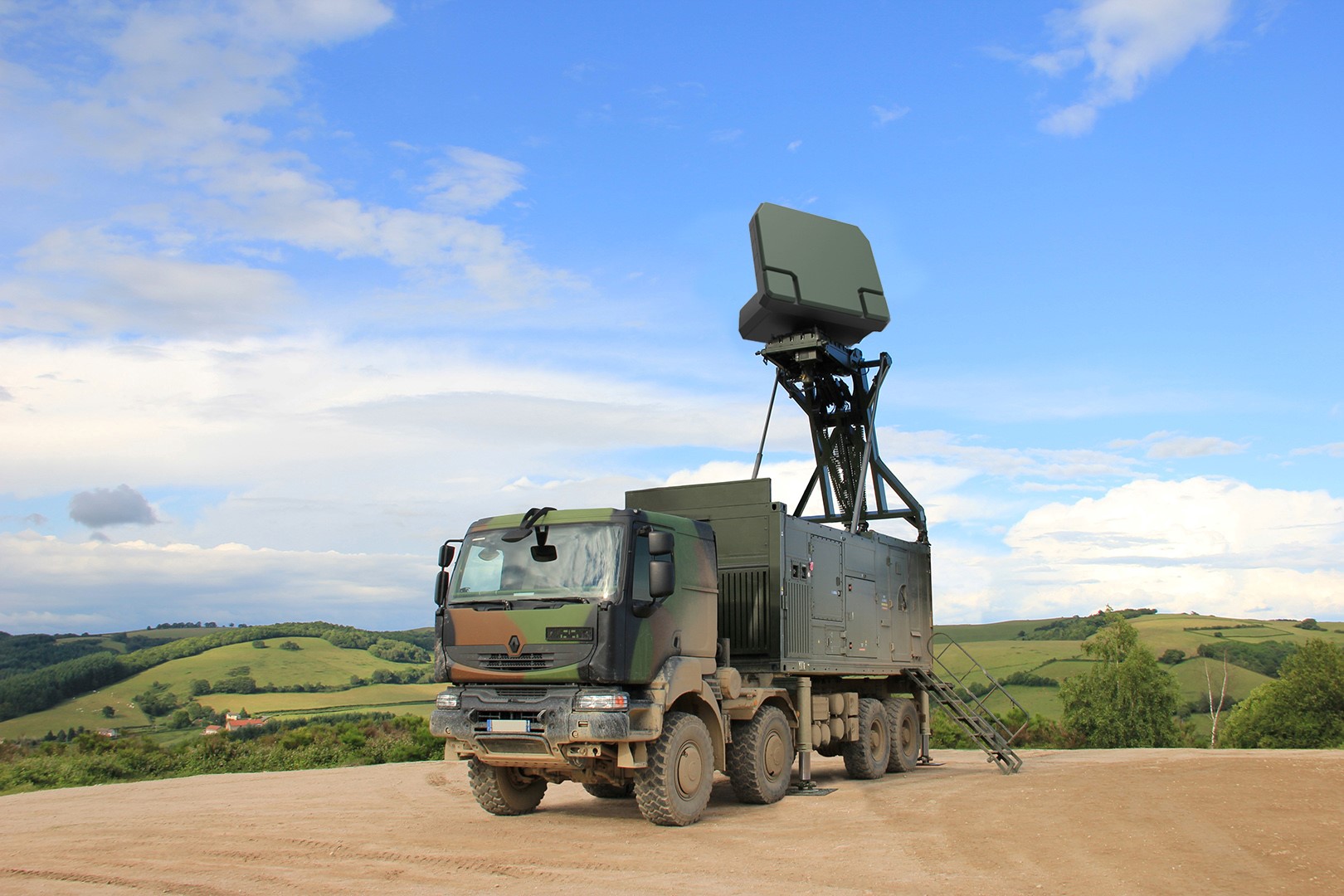 Key features
S-Band
Instrumented range: up to 350 km
Ceiling: 100,000 feet
Elevation coverage: 70°
Update rate: 1.5s or 3s
Did you know?
GM200 MM/A addresses a comprehensive panel of tracks ranging from low, slow, small to high manoeuvring stealth targets. It can also detect pop-up helicopters

GM200 MM/A has an AESA antenna featuring electronic beam steering in both azimuth and elevation 
Fully digital, software defined radar designed to easily evolve as future new threats develop
GM200 MM/A has an embedded power unit to sustain autonomous operation 
GM200 MM/A features 950 receivers, 300 GByte of data processed every second, more than 30 independent beams stirred in azimuth and elevation
The GM200 MM/A leverages the experience of more than 140 Ground Master radars already in operation in more than 20 countries