​​Contactless wearable technology – Payments in style
​From wristbands, fitness trackers, and watches to jewelry and smart clothing, there's now a vast range of wearable devices that include payment, and they're proving a big hit with consumers.
An NFC-enabled bracelet for regular shopping
Their success is all down to two key developments:
contactless payment is now available everywhere, meaning consumers the world over can enjoy the convenience of using their cards to tap and pay 
Technological advances enable payment to be quickly and invisibly added to wearables, delivering an enhanced consumer experience at checkout.
Discover the comprehensive portfolio of smart yet simple-to-use wearable devices designed by Thales to fit every need.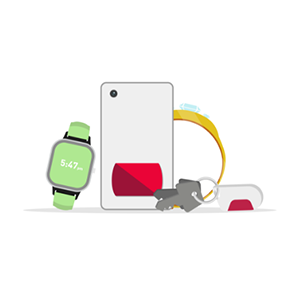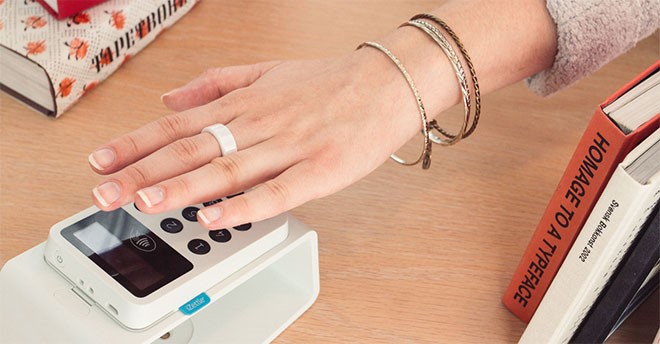 From smart cards to smart wearable devices 
Thanks to its strong R&D capability, Thales has devised a simple, comprehensive solution to add payment to wearables.
Our offer is based on two critical technological elements:
1-Ensure the hardware tech is invisible
To keep the wearable attractive, Thales has condensed the technology that enables a contactless card to speak to a reader into a tiny piece of secure payment technology that can be invisibly integrated into various wearable devices in multiple shapes and sizes. 
From a simple companion device to a desirable wearable object you will wear and use every day, Thales offers you the convenience of contactless payment.
2-Ensure a secure and straightforward user payment experience
Thanks to our support for payment card tokenisation features, the wearable can be easily linked to the cardholder's bank account. The payment function is easy to enrol and simple to use as it works as an extension of the payment card.
Afraid you'll lose your wearable?
Don't worry; our tokenisation service comes with a mobile companion to control your payment device remotely and activate/deactivate the function.
Thales is transforming card payments from a commodity into a secure* must-have fashion item.
*Check out our  Is contactless safe page.
Wearable technology and smart payment go hand in hand. 
In recent years there have been many different wearable tech projects. 
In the UK, we've seen contactless payments evolving from NFC-enabled bracelets, phone case keychains, and jewelry devices retailed by well-known brands. This extensive deployment has showcased the evolution of the technology from a fun and colourful series of co-branded Barclays-Topshop silicon devices to bPay-enabled watches marketed by Guess, Timex, and Suunto.
 
The technology has also made its way into the sports arena. A selected few used stylish contactless rings at the Rio 2016 Olympics. Since then, funky ToviSorga bracelets have been deployed for the 2019 FIFA Women's World Cup tournament.
 
In Poland and Singapore, a payment-enabled bracelet or watch has become the everyday companion of teenagers, who are using the technology to learn to control their spending with help from their parents. With an access-control feature on the Thales chip inside these wearables, parents also have the reassurance of knowing where their children are, whether on the bus to school or on their way home. 
The Thales wearable portfolio ticks all the boxes; whether you are looking for a contactless wristband for simple access, cashless festivals, sporting events or only for the pleasure of wearing the latest must-have fashion,
It offers the convenience and security of a wrist-worn wearable, a removable payment chip (that's inserted into the wearable device) or a pre-integrated flexible (for transparent integration into the device during manufacture).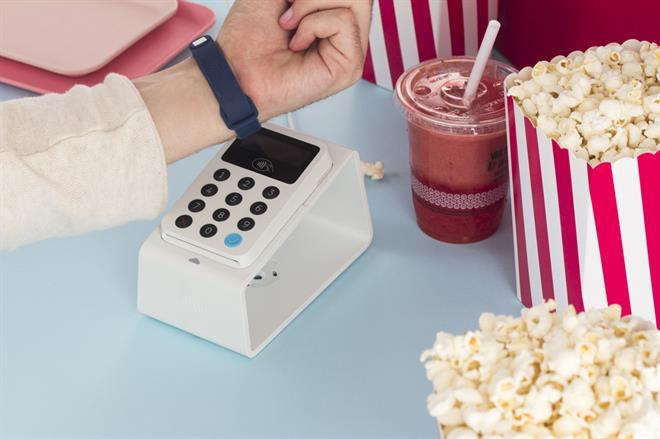 Choose the deployment that's right for you with the Thales wearables portfolio.
Whether you're a bank, an event organiser, a transport operator or a wearable maker, you can show you value your customers with attractive, frictionless and secure contactless wearable devices. 
Thales has the right options to support your deployment, from basic wristbands to high-end devices. Discover the options available and consult with our team to build the foundations of a great wearable deployment.
To start, you need to:
1. identify the right user experience for your deployment  
2. choose the wearable devices
3. select the appropriate payment chip.
# Choice 1: identify the right user experience
Depending on your market constraints and target audience, you have a choice of payment products between:
# Choice 2: choose the wearable devices
Thales is flexible to support your needs, regardless of whether you want to roll out basic or high-end devices and whether you want to manufacture the service itself or outsource it.
With the removable option, the Thales Gemalto PayBand portfolio offers silicon bracelets or loop items, which are customisable with your bank logo and favourite Pantone colours.
These high-quality bracelets are made of recyclable medical and food-grade silicon to win full user acceptance and market share.
Thales also offers Gemalto MiniTag or Gemalto MicroTag payment chips that the end-user can easily handle and insert into their wearable, just like they do with a SIM in their mobile phone.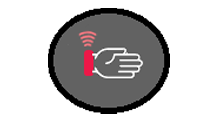 The pre-integrated option is based on invisible technology or a more elaborate device casing. If you don't plan to manufacture the device, we can introduce you to the wearable manufacturer or OEM that best fits your needs. We already work with a range of wearable makers and integrators that have a good track record with the technology.

# Choice 3: Choose your payment chip
Thales Gemalto Tags (payment chips) are ready to be inserted or integrated into any plastic, fabric or leather wristband for swift deployment. 
Whatever your device size requirements, one thing's certain: Thales will have something to suit your needs. Our MiniTag, MicroTag, FlexiTag and Sticker options ensure something for any deployment type. We've pushed the technical specifications to their limits by creating the FlexiTag, the smallest passive contactless card in the world that is certified by Visa and MasterCard. And all of our products are fully certified by the leaders in the payments world.
Deploying a wearable payment device is not only about you offering your customers a convenient new means of payment. You can also enhance their experience with a mobile application. This feature will let them control every aspect of the Tag/wearable – including activating and deactivating it – and keep tabs on their spending. With the support of Thales' innovative solutions and payment Tags, you can help them feel even more secure and ensure that your deployment is a success. 
MiniTag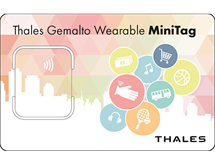 With its competitive price point, flexibility and ease of production, the
MiniTag is ideal for mass deployments
, making it one of our most popular wearable products. 
Top bank brands have already successfully rolled out this technology. And as it's certified waterproof, the MiniTag is ideal for use on the beach or at the swimming pool, adding to its convenience for consumers.
The MiniTag is less than a third the size of a traditional card. It is delivered on card body support with standard graphical printing to enable you to promote your brand and innovation message.
Thales Gemalto MiniTag can be either added during device manufacturing or by the cardholder.
MicroTag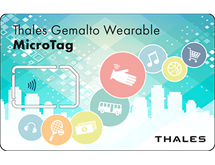 The MicroTag is smaller than the MiniTag but is no less powerful. 
Because we haven't compromised on performance in creating this technology, it has received the thumbs up from VIP customers and major bank brands. 
Our clients tell us that their customers love it as this technology is convenient, fun, secure and is only the size of a SIM card. 
The miniature format and graphical printing of bank information make the MicroTag particularly well suited for those deployments where end-users insert the tag by themselves in all kinds of wearable devices. Of course, to match all customer requests, Thales Gemalto MicroTag can also be added to the device at the manufacturing stage. 
FlexiTag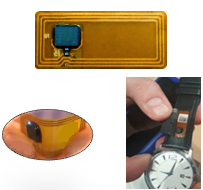 The FlexiTag is designed to be inserted by the manufacturer of the final device, ensuring a ready-to-use contactless experience for end-users. It's so flexible it can be invisibly integrated into comfortable wearable devices, where the end-user cannot feel the technology.
The best way to ensure broad acceptance of contactless technology is to ensure end-users can use the new feature without additional action or specific handling instructions. FlexiTag makes this possible.
Thales Gemalto FlexiTag is designed to fit most standard wristband sizes, one of the critical elements of wearable device design.
Sticker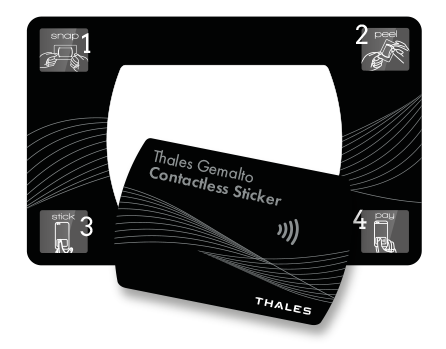 This Thales Gemalto Tag comes as an adhesive card designed to be stuck on the back of electronic devices such as mobile phone handsets.
In markets where mobile banking is not yet standard, the Thales Gemalto Sticker is a fast and cost-effective way of enabling customers to use their phones to pay for goods and services immediately. There's no waiting for a contract and no need for a lengthy setup process involving banks and mobile service providers.
Thanks to a bigger antenna and patented shielding technology, the Sticker delivers excellent performance, even on the latest mobile phones. It's designed to work in challenging environments and to be used on any material– plastic or metallic.
 
All your customers need to do is snap the Sticker out of its holder, fix it to their device and start making payments with their new contactless 'card'.

Beyond payment: extending wearable use cases 
Target Events:
Let visitors have a secure and frictionless experience with contactless wearables at your event – no need to carry a wallet when making their way through the crowd to the stage or cheering on their favourite team! 

Deploying a cashless payment environment with wristbands at your event will open up a world of possibilities. 
Contactless wearables will improve your customers' overall event experience by removing the burden of handling cash or worrying about pickpockets.
Smart wristbands go one step further and combine payment with other features such as fast-track access, loyalty and rewards, enabling more intelligent event management. 
Less is more at major events and in large areas such as festivals, sports stadiums and theme parks! 
No more having to turn up with cash, tokens and entrance tickets: visitors can enjoy the convenience of using a single device to do it all, from getting through the gates too quickly buying food and drinks, with just a wrist tap.
Wearables equipped with Thales contactless payment technology have succeeded at major events worldwide.

At the Eurovision Song Contest Final in Stockholm, Sweden, in the spring of 2016, the extravagant outfits on stage were complemented by other wearables worn by the audience – contactless wristbands. 
Available in the Eurovision Village in the week leading up to the contest, the wristbands remained usable at any Visa-ready contactless POS terminal in the world for six months after the event, enabling visitors from all over the world to take their wristbands home as a useful souvenir.
Target Access Control:
Portability, security, convenience and customisable designs are crucial in access control, whether for private companies or broad audience access such as stadium entry.
Through several large-scale rollouts, Thales has already demonstrated the benefits of such a deployment:
Panasonic Corporation piloted electronic ticketing with wearables for various services at stadiums and arenas in Japan. The country's stadiums and arenas had previously required many manual steps to check entrance tickets and to purchase goods/foods and other items. Thanks to the wearable deployment, these venues are more efficient, have enhanced their operations and provide a comfortable, pleasant and straightforward user experience.

Learn more about Panasonic experimentation.
Article from Panasonic | Video
 

Saracens, one of the UK's most successful rugby union clubs, offered their fans a better match-day experience thanks to prepaid wristbands. They could be used for payment in the Allianz Park stadium, cutting queues for refreshments and eliminating all the hassle of having to fumble for notes and coins. They also enabled fans to get to the stadium using the London Tube and buses, which all accept contactless payment. Users could top up the wristbands quickly and easily through a convenient website with real-time account information, including prepaid balance and history.

 
Target Transit:
Transport organisations are keen to improve their customers' journeys continually.

Part of this global strategy is making ticketing more straightforward and convenient by removing cash and paper tickets and replacing them with innovative solutions. 
As people become increasingly familiar with contactless payment, contactless wristbands used for mass transit can be used to intuitively meet the needs of people on the go. 
Wristbands are easily customisable to feature the transport operator's logo or the city's emblem, so the Thales wearable portfolio is well suited to support transport operators in their digital and wearable transformation. 
Thales wearable technology also works seamlessly with most NFC smartphones and devices, making it easy for users to reload travel credit and for inspectors to check travel passes and travellers' identities electronically.
In Brazil, Rio de Janeiro's public transportation ticketing operator RioCard deployed Thales contactless transport ticket wristbands and stickers for foreign visitors to improve their access to transport during major sports events. 
 
In France, for the Euro2016 soccer tournament, a contactless transport ticket wristband was launched in cooperation with Keolis Lille. Users enjoyed the freedom of hopping on Lille's bus, tram and metro services with nothing more than a tap of their limited-edition wristband branded 'Partenaire des Supporters'. It encouraged supporters and residents to use public transport, making the journey to the stadium or fan zone easier. 
Target Combined use cases:
However, using a contactless wearable is simple if you intend to pay for groceries, newspapers, your daily commute by public transport, or even access a specific controlled place. Thanks to the Thales banking operating system and its complete range of contactless applications, it can help you address combined – and varied – use cases with a single wearable device. 


Rio 2016: Transport & Contactless payment
Contactless transport wristband and sticker for the Rio Olympics
Rio 2016 [PDF - 1.8mb]


Contactless Wearable technology
Our portfolio of wearable payment technologies, to meet your needs and adapt to all your project.
Download the infographic