In preparation for the implementation of the EU Digital ID Wallet in 2023, Thales conducted a survey for a better understanding of EU habits when it comes to identification and proof of rights as well as citizens perceptions. Our online survey ran in seven EU countries, with 1,835 respondents chosen to reflect a representative range of age groups, genders and nationalities.

2020 United Nations eGov rankings (193 countries in total)
What are the habits & pain points when it comes to proving identity?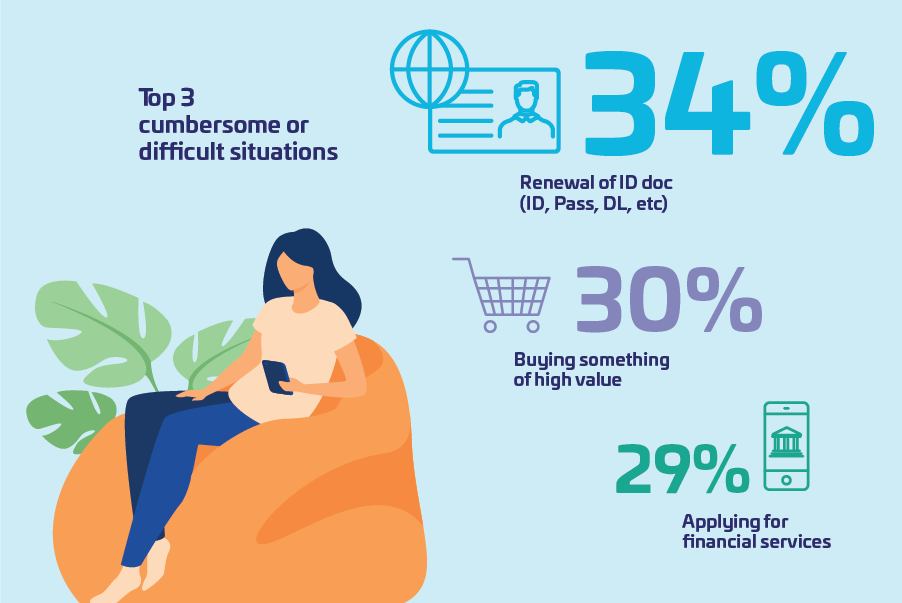 Life is quite easy for 60% of people surveyed, as they do not have trouble to prove their identity or rights. But given the importance of the process in everyday life, there is clearly much room for improvement. The pain points are significant.
Fortunately, Digital eases the pain!
The survey show that digitalisation delivers a dramatic reduction in the problems experienced by citizens. For example, for a renewal of an ID document, only 3% of digital adopters reported difficulties; compared with 34% for the non-digital users.
Amongst those 73%,
> 27% already have an official mobile ID endorsed by government
> 46% have a digital copy of an official ID whether it is a scan, a picture of an official document stored on their mobile.
Traditional mobile identities used in Europe currently have limited scope.
Use often limited to onboarding for financial services and/or authenticate to securely access online services
Little or no use for driving permits, health credentials etc.
As a result, citizens have resorted to informal solutions, such as scans of official ID documents.
A strong market calls for a Digital ID Wallet as the secure
way of carrying digital formats of passports, driving licences
and other official documents to:
Enable citizens to securely share a wide range of documents
Provide proof those documents are authentic and ensure they are protected by data encryption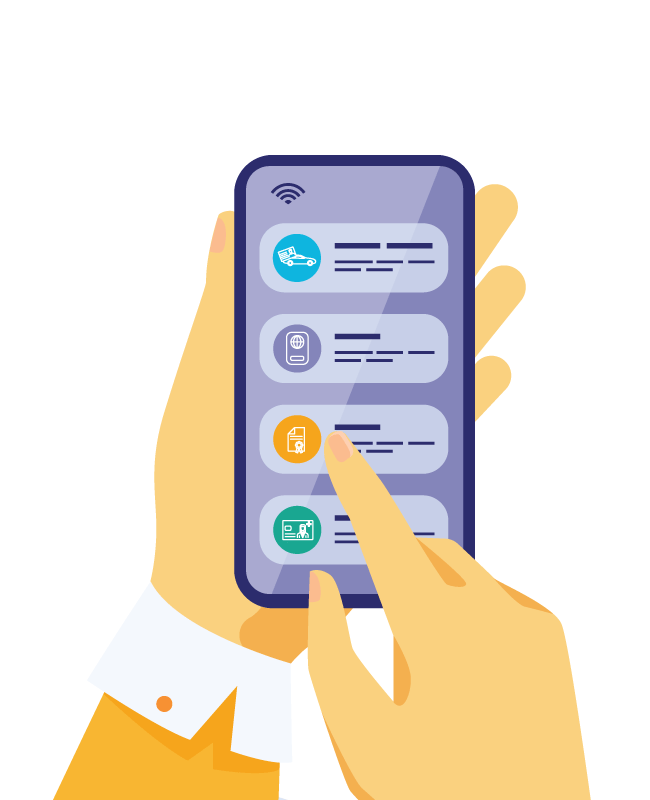 Download the full EU Digital ID Wallet: Habits & Painpoints infographic
EU Digital ID Wallet: what are the citizen's perceptions? 
It is essential to remind what a digital ID wallet is and what are the benefices for European citizens? A digital ID Wallet is a secure mobile solution that enable citizens, residents and enterprises to:

A warm welcome for the European digital ID Wallet (EDIW)
The second half of the survey emphasizes on citizens' attitudes towards, and expectations of, the EDIW. Obviously, this initiative receives a warm welcome but greater insight is delivered by exploring this figure in more details. 
The acceptance reaches 73% for those already using a form of digital ID whether it is official or unofficial one.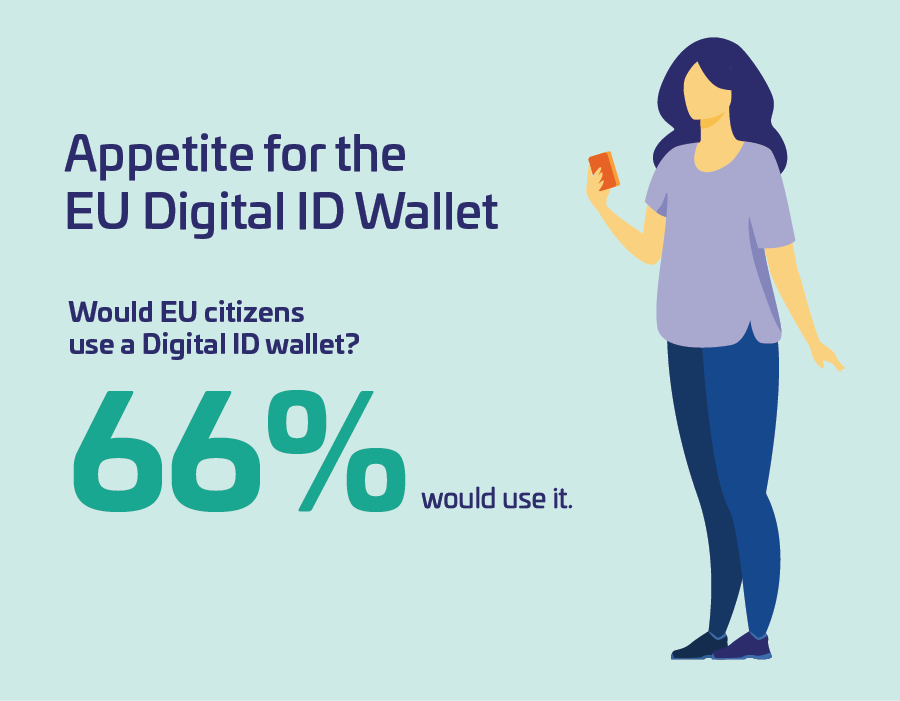 In such an initiative, what is the most important is to explore what will encourage the adoption of this wallet. So, it is important to ask the right questions:
Who do we trust most to deliver the EU Digital ID Wallet?

In every country, Government is mentioned as the favoured ID provider. And if we look at the existing digital ID users, they are even more enthusiastic about government wallet providers. 
What matters the most when implementing a digital ID Wallet?
The simple truth here is that a well-executed EU Digital ID Wallet will not require any compromise between the three key ingredients of Security, convenience and privacy but…Security tops the agenda.  
Security is even stronger amongst official digital ID owners with + 8pts.
Security comes first for all ages, but convenience is 2 times more important for people below 45 years olds. Security should not constrain the easy-to-use side of the solution. 
The results demonstrates also that the right to privacy has become deeply ingrained in the European psyche; probably due to the GDPR that states that: "Personal data shall be adequate, relevant and limited to what is necessary in relation to the purposes for which they are processed." (Article 5 (1) (c))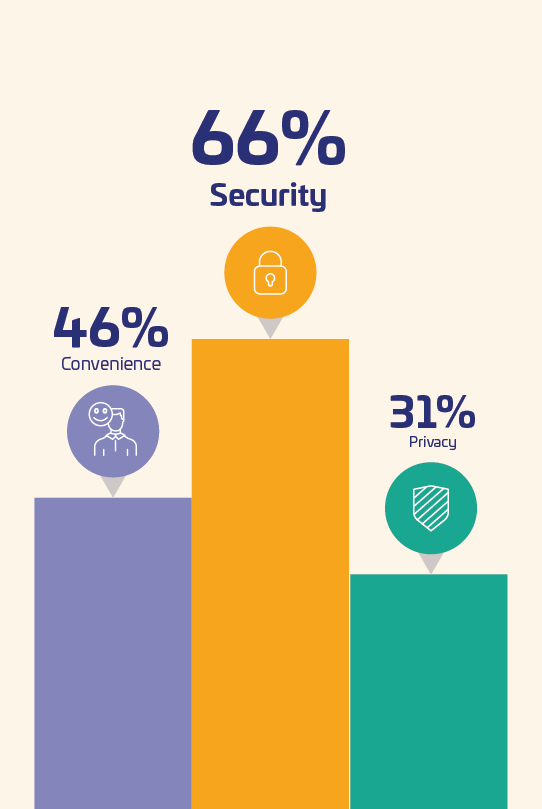 Download the full EU Digital ID Wallet: Perceptions infographic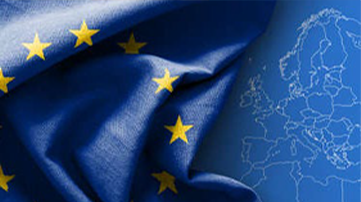 Understanding the European identity experience
What is the current experience for EU citizens when they need to prove their identity or rights?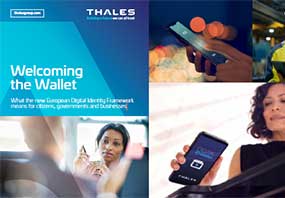 Welcoming the Wallet
What the new European Digital Identity Framework means for citizens, governments and businesses
Press Releases
Get to know more about the Digital ID Wallet
Would you like to learn more about the possibilities of Thales Digital ID Wallet and discuss how our award winning solution matches your needs? Contact us today to schedule a private session with our experts or request a demo.