​​​​Mobile identification at hand​
​
​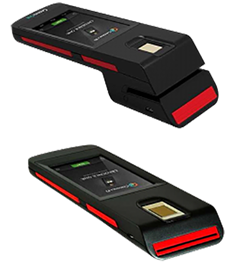 CredenceOne™ is a smart combination of biometrics, credentials and mobile technology, placing the power of mobile identity into the hands of agencies that need it most. 
This handheld biometric device for mobile Identification  features:
a fingerprint scanner
a 5MP camera with flash
a smartcard reader with optional document machine readable zone (MRZ) that runs on the Android™ operating system. 
Designed to support multiple applications simultaneously, CredenceOne empowers a diverse group of agencies to build and deploy targeted applications for their desired objectives, work-flows and environments.​
Main features of the CredenceOne™ scanner
4.0 Inch Diagonal Touchscreen Display
 Processor:  Cortex-A9,  Dual  Core  1  GHz
Cellular: UMTS/HSDPA/HSUPA at 850/900/1900/1800 MHz
Wi-Fi: 802.11 a/b/g/n 2.4 + 5 GHz
Bluetooth 4.0
Capacitive Fingerprint Sensor
Contact and Contactless Smartcard Reader (Optional)
Document Machine Readable Zone (MRZ) Reader (Optional)
3,600 mAH Li-Ion battery
Integrated Camera: Resolution 5MP, Autofocus with Flash
High-Speed and Secure Memory: RAM 1GB DDR2, FLASH: 8GB eMMC
SD Card slot: Yes (SD card not included)​
How can we help​​ you​?
Discover 
what is biometrics
 and its role in identification and authentication in our web dossier.​
These devices can be used across a wide range of Government organizations, including:
Law enforcement
Criminal justice
​Military
Homeland security
Electoral commissions
Benefits and services..
Feel free to contact us about your project, we'll be happy to help.