​​​

Mobile identification solutions
Thales provides law enforcement, government and civil agencies with mobile biometric identification solutions that leverage Cogent's high performing fingerprint and face matching capabilities. 
Our mobile identification solutions bring the power of a full-scale AFIS to the field by providing access to invaluable information such as positive identity verification, benefits verification, arrest records, restraining orders, and wants and warrants. 
The Thales Cogent MobileID software can run on a commercially-available Android smartphone or tablet, leveraging an agencies existing equipment, or Thales' own biometric mobile handheld devices for a complete end-to-end solution. 
The MobileID software formats the captured biometric data into a NIST standard transaction records and transmits it to a remote National, State or local AFISes over a wireless network.
Features:
Leverages existing IT equipment and infrastructure
User-friendly interface, which minimizes the need for training
Capable of submitting searches and receiving responses in-the-field
Flexible in handling NIST requests and responses over a wireless network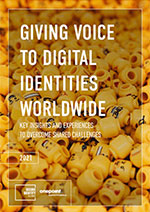 Giving voice to digital identities worldwide - 2021 SIA whitepaper
Key Insights and Experiences to Overcome Shared Challenges
Read more