​​​​​

Hosea Kutako International Airport as a first step
Namibia is implementing an advanced Gemalto Border Management System, for real-time vetting and oversight of all foreign visitors.
The first stage of this ambitious new project was unveiled at Hosea Kutako International Airport, near the capital city of Windhoek, in September 2017. It will ultimately encompass all of the country's land, sea, and air borders.
Thales's fully integrated system will ensure a modern and efficient welcome is always extended to visitors to Namibia while delivering robust protection against 21st-century threats such as terrorism, illegal immigration, and people trafficking.
Let's dig in.  
Namibia – attracting visitors from around the world
The Republic of Namibia is a stable, democratic state located on the Atlantic coast of southern Africa.
The country gained its independence in 1990 and has a population of just over two million.
Traditionally, the economy has relied heavily on the mining and export of a range of valuable minerals, notably diamonds, uranium, zinc, gold, and copper.
However, tourism, and in particular ecotourism, is growing in significance.
In 2015, over 90% of the 1.5 million foreign arrivals in Namibia were tourists, drawn to attractions that include striking landscapes, exotic wildlife, and rich ancient culture.
But there's more.
In 2017, Namibia was ranked by the World Economic Forum and Tourism Competitiveness Index as the most competitive tourist destination in Africa.
Recognizing the potential to create new employment opportunities, boost growth, and further diversify the country's economy, Namibian authorities are keen to build on the impressive recent record of the tourism industry.
Enhancing the visitor experience is seen as key to achieving this critical national objective.
A specific Immigration card (ImmiPass) held for many cross border commuting to ease the economic exchanges with RSA and Angola, and Bostwana has already been put in place.
Facing the challenges of the 21st century
Alongside a progressive tourism strategy, the Namibian government is also fully aware of the need to maintain and strengthen the integrity of its borders.
In common with virtually all countries, the emergence of the 'global village' and easier access to international travel has also brought with it serious challenges. 
Consequently, the ability to know exactly who is entering the country at all times and in real-time is a crucial asset in the struggle to adequately protect the state and its citizens.
Today, all sites are connected in real-time with immediate access to traffic information. 
It's that simple.
An officer based in the north of the country can have the information in real-time and can assess all travelers' details when they arrive at Windhoek Airport.
The Thales solution: squaring the circle of convenience and security
Thales' solution represents Namibia's first, fully integrated end-to-end border management system. Implemented by Namibian IT specialist, Syntex Technologies (PTY) Ltd, it is designed to make the accurate identification of visitors faster and simpler.
By collating all the relevant information and making it readily accessible to appropriate agencies, the system facilitates a highly efficient, risk-based approach to border control.
The national security is re-enforced by a best in class IT platform that is deployed and maintained by Syntex Technologies (PTY) Ltd.
This IT solution provides redundancy and high availability of information and application. 
How it works for Namibia borders
Traveller's information is captured from each land or overseas arrival and departure by immigration officers. Passengers also have their faces and fingerprints scanned in purpose-designed gateways. These data are associated with the passport number.
The Thales system also incorporates sophisticated automated document verification technology, which instantly alerts border control officers to counterfeit or compromised passports and other fraudulent identity and travel credentials.
The information is also compared with the traveler's historical data as well as a list of Most Wanted People and stolen/lost documents to highlight any warning at the front desk application.
All the data collected at the border is synchronized into a central database hosted at MHAI (Minister of Home Affairs and Immigration) which provides authorized agencies throughout the country with real-time insight and overview of visitors and immigrants.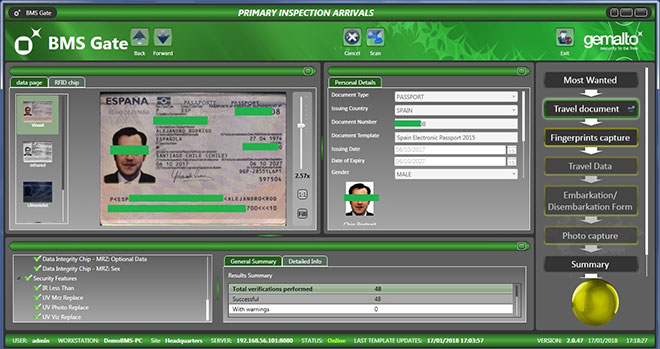 The system is also linked to a range of international watch lists, including Interpol SLTD and NOMINAL.
INTERPOL's database of Stolen and Lost Travel Documents (SLTD) enables authorized law enforcement entities – such as immigration and border control officers – to ascertain the validity of a travel document (passports, identity documents, visas) in seconds using the passport number.
INTERPOL's Nominal Data – contains more than 173,000 records on known international criminals, missing persons, and dead bodies, with their criminal histories, photographs, fingerprints, etc. Authorized users can search and cross-check data in a matter of seconds, with direct access to databases on suspected criminals using the name.
It can, therefore, alert the authorities to any known undesirables attempting to enter/exit Namibia, enabling appropriate action to be taken promptly.
Launched on schedule at Namibia's main international gateway
The first stage of the rollout was completed on schedule at Hosea Kutako International Airport.
Currently welcoming over 800,000 passengers a year, this is Namibia's leading tourist gateway. It has also been identified as offering the potential to create a hub for the region that would further bolster visitor numbers.
At the official launch event, Pendukeni Iivula-Ithana, Minister of Home Affairs and Immigration spelled out the importance of the border management upgrade project to the government's broader objectives:
"The world is experiencing an unprecedented flow of persons migrating for various reasons and facilitated by modern transportation systems. While benefit also accrues from the movement of persons, particularly in the area of migration and development, there are also associated challenges that need to be managed and mitigated. It, therefore, requires a shift from the traditional way of managing migration to a more risk-based approach facilitated by information gathering and intelligence."
She continued: "With this modernization, we expect to improve on collection of statistics, data storage, and mining and bring flexibility in connectivity with approved stakeholders.
As a result, the operations of all our law enforcement agencies can be enhanced by the new system as it will help identify people, even if they change their names because the fingerprints will never change. The conclusion of this project surely will have significant improvement in the field of managing and facilitating legal migration. It will contribute to the furtherance of the turnaround strategy this ministry has successfully implemented."
Phase II completed in 2 months
The second stage of the rollout was completed within two months, and the Thales Border Control solution was replacing the current one. 
Four main regional centers were installed and all MHAI workstations configured and deployed to work with the new system. 
Building Namibia's future
As the first point of contact for visitors, border control is very much on the front line of many critical national challenges.
By investing in a world-class Border Management System, Namibia has made a massive step towards ensuring that the first impression for incoming travelers is modern, seamless, swift, and efficient.
At the same time, it will also deliver a step-change in the country's defense against a host of serious problems; problems that might otherwise threaten to undermine the peace, stability, and economic progress the country's citizens have worked so hard to achieve over the past three decades.
Want to know more?
Your passengers want a seamless travel experience.
They want to move through mandatory checkpoints as quickly, easily, and safely as possible while feeling confident that no compromises have been made on security.
Several countries have already put in place a new generation of Border Management System and streamlined and simplified traveler flow. If you want to join them, it's time to talk to Gemalto.
Also discover Gemalto Cogent biometric technology and how they can be applied to combine easier transit for, legitimate travelers, with a strong defense against attempts at illegal entry such as  IDENT, the Automated Biometric Identification System, at the heart of the United States Department of Homeland Security (DHS) system for storage, matching, and processing of biometric and associated biographic information.