MD Driver's License: A boon for residents and nightmare for fraudsters 
Maryland introduced its new, highly secure driver's license and state-issued identification card. 
 It's good news for the state's residents, including millions of drivers who need a license to prove their entitlement to operate a vehicle, and for law enforcement too.
When individuals renew their driving license or identification card, they'll get a high-tech ID card that keeps their data safe from tampering, making it easier for police and other authorities to verify a person's identity. 
It's bad news for the fraudsters, who'll be confronted with a wide array of security features that are virtually impossible to replicate.
These will include some particular engraved images – important Maryland symbols such as the state flag (see top left), the blue crab of the Chesapeake (bottom right), and the Baltimore oriole, the official state bird, which all appear on the new identification card. 
The state-issued identification card is widely used as a photo ID by residents who do not have a driver's license or are too young to have one.
Both are regularly handed over to verify a person's identity, for example, when boarding an airplane, getting a job, or setting up a bank account.
Real ID concerns
Concerns about identity fraud and counterfeiting drive many states to upgrade their DMV-issued cards. And over recent years, we've seen an acceleration in new driver's license programs to improve security and comply with the Real ID Act. 
Due to come into force in October 2020 but delayed until May 2025, this Act has set out to improve the reliability of state-issued ID documents like the driving license.
The driver's license is key to overcoming identity fraud because many more people carry a driving license than other forms of ID, like a passport. Law enforcement agents need to be sure that such government-issued identification documents are authentic and know that the document holder is who they claim to be. 
The Department of Homeland Security continually updates the lists of US states compliant with the Real ID Act and whose driver's federal agencies will accept licenses as proof of identity.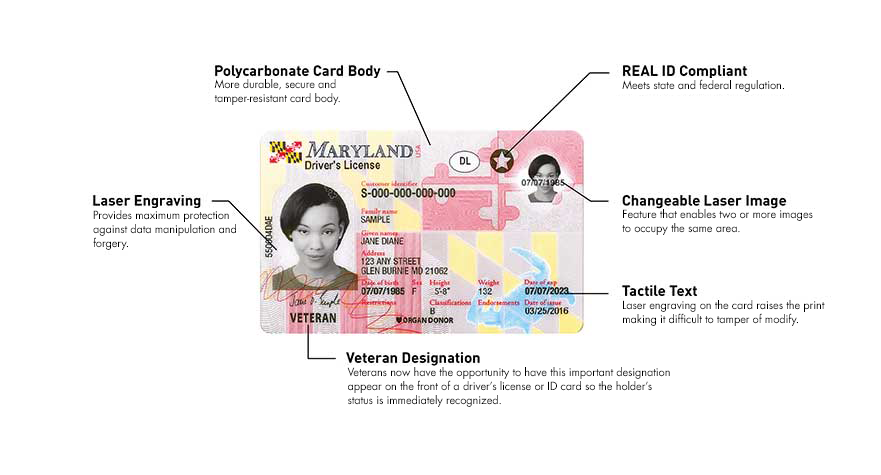 MD's driver's license is Real ID-compliant (Star on the upper right)
Visibly more secure
MD driver's license
Maryland's new Real ID-compliant driving license includes many state-of-the-art security features that help law enforcement spot a real from a fake license. Maryland's Motor Vehicle Administration opted for the latest card material, security elements, and personalization techniques that deliver optimal security and durability. ​
Maryland ID
The Maryland state identification card uses the same material, security features, and secure personalization process.
Introducing polycarbonate cards: Tamper-proof and widely adopted in secure IDs
At the heart of this solution is a polycarbonate card that's impossible to delaminate as it fuses security elements into the inner structure, making any attempts to tamper with the laser-engraved data immediately visible. 
Among its wide assortment of easy-to-detect security features: are an image that changes as you tilt the card, raised print for tactile verification, and a unique machine-readable barcode. 
A polycarbonate card, with its unique security features from laser-engraving to enhanced visual and tactile effects, makes it the material of choice for many government authorities for their secure identity documents. 
Over 40 countries use it for national identity cards or resident permit programs.
Over 30 national passports use polycarbonate for the data page.
All driving licenses issued by the EU's 28 member states (including the UK)- a total population of over 500 million- use this ultra-resistant plastic as of 2013.
Centralizing personalization and issuance 
The secure technology features applied to the new Maryland driving license and state-issued ID cards mean that documents will be produced and sent from a high-security Motor Vehicle Administration facility - a procedure already used by state and federal agencies in over 30 US states. 
Thales has been working with state officials in Maryland to prepare for the transition to the new personalization and issuing procedure for driving licenses and to ensure the protection of Maryland drivers and their personal information.  
Drawing on Thales' experience of providing secure documents, identity solutions, and services in more than 200 government programs worldwide, Thales and its local company MIDS  are active in numerous US driving license and vehicle registration projects, including the states of:
Alaska, 
New Hampshire, 
West Virginia, 
Idaho, 
Colorado, 
District of Columbia, 
Hawaii, 
West Virginia, 
Wyoming.