With built-in high-performance processing and networking, the Thales Gemalto Intelligent Document Reader AT10Ki inspects, authenticates or captures data from electronic travel and identity documents quickly and reliably in the cloud and virtual computing environments.
Part of our document reader solutions, the Intelligent "i" series readers, include an embedded Arm® processor running Linux®.
In other words, all the document processing is carried out on the reader for networked mode.
Ready for the cloud, the Gemalto Intelligent Document Reader AT10Ki uses web-style encrypted JSON messaging to simplify application development, deployment and maintenance. For the customer, this means:
The Gemalto Intelligent Document Reader AT10Ki can connect to any mobile device, phone or tablet.
The reader can be used in pool mode connecting to multiple devices (you can create reader farms)
A single computer can connect to multiple readers.
Flexible install options
Lower development and lifetime IT costs
Direct connection with Software as a Service (SaaS) and enterprise back-end applications
Designed for use in demanding border management scenarios, the passport and ID scanner also serves banking, hospitality, travel and any other industries where you need an accurate and reliable document and ID reading and verification.
Scanning passports has never been so easy.
The design of the Gemalto Intelligent Document Reader AT10Ki is based on a detailed and exhaustive analysis of field experience and numerous deployed projects. 
A new "landing lights" LED feedback arrangement and document hold-down clip naturally encourages the correct placement and use of the reader, regardless if the user is left or right-handed, maximising first-time read rate for faster customer processing. 
There's more.
Thales has created a new stylish look to fit into the décor of the most upmarket customer-facing service desks.
Features
 
Onboard dual-core Arm® Cortex® A9 processor with Linux® OS runs image processing and RFID functions in reader.
USB3.1, Ethernet, Wi-Fi & Bluetooth® interfaces
Web-API host interface, Web-UI browser interface and legacy USB modes of operation
Data security built-in by design
Easy connection to enterprise and SaaS applications for document authentication and verification, hotel property management systems and biometrics management
Full management and diagnostic interfaces
"Landing lights" & tick/cross user LEDs and the new silkscreen design makes document placement and reading very intuitive.
Reads ID cards and barcodes placed at any rotation on the glass and presents images the correct way up based on features in the document
Reads and images multiple types of documents in Visible, Infra-red, Ultra-violet, co-axial and OVD Reveal light using internal 36-bit colour image processing and true-colour image matching technology to provide vibrant, accurate colours and images can be saved in BMP, PNG or JPEG format.
Reads mobile driving licences (mDL)
Anti-glare technology eliminates image artefacts due to reflective laminates or OVDs
OCR data capture of the Machine Readable Zone (MRZ) & 1D/2D barcode reading from paper and mobile boarding passes
Auto-triggering of document capture – the presence of the document is automatically detected
Hoodless operation in most environments using proprietary ambient light removal algorithms – even on UV images
User removable hood and optional document spine hold-down clip allow users to operate in their preferred style.
Low scratch, chemically strengthened glass with oleophobic coating for low maintenance, durability & easy cleaning.
Powered from USB, Power over Ethernet (POE) or external power supply
Sealed to IP54 to prevent dust and water ingress
See also Thales Gemalto Document Reader AT10K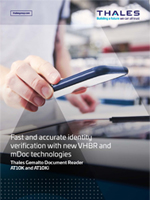 Fast and accurate identity verification - VHBR and mDOC technologies
New contactless communication technologies have been implemented in Thales Gemalto's AT10k and AT10ki document readers, further enhancing our impressive range of traditional and digital identity verification devices.
Fast and accurate identity verification - VHBR and mDOC technologies