Rapid ID data capture and client processing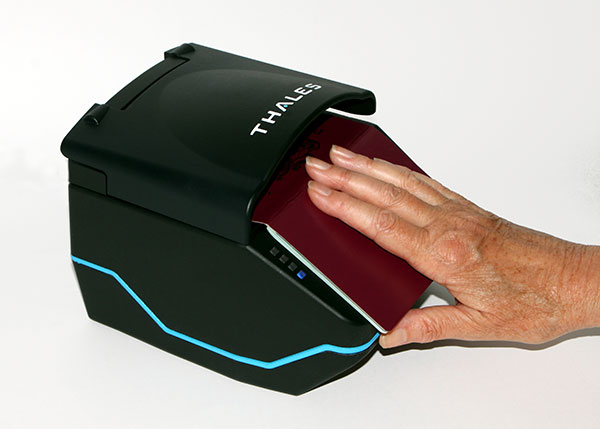 Thales Gemalto Document Reader QS2000 is a highly reliable and durable full-page document reader, part of our document reader solutions, designed specifically for commercial markets.
Its compact size and contemporary design combined with fast data capture makes it ideal for commercial applications when you just have a couple of seconds for:
age verification, 
customer onboarding,
and authentication process.
Easy and convenient document scanning 
The Gemalto Document Reader QS2000 has a large open document area and an ergonomic sloping front making document scanning a breeze.
Optional RFID support allows the user to view embedded chip in ePassports, eIDs and driving licences with a chip in, helping ensure the document is genuine.
A machine-readable zone (MRZ) and barcode reading is also included, automatically capturing the document and decoding it.
Designed to offer high reliability in environments requiring image capture and data entry:
hotels,
casinos,
liquor stores,
bars,
and rental car companies
Details of the Gemalto Document Reader QS2000 and key standard features
Optional RFID chip reading for better assurance of document authenticity
Accurate information capture adhering to strict identity characteristics as set out by the organization
Major features of the Gemalto Document Reader QS2000:
Multiple document reading and imaging using truecolour image matching
Single wavelength illumination – Visible
Anywhere placement of ID cards
400 DPI high-resolution visible imaging in 24-bit color    
OCR data capture of the Machine Readable Zone (MRZ)
Complete access to data and images captured via Software Development Kit (SDK)
Access to images as BMP, PNG or JPEG format
Auto-triggering of document capture – presence of document is automatically detected using visible light
Windows® 7, Windows® 8.1, Windows® 10, macOS and Linux® compatible
USB 2.0 or USB 3 high speed compatible via high speed USB 3.1 Type-C™ host port
Rugged design, no moving parts and internally sealed optical chamber to prevent dust ingress
Chemically Strengthened Glass for advanced durability
Powered from a single USB 500mA port
Optional Chinese NID card reading
How can we better help you?
At Thales, we believe in taking a global approach to security. That's why we strive to provide secure, durable and innovative solutions.
Our customers can meet their security expectations with the support of our experienced team.
If you have a question on the Gemalto Document Reader QS2000 to ask or more broadly on our KYC and document verification solutions, please leave a comment in the box below.
We'll be glad to hear from you.