This white paper illustrates, with recent examples, six major security and safety threats related to customers' identification and impacting the hospitality and travel industry.
Why does it matter?
First, hoteliers are responsible for the protection of personal security and property of their guests and employees.
Secondly, 89% of leisure and business travellers mention safety and security as their first priority when selecting a stay, according to a recent ABTA survey. 
Needless to say, that their perception of risks is a significant decision factor to be taken into account.
Let's jump right into it.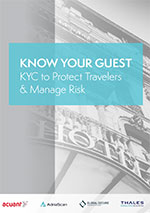 Download the whitepaper
If you don't have time to read this page, you can download our white paper: « The role of identity verification in protecting travellers. »
This paper, prepared together with Acuant, Adria Scan and Global Secure Accreditation highlights the threat posed by those using false or stolen identification and how false documents have been used to facilitate acts of crime and terrorism at hotels. It also introduces ISO 31030, a new global benchmark for travel risk management standards due for publication in 2021.
Major ID-related threats the Hospitality industry faces in 2021
For terrorism, the report reveals that when asked which measures would make them feel safer, around 40% of interviewees list airport-style checks in hotels, ID checks at holiday locations and checking booking details against a criminal database – and for a good reason. Many news stories reveal the use of false identification in the perpetration of crime and terrorist attacks in hotels.
 
The front line of human trafficking is not only at the border and the airport but at the hotel check-in desk, as reported by BBC News (February 2019).
 
The hospitality sector has proved to be vulnerable to cyber-attacks and loss of personal data. Theft of ID credentials is even more critical in an industry where passport or ID paper photocopies and scans are widely used. 
 
Human errors and insiders are two additional threats that recent data breaches clearly pinpointed.
There's more.
The challenge of accurately confirming guests' identity during the COVID-19 pandemic gained considerable attention with a series of new local regulations and processes - hotel quarantine is just an example. It is also crucial to identify and trace all those who've been in contact with infected persons.
What happens when the front desk fails to identify guests? A case in point.
Just before eight in the afternoon on the 22 September 2017, Mr. Huang (a well-known figure in Taiwan - we changed the name) and his wife went back to their room at hotel ANA InterContinental in Tokyo. They discovered that, in particular, their phones, cash ($ 2,900 and ¥150,000), credit cards and IDs had been stolen.
 
The credit cards were used on a costly shopping spree of $25,000.
 
On vacation at the time, the couple dumped their plans and flew back to Taiwan. The news was also reported in the Taiwanese media.
 
What happened?
 
In the morning, the thief called the hotel pretending to be Mr. Huang, saying "his brother" will come and pick up some stuff. He later showed up at the front desk, who handed over the key without checking any ID.
 
The worst part?
 
The switchboard had alerted the front desk that someone had been fishing for information about Mr. Huang's room number. But the front desk added Mr. Huang's "brother" to the guest list and gave the key without any further ID verification.
 
This is obviously gross negligence. 
 
We've not been able to measure the direct costs and hotel's image and reputational damages. 
 
By adapting the document verification procedures in order to prepare for the new ISO 31030 Travel Risk Management framework, hoteliers can begin to limit exposure to those risks.
 

Identity verification to protect travellers
The entire concept of travel and hospitality revolves around customers, and the ability to know them well. This means a fair amount of personal information is needed.
So, 
How do you make sure your guests are who they pretend to be? 
How do you create a hassle-free ID-check experience? 
How do you protect travellers, guests', employees' and any visitors' (contractors', vendors', etc.) data and privacy?
Beyond the evolution of norms and standards, in particular, the ISO 30310 Travel Risk Management coming in 2021, the white paper will show how Acuant, Adria Scan and Thales have joined forces to answer these questions with their secure automated ID verification solution.
The good news?
•    Hoteliers can seamlessly integrate the solution into their property management system (PMS).
•    Global Secure Accreditation (GSA), the first independent global standard for hotel security, will help hospitality venues around the world demonstrate the steps they have taken with this solution to ensure the safety of their guests.
Good reading.