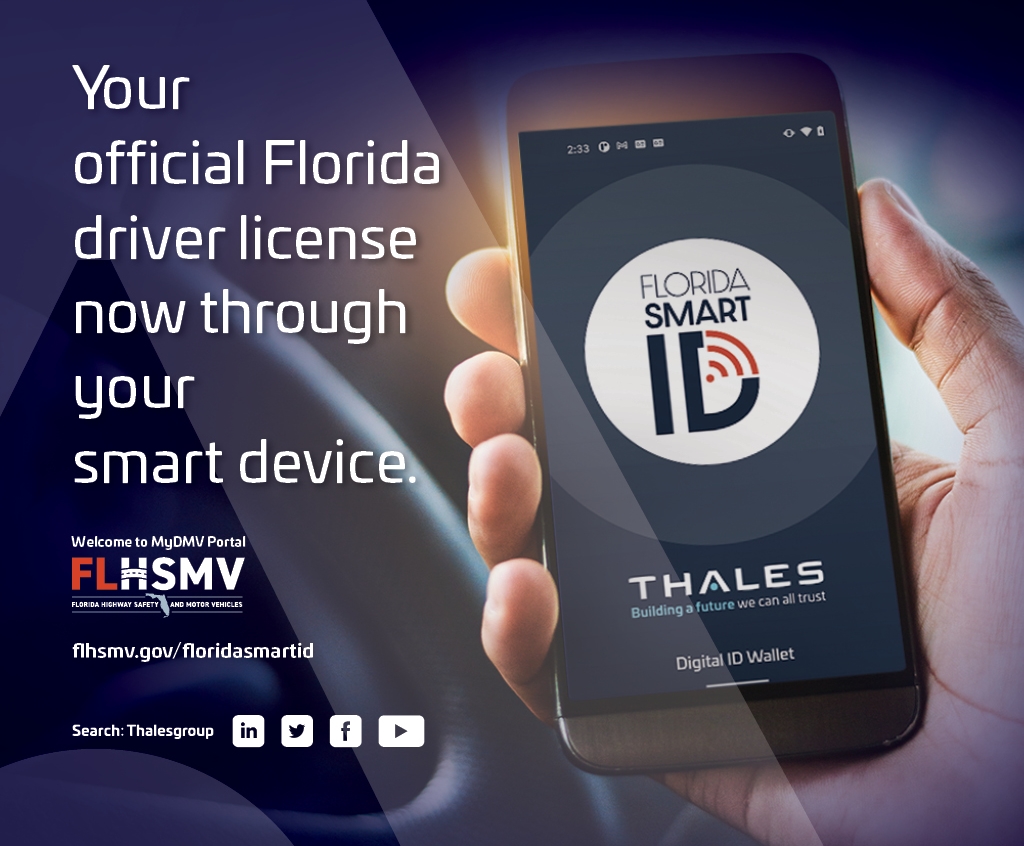 That's right, the Florida Department of Highway Safety and Motor Vehicles (FLHSMV) has partnered with Thales to bring this exciting project to life – and onto your smartphone. Now, you can get a secure digital version of your Florida Driver License, called Florida Smart ID, which goes everywhere your smartphone does!
Florida Smart ID is not just a digital image of your Florida driver license, but a secure, digitized version designed to national and international security standards to make it even more secure than physical ID documents – and much harder to counterfeit.
Where can Florida Smart ID be used?
Just like your physical Florida driver license, you can use your Florida Smart ID to prove your right to drive with police and law enforcement, as well as to prove your identity and your age in shops, bars, restaurants and lots of other places where you need to confirm who you are, or how old you are.
Coming soon, your Florida Smart ID can even be used to validate your identity and conveniently share information with secure online service like completing a loan application, booking a car rental, or reserving a home share.
.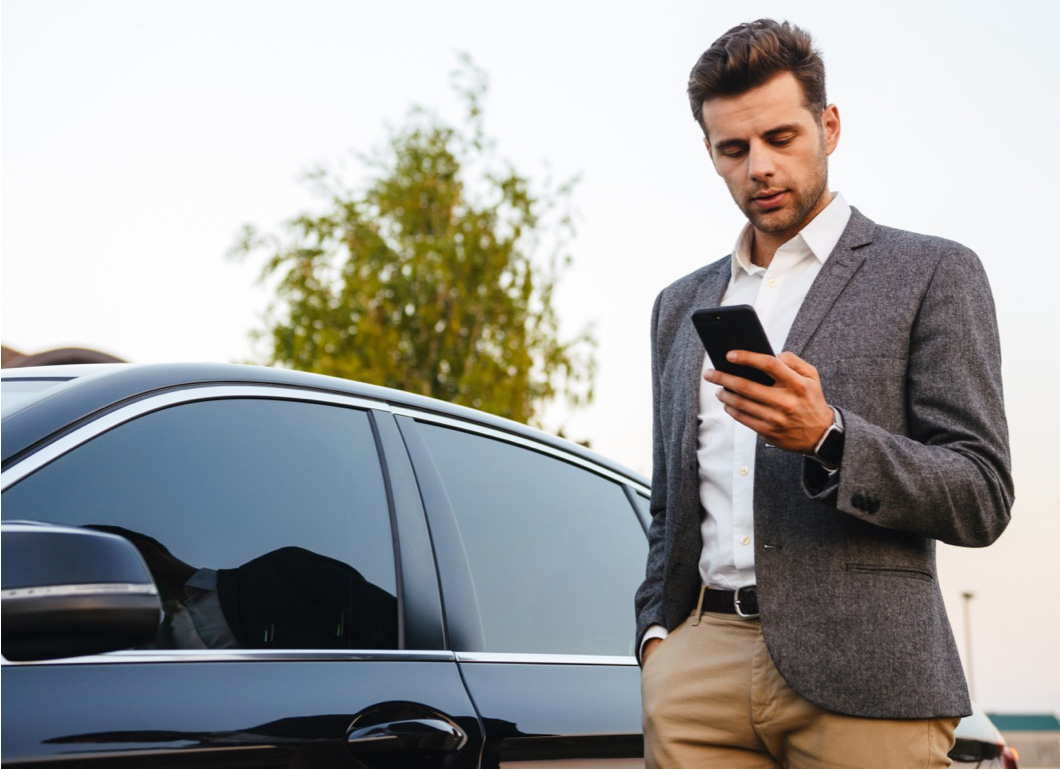 Great reasons to get your Florida Smart ID
While the Florida Smart ID doesn't replace your physical Florida
driver license, there are plenty of great reasons to get yours.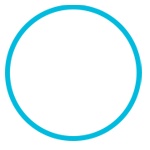 You're in charge
Every step of the way – you decide whether to get a Florida Smart ID, you decide when to use it, what information is shared, and your information cannot be accessed without your consent.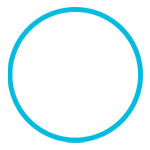 Privacy is key
Unlike with your physical driver license, only the information absolutely necessary to the request is shared and displayed, and no information is stored on the verifying device.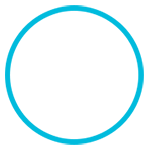 Your data is always secure
Florida Smart ID uses sophisticated digital technology and high-tech authentication features not available for physical ID cards, to ensure it meets stringent security standards and prevents it from being tampered with, hacked, or copied.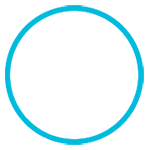 Your ID never leaves your hands
Florida Smart ID is truly contactless, so you never need to hand over your ID or smartphone to another person, or show them unnecessary personal details; just a quick scan by a contactless reader is all that's needed.
How can I get my Florida Smart ID?
Florida Smart ID is currently available by invitation from the FLHSMV. You can request yours through the FLHSMV MyDMV Portal by clicking the "Enroll here" button now.
When will Florida Smart ID be available?
While currently available by invitation from the FLHSMV, Florida Smart ID will become widely available to Florida citizens across the state in the coming months.
Benefits for all parties involved
Just like a physical ID card, the Florida Smart ID has a network of parties, or stakeholders, involved in identity transactions – from the FLHSMV issuing the IDs, to the citizens, businesses and law enforcement officers using or verifying the ID information. Florida Smart ID provides all of these stakeholders with a secure quick and convenient ID verification to benefit each of their needs.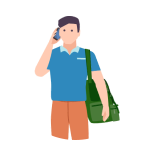 Citizens
Never worry about forgetting your ID again. Travel lighter with a Florida Smart ID on your phone or other smart device, and use it for the same purposes as your physical driver license where mobile driver licenses are accepted – even in another state.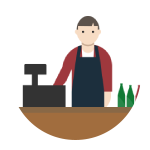 Businesses
Organizations that frequently check IDs, like stores, restaurants, hotels, car rental agencies, etc., are assured that the Florida Smart ID they verify is current, valid, and is in the hands of its rightful owner – all with just a quick scan and easy-to-read display. No need to calculate someone's age from their birthdate, handle someone's ID card, or be liable for mishandling an ID card or the information printed on it.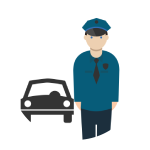 Law Enforcement
Officers receive trusted, up-to-date citizen identity and privileges information directly to their computer through a quick and simple Florida Smart ID scan, without the liability or hassle of physically handling ID cards.
FLHSMV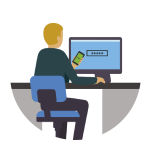 Florida Smart ID makes management of citizen driver license data much easier, with instantly updatable credential information including labor-intensive processes such as revocations, endorsements, and renewals. As a result, Florida Smart ID provides improved security and credential accuracy, as well as reduced operating costs and improved quality of service.
Our smartphones have become one of our closest companions recently, allowing for instant activities at our fingertips like using virtual credit cards, accessing bank accounts, presenting boarding passes, purchasing and displaying event tickets, and more. In other words, our smartphones are becoming our new wallets. Now, with Florida Smart ID, we can add the identity credential used most – our driver license.
Have questions?
Will a Florida Smart ID replace my traditional driver license?Here are a few of the more frequently asked questions about Florida Smart ID and Mobile Driver Licenses.
Will a Florida Smart ID replace my traditional driver license?
NO. For now, the Florida Smart ID will act as a companion to your traditional physical Florida driver license, and per current Florida law you must still carry your traditional physical Florida driver license.   
How will using a Florida Smart ID impact my privacy?
A Florida Smart ID gives you greater control over the personal information you share, and displays only the information needed for the individual verifying your ID to make a decision. For example, when you hand your physical driver license to a bartender to validate your age, the bartender has immediate access to all of the personal information on your credential — your full name, address, date-of-birth, even your height and organ donor status. However, when using a Florida Smart ID, only your photo (to confirm that you are the rightful holder) and a proof of age indicator displays to the verifier. No other information, including your date-of-birth or your age, is provided.
Is my data transmitted securely during verification?
YES. The Florida Smart ID provides end-to-end encryption to ensure that your data is transmitted securely every time.      
Is my personal information stored on the device that verifies my Florida Smart ID?
 NO. Absolutely no footprint or user information is stored on the retail verification device when you use your Florida Smart ID. During any verification, the pertinent data displayed is only visible for several seconds before it is automatically cleared and wiped from the verification device. The entire verification process is fully compliant with personally identifiable information (or PII) policies and best practices.            
Does Florida Smart ID monitor my device usage or my location? 
NO. The Florida Smart ID involves no geo-location tagging or verification tracking. The only time your Florida Smart ID is active is when you launch the app, enter your PIN or scan your fingerprint, and choose to access your credential.
Will I have to hand over my device during verification?
NO. Florida Smart ID uses Bluetooth Low Energy (BLE) to establish a secure communication channel with the verification device, so your device never needs to leave your hands. This is true no matter where you use your Florida Smart ID – whether with Law Enforcement or retail businesses.
Will my Florida Smart ID work on any device and with any mobile network provider?
YES. Florida Smart ID works across all operating systems and most smartphone devices (i.e. iPhone, Android). The solution itself is not dependent on any particular operator or carrier, so it doesn't matter to which network you subscribe to.        
Can I use my Florida Smart ID outside of Florida?
YES. Your Florida Smart ID can be used at any location that accepts and verifies mobile driver licenses. We promote interoperability, and the reduction of risks that arise when validating out-of-state credentials in the field. Mobile driver licenses, including Florida Smart ID, take the guesswork out of the verification process by offering a standardized, secure method for determining whether or not an out-of-state credential is authentic and valid.
What if my phone is lost or stolen?
The Florida Smart ID app is only accessible by entering a unique PIN or scanning your fingerprint on your registered smartphone. If your phone is damaged or unrecoverable for any reason, your Florida Smart ID can even be remotely wiped from the device by the FLHSMV to ensure further security of your data. 
What if my phone battery dies?
Using a Florida Smart ID on your phone requires that your device has power. Attempting to access your Florida Smart ID on a powerless device is the digital equivalent of misplacing your physical driver license and attempting to show your ID.
Can someone validate their ID with a screenshot of my Florida Smart ID?
NO. Attempting to validate a digital ID by using a screenshot of a Florida Smart ID is no different than attempting to validate a physical driver license by using a photocopy or printed facsimile. The moment someone tries to use a screenshot during verification it will be identified as inauthentic and invalid.