These three innovative security features are part of the ​security printing​ techniques Thales has been developing over the years to ​prevent forgery, tampering, or counterfeiting.​
They are classified in level 1 of identity security​.
Introdu​cing 3 advanced security features
The new family of Thales' innovative Secure Surface features enhances the security of polycarbonate identity documents by combining different effects: light reflection, movement and tactile effects.​​ 
Designed to counter new type of forgeries on existing security features like changeable or multiple laser image (CLI/MLI), Gemalto Secure Surface offers visual and tactile effects that allow fast and efficient document authenticity checks meaning security and convenience for legitimate holders.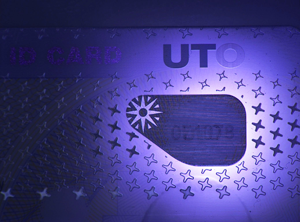 The next generation CLI/MLI (changeable or multiple laser image), developed by Thales,  is an easy-to-check visible security feature trusted by border control authorities where several pieces of information (usually 2) such as a portrait, a logo, a symbol, a number can be seen depending on the viewing angle.
With Thales enhancements, it is now possible to have complex shapes and combinations of elements inside the CLI/MLI, making it extremely challenging to be copied or reproduced.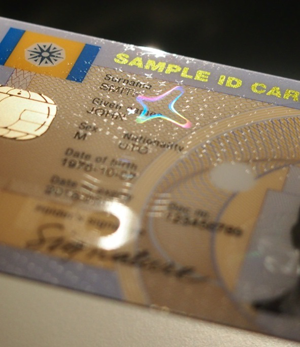 Secure Surface provides brand-new optical elements with light reflective and animation effects, revealed by tilting a document in different angles.
Furthermore, Secure Surface offers perceptible features for a polycarbonate document, such as surface embossing or braille. Thales can provide both positive and negative embossing on the same surface, making the full use of strong tactile effects. When combined with intricate designs, they increase security even further.
​Secure Surface with various enhanced effects can elegantly be combined and keep you one step ahead in the fight against fraud​.
These features+ can be found on the new national ID card and biometric passport of Finland introduced in January 2017.
For more information on how to design a secure ID document​ in 2020, please visit our web dossier.
Polycarbonate: 2 decades of expertise
Polycarbonate has won the trust of governments across the world. Over 40 countries have chosen it for their national identity or residence permit programs. Close to 30 national passport programs are using it. 
Why?
Robust enough to resist intensive usage and extreme climates, polycarbonate is the most reliable and secure material for IDs and passport data pages.​ To discover more about polycarbonate for IDs, please visit our page dedicated to the history of polycarbonate for documents.​
As a pioneer in polycarbonate technology and high-security printing techniques, Thales offers unparalleled experience and expert knowledge in these domains. We'll be delighted to help.​​