The ultimate solution for securing mobile communications and devices
Cybercrime is adapting to an increasingly mobile world
High profile data thefts, leaks and cyber-attacks now make headlines on a near-daily basis. And as the world becomes increasingly mobile-focused, so do cyber-criminals. Mobile security which covers both secure communication and data protection along with mobile device security is required in this context.
In its Mobile Security Index, Verizon reports that one third of companies are already victims of data leaks via mobile phones. The problem is not confined to private enterprise. Pressure on the public sector to innovate and digitalize is just as intense. As a result, 75% of public organizations report that mobile devices are critical to the smooth running of their operations (Verizon, Mobile Security Index 2020: Public sector spotlight). Mobile security must be addressed as mobility solutions offer gateways to organizations' IT system (governments, administrations, enterprises). Cyberattacks can result in heavy financial losses and can lead to impacts on national security. The latest reform of data protection rules in the EU imposes enterprises to implement adequate measures to protect personal data, or risk a fine of up to 4% of the enterprise total turnover in the case of compliance failure.
 Cybercrime is sometimes described as "the new 21st century threat" Everyone is affected, multiple risks are associated with it:
Leaks in classified information
Theft of industrial secrets
Loss of sales opportunities
Theft of customer database
Service interruption
Damages to reputation
Communications interception
Cryptosmart provides MNOs with mobile security
Cryptosmart is designed to protect the people and mobile devices that carry and communicate
high value information. It provides mobile security solutions in the form of encrypted communication and mobile device security.
Developed by Ercom, a Thales company, Cryptosmart transforms high-end Samsung consumer mobile devices into true extensions of a Restricted Level network. It enables both enterprises and public sector bodies to exercise full sovereignty over their security. This government grade security
(restricted level) solution can be deployed on mass market smartphones in minutes.
With Cryptosmart, MNOs can offer organizations the ability to protect devices and sensitive
communications on mobile networks, and in the event of device loss, theft or eavesdropping.
Cryptosmart for MNOs is built on software and hardware security solutions that leverage
the latest high security Samsung mobile devices including smartphones and tablets.
A powerful, certified, cryptographic toolbox is employed:  a 'Cyber SIM' card featuring
a Cryptosmart applet used to protect mobile phone and communications. 
Cryptosmart offers MNOs a unique set of benefits, including the ability to:
Differentiate against new market entrants and reinforce their position as experts in the field of secure communications
Reach both government and selected enterprise customers with a high value offer
Dramatically improve retention of clients with a high ARPU (Average Revenue Per User)
With Cryptosmart, MNOs are able to capitalize on their experience with the billions of secure devices (SIMs, eSIMs) that are already deployed and managed. MNOs can offer trusted mobile services to governments and enterprises, protecting security-sensitive communications and data exchanges by leveraging unique assets they already possess:
With Cryptosmart, MNOs can fulfill a wide range of enterprise and government use cases, find out more, download our latest eBook.
More information on Cryptosmart
More information on Ercom, a Thales company
More information on SIM, eSIM, Secure Elements
More information on advanced OTA platform
Download the whitepaper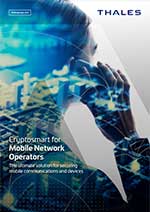 Cryptosmart for Mobile Network Operators