PRIMARY SURVEILLANCE RADARS – Always on track
Air passengers' safety starts on the ground. From pushback to parking, whether on the tarmac or in the skies, air traffic controllers need to know an airplane's position at all times to prevent collisions from happening. 
This already held true 50 years ago when Primary Surveillance Radars (PSR) were first installed; yet today, with increasingly busy airports, skies and environment, being capable to maintain a track makes a clear difference.
Thales' primary radars – STAR NG and TRAC NG, break the boundaries of what primary radars can do, combining key technologies providing air traffic controllers with a permanent aircraft position at all times for safe and accurate, Approach and En-Route surveillance.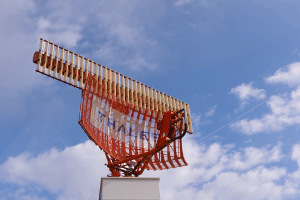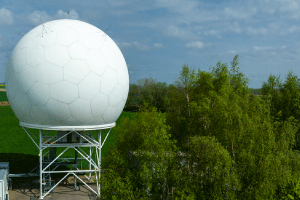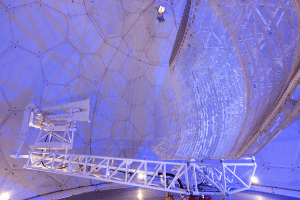 Performance is the key
The main mission of a Primary Surveillance Radars is to provide an accurate detection of non-cooperative targets over the full radar coverage. This means that the radar is facing to two challenges: 
detections of targets with very small radar cross section (RCS),
long range en-route detection of targets from 0,2 NM for approach up 256 NM.
approach and medium en-route detection of targets from 0,2 NM for approach up 100 NM.
Knowing that lost track in one of the above challenges could result either in a safety issue in the case of civil air traffic or in a security issue in the case of military air surveillance.
To address this critical issue, Thales offers a surveillance primary radar portfolio with the STAR NG and the TRAC NG.
Leveraging on 50 years of experience in military and civil air traffic, both radars (for approach and en-route surveillance) go beyond PSR usual features by including extended capabilities addressing either civil or military air surveillance needs. Thanks to the various standard configurations, the radars provide air traffic controllers, civil or military, with optimal aircraft detection from terminal to approach and en-route surveillance.
The result is state of the art systems that takes advantage of the best of both worlds to detect in an optimal way.
Choose radar availability, for today and tomorrow
Primary radars have a long life span. So the lifecycle costs of a radar, as well as its ability to stand the test of time in a fast-paced technological world, are key considerations when choosing which radar to install and operate for 15, 20 or 30 years. From installation and maintenance all the way to future proofing, Thales has designed primary radars to be easy and cost-effective to operate. 
Compact and leveraging total cost of ownership 
Compact, with less Line Replaceable Units (LRU) and featuring Health Usage & Monitoring System (HUMS) capacities, both radars are easier to maintain and their excellent Mean Time Between Critical Failures (MTBCF) capabilities (60 000h) ensure higher availability. 
Scalable and Future Ready
Every customer face to a specific field needs so that he expects a product perfectly designed for its requirements. The various configuration in 4, 8 or even 16 modules will make sure that the product fits for purpose.
In addition, in a landscape constantly evolving to adapt to new regulation, threats, technological developments or environmental constraints, the primary radars' advanced digital architecture is designed to make future upgrades as easy as possible.
Compliance with new regulations have never been easier. The latest developments introduced into primary surveillance radars building blocks have made it resilient to the usual field constraints, but also to the new coming cyber threats. The resilience and versatility comes also from its embedded features such as the 3D function, the Wind Farm Filter enabling a windfarm mitigation or its 4G/5G filter.
With increased efficiency, resilience and maintenance, the approach and en-route radars high operational availability makes them the radar of choice to secure your skies, confident that you will never miss a beat. 
Cybersecurity onboard
Based on international standards they are Cyber Secured by design and provides a unique interface for the control of Cybersecurity functions, while always preserving radar operational behavior thanks to a Cybersecurity Virtual Machine.
Key Features
Scan rate from 10 to 15 RPM with 60-100 NM coverage over 1 M2 RCS target for STAR NG
Scan rate from 5 to 7.5 RPM with 256 NM coverage over 1 M2 RCS target for TRAC NG
Extended features to cover both civil and military needs
2000 tracks per scan
64 simultaneous data outputs to Air Traffic Centers
Cyber by design
Harsh environment mitigation (4/5G, Windfarm, …)
STAR NG had a tech refresh in 2015, with digital upgrade in 2021 fully compatible with the digital launch of Thales' latest secondary radar - the RSM NG 
Did you know?
With more than 50 years of experience in secondary surveillance radars and around 1000+ ATC radars sold worldwide, Thales is constantly investing to lead the latest innovations in the market
2 out of 3 aircraft take off, fly and land using Thales technology
The first Thales Primary Surveillance Radar was installed in 1970. 50 years later, Thales is has more than 1 000 radars sold worldwide