At Thales, we are entrusted to support our customer's big ambitions by providing tools and services that soar far beyond the expectations of the modern-day traveler.
As an OEM (original equipment manufacturer), Thales has extensive and recognized expertise for avionics services on every type of commercial aircraft. From complete white-glove care to specific packages and expert services, Thales offers a variety of maintenance and service solutions that are designed to complement an airline's internal abilities and external requirements.
With Thales Services, the leading airlines of the world can ensure their passengers are receiving a state-of-the-art inflight experience.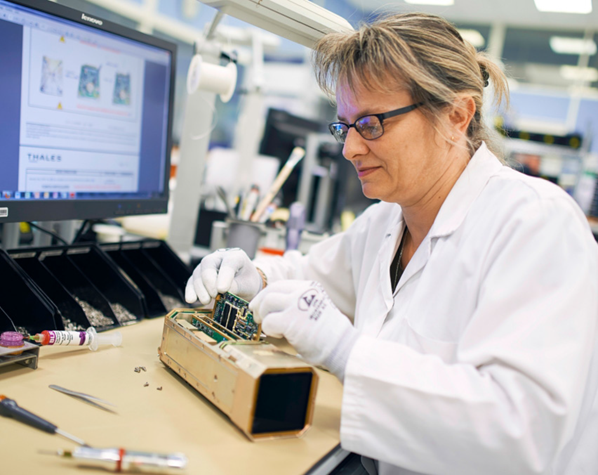 FlytCare is Thales's direct, non-stop support for the airlines' Inflight Entertainment and Connectivity (IFEC) systems. With this service, Thales cares for everything related to the IFEC systems maintenance roundtrip, from beginning to end. Through customized spares, repairs and logistics management, FlytCare is a turnkey maintenance solution tailored to deliver a seat dispatch performance guarantee.
FlytCare is Thales's solution to maintain a seamless operation for all new, certified-flown, exchange programs, loaners or fully integrated logistics support systems. FlytCare includes all of the solutions, services and support to care for and maintain each airline's unique IFEC configuration with the appropriate technical publications to support it.
FlytCare offers Aircraft Technical Services (ATS), spares provisioning (FlytSpares), logistics management and planning, set repairs and repair management (FlytRepairs), reporting and analytics, a Services Operations Center (SOC) and a global network of stations with hand-selected teams of experts.
FlytSpares
Thales has stations around the globe that leverage a pool of spares for airlines where they are needed, creating efficiencies that are completely unique to the Thales infrastructure. Thales is responsible for spares provisioning, storage and other logistics, while delivering an unparalleled level of service.
FlytSpares relieves airlines from the burden of carrying, monitoring and managing spares by leveraging a worldwide pool with a guaranteed level of spares throughout the airline network. By managing the supply chain network system, Thales is able to replenish inventory on schedule and to account for seasonal inventory adjustments, which saves the airlines costs and time.
FlytRepairs
From normal wear-and-tear to customer induced damages, the need for repairs arises on different parts of the IFEC system. Instead ofad hoc catalog repair pricing and scheduling,, an airline can subscribe to FlytRepairs for a fixed rate. With this method, the parts are promptly and correctly repaired at a Thales station by a team of trained professionals.
Thales's FlytRepairs guarantees a more pragmatic and reliable level of service than any third-party repair provider can offer. This package certifies that all repairs follow the serviceability standard set for Thales IFEC equipment, are performed by technicians with extensive experience and meet OEM and regulatory standards. FlytCare can be offered on repairs at a fixed fee to cover the life of the program.
Exchange Options
Through Thales's exchange options, airlines can get needed parts to the aircraft sooner. When a part is needed quicker than the standard repair turnaround time permits, or when the airline doesn't have enough spares in its inventory, Thales can provide emergency spare orders, exchanges and loans through Advanced Exchange and Lease Exchange.
Advanced Exchange: With Advanced Exchange, the required part is acquired from Thales's stock of working spares shaving time off of the standard repair time. The part is then repaired and returned to the Thales stock of working spares for future use.

Lease Exchange: With Lease Exchange, the required part is leased from Thales until the repair is complete, reducing the lead time for standard repairs. The airline pays for the part over time and returns it to Thales at end of the program. Lease Exchange offers airlines smaller recurring costs versus larger upfront costs.
Aircraft Technical Services
Airline Technical Services (ATS) provides line care and onboard maintenance for airlines based on needs, location and scope. This maintenance includes up-keep to the system architecture, subsystems, aircraft interfaces and more.
The Aircraft Technical Services on-wing maintenance team maximizes utilization of ground time while minimizing disruption to the passenger experience. Other benefits include:
Comprehensive service checks, including crew debriefs, a functional check of core systems and other required maintenance
Full system health checks
Detailed cabin sweeps of every seat in the cabin
Performance planning utilizing "lessons-learned" concepts to recommend solutions
Maintenance planning for continuous improvements to system performance
Logistics Planning and Management
Thales's Logistics Planning and Management services removes the burden of directing and coordinating assets from the airline. This program allows Thales to anticipate product usage and failures in order to proactively respond, reducing the number of potential issues in the system.
Thales equips each maintenance station with an appropriate number of spares ensuring it is completely supplied and prepared before any issue occurs. Thales's supply chain network system is able to quickly replenish inventory and confirm each repair station is equipped with the accurate number of parts to minimize turnaround time.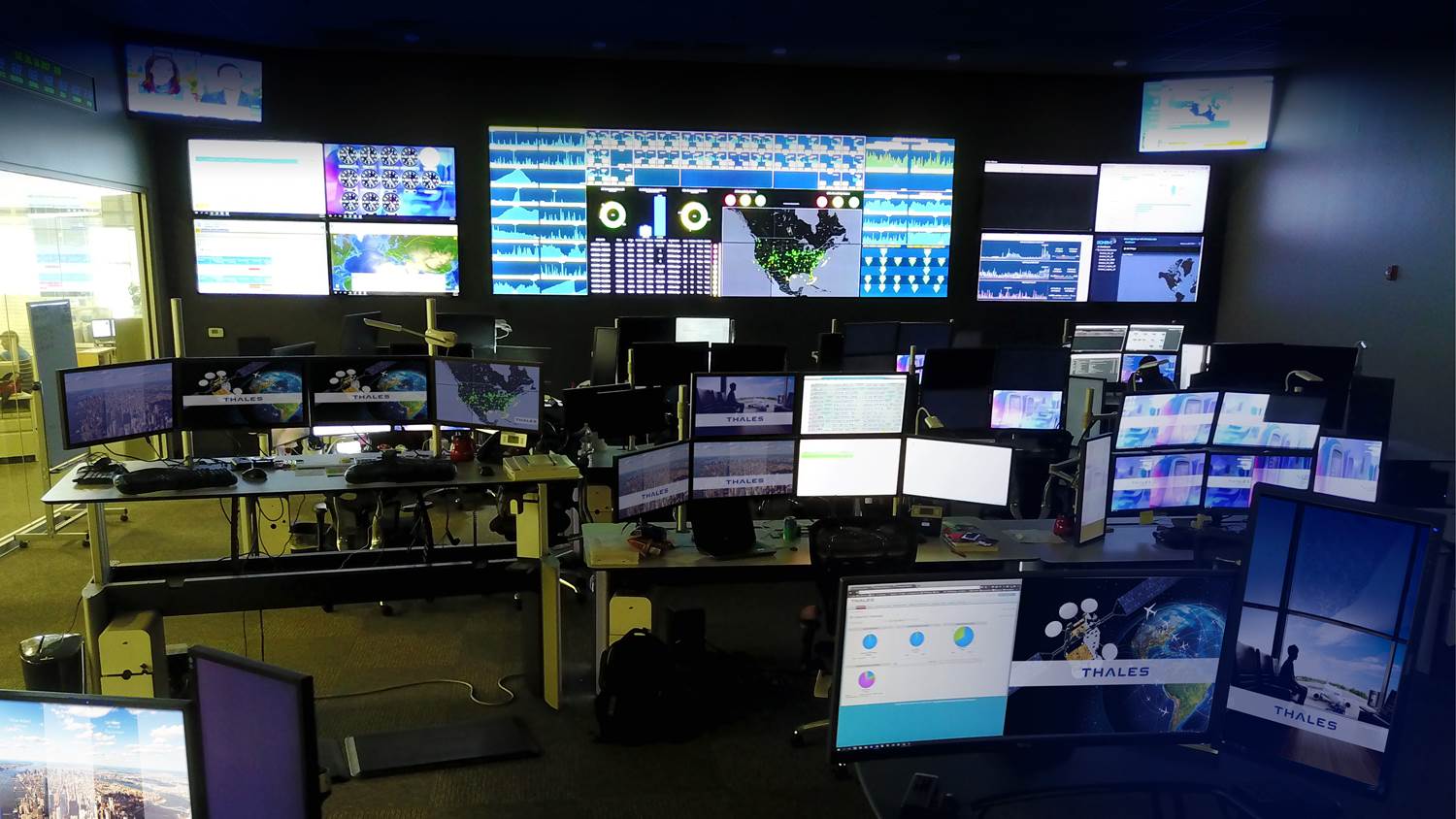 The Services Operations Center (SOC) is the logistical coordinator for each of Thales's operations centers: Network, Airline, Maintenance and Security. All Thales operations centers are open 24 hours a day, 365 days per year, ensuring airlines receive the necessary support when it's needed.
The SOC serves as a single point of contact for all IFEC related issues and ensures that information flows seamlessly from one center to another without disruption. The SOC coordinates special requirements for IFEC system troubleshooting for quick resolutions and offers Aircraft On-Ground (AOG) Services to fulfill emergency spares, advance loan units and advance exchanges.
Network Operations Center (NOC)
The Network Operations Center (NOC) is tailored to fit the needs of connectivity enabled aircraft. It is supported by a completely integrated system of experts available to resolve issues as they arise in real-time; operating 24/7 and always available to support the airline.
The NOC monitors all connectivity to and from the aircraft and ground stations, leveraging onboard tools such as LiveConnect. When an issue is detected, the NOC team works with the maintenance and engineering teams to quickly and accurately resolve the problem.
The NOC coordinates with satellite providers to determine when connection strength is unusually low and identify when system recovery is complete. The NOC also features ground system monitoring, Service Level Agreement (SLA) reporting and management, file monitoring to and from the aircraft and more. The NOC monitoring service, combined with Thales's work with service providers, guarantees that connectivity is provided to the aircraft at the committed rate.
Airline Operations Center (AOC)
The Airline Operations Center (AOC) serves as Thales's global support for IFEC systems. The AOC helps airlines with product support and information inquiries via customer phone calls, emails and line maintenance base stations available around the clock.
The Airline Operations Center (AOC) provides 24/7 support via phone or email for airlines, no matter their needs. This is the only operations center that is available to all airlines flying any Thales product. No matter when the product was purchased or the frequency of interactions, the experienced and professional AOC staff will coordinate inquiries and route them to the correct point of contact for swift resolution.
The AOC provides Aircraft On-Ground (AOG) support for all Thales IFEC systems, including aircraft away from their home base, to cover inflight and outstation support. The AOC ensures valuable information is routed to the appropriate contacts and tracked with data and status.
Cybersecurity Operations Center (CSOC)
The Cybersecurity Operations Center (CSOC) provides centralized and consolidated cybersecurity incident prevention, detection and response capabilities. Built upon Thales's security operations expertise, the CSOC is composed of best-in-class technologies, people and processes to provide customers with the most informed threat intelligence, real-time detection and crisis management.
The Cybersecurity Operations Center (CSOC) provides security monitoring and response capabilities giving Thales and its customers complete visibility into the security status of networks and systems. Thales utilizes the CSOC to monitor its own systems to maintain cyber-attack protection for airline data, systems and services.
 The CSOC features security dashboards and reporting, threat intelligence and vulnerability management, security operations support and automation, as well as security log collection and archiving. The CSOC personnel coordinate rapid response to any potential cyber-attack and work closely with the AOC and NOC to promptly resolve issues as they arise. Airline stakeholders have an appropriate level of visibility into security state and compliance levels.
Maintenance Operations Center (MOC)
The Maintenance Operations Center (MOC) specializes in preventative planning and responsive support. The MOC operates in the background to guarantee all maintenance operations work seamlessly both in the office and out in the field.
Thales's Maintenance Operations Center (MOC) operates with a value-based maintenance philosophy. The MOC helps airlines reduce IFEC maintenance costs, while improving seat dispatch performance. This results in the maximum utilization of ground time, while minimizing disruption to the passenger experience.
The MOC incorporates developed maintenance planning documents, dedicated scheduling and logistical professionals for smooth operations and resolution execution. By analyzing all available IFEC data, such as cabin logbooks, IFEC health, performance and reliability data, the MOC can establish performance and maintenance plans as well as suggest solutions to improve system performance.
The Thales reporting and analytics tool allows airlines to evaluate fleets for future improvements. Working with the airline's teams, Thales collects and easily processes the cabin log, Built-In Test Equipment (BITE), maintenance, usage and transactional data. The FlytCare Operations Center then has the ability to provide specific fleet and performance information. These analytics and reports can be delivered in the standard format or altered to view cabin data as preferred by the airline.
The Reporting and Analytics offering is designed to boost the support operations of the Thales IFEC system. Critical information can be accessed within 10 minutes of data upload. The reports monitor various trends providing intelligence to enhance preventative maintenance to the IFEC systems; while the analytics provide troubleshooting recommendations based on active and passive built-in test equipment faults, offering deep insights into the overall health of your IFEC.
Output options include system performance, fleet performance, daily operations, usage reports, dispatch availability and more.
Supplementary Care
Thales provides a variety of supplementary care options spanning an array of maintenance choices from software updates to access to local experts. Thales is ready to assist an airline with any additional care it may require. These options include:
Restore provides airlines and leasing companies with a structured approach to the restoration of an existing IFEC system so that it is fully functional and can be returned to service. This service is packaged intelligently includeing a program manager to oversee the restoration project so airlines and leasing companies can get back to focusing on their core business.
Training provides airlines with comprehensive training materials that are customized to reflect each airline's system configuration, enabling customers to learn only what is needed for their system. In addition to standard training sessions, Thales offers hosted eLearning solutions, training kiosks which simulate the functionality of the aircraft IFEC and recurrent training for software changes and new hires.
Experts from Thales are available to support any and all Thales equipment on an aircraft. These personnel are trained and appropriately certified in their fields and are available at a global or regional level depending on an airline's needs. Thales offers a wide-range of expert support services that can be bundled into your service solution, or used on a consulting basis as needed.
On Demand Services that understands the complexity of an airline's maintenance needs, technical operations, routing structures and aircraft logistics, inspiring Thales's On Demand Services for airlines. With adequate notice, Thales can dispatch a team to any destination to perform advanced technical troubleshooting on the aircraft. This reduces the time an aircraft is grounded and increases passenger satisfaction through higher IFE and connectivity availability.
A la carte Items are perfect for airlines that prefer to purchase items on an as needed basis. Airlines can choose basic services from Thales when they want them performed. The airline can then use their own logistics, management, labor or other resources as they see fit.