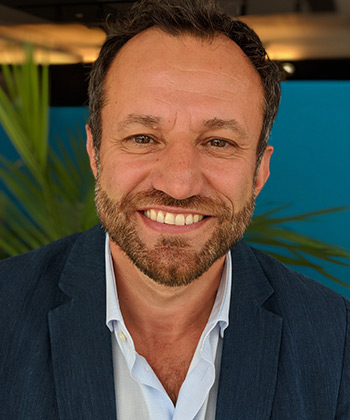 Siegfried USAL
VP, Digital Innovation, Thales North America General Manager and General Manager of Thales Digital Solutions
Looking for availability for Siegfried USAL ?
Siegfried Usal joined Thales in 2013 and is now General Manager of Thales Digital Solutions and VP, Digital Innovation, North America.
A graduate of the French Air Force Academy in 1992 and the Canadian Forces College in 2004, Siegfried holds an Engineering Diploma in Aeronautics, a Master of Science in Aeromechanics and a Master of Defense Studies. He holds a commercial pilot's licence and is also a former fighter pilot. A veteran senior officer of the French Air Force, he has held multiple executive manager roles in the presidential cabinet of the French Republic, as well as the French Embassy.
In 2017, Siegfried led the creation of cortAIx, Thales's new global Centre of Research and Technology in Artificial Intelligence Expertise in Montreal, and the implementation of the Digital Factory in North America. He now leads Thales Digital Solutions, an organisation based in both Montreal and Quebec City, made up of more than 100 software engineers and scientists specialised in the design, development and deployment of digital technologies and Artificial Intelligence, across Thales and externally.
As such, he develops and executes the company's technological and digital growth strategies and provides strategic advice to the Thales board in North America, with the aim of supporting the Group's digital transformation.
Speaker Topics
Innovation
Artifical Intelligence
Business Incubation/Acceleration
Areas of expertise
Spoken language
English, French
Want to book Siegfried USAL ?
Do not hesitate to consult us for any events, webinar or conferences.