Connectivity services from Thales SIX are all about transferring and accessing data securely and reliably. Typically, this is achieved by applying Wide Area Network (WAN) expertise and using advanced encryption services overlaid on that WAN. 
Thales also provides Local Area Network (LAN) expertise to complement secure and efficient connections made using the WAN, and provides Network Operations Centres (NOCs) to monitor and manage customers' connectivity and secure communications for a wide range of 'traffic classes'. Thales's NOC teams oversee the availability, capacity, reliability and compliance of critical wide-area links between locations.
WAN
WAN refers to the network connectivity between a customer's office or LAN, and another office or data centre.
LAN
LAN refers to in-house switching equipment and the network that carries it – the system that deals with the arrival and departure of information and data within an office.
Local
Routing to desktops and device connectivity is typically provided by 'local' installation teams, and with Connectivity services from Thales, customers can manage this in-house without compromising security.

The UK MoD is a long-standing beneficiary of Thales's resources and expertise in this area. For example, Thales provides network services to all military aerodromes in the UK as part of the Aquilla NATS programme. These secure Connectivity services also extend to UK military sites overseas including Cyprus and the Falklands, to Thales Germany where we support radar systems, and to air traffic management systems in multiple locations worldwide.  
Connectivity as a fully managed service
Thales Connectivity services unite a wide range of capabilities with high and dependable availability, resilience and encryption security. The result is a fully managed service from Thales's Network Operations Centre that ensures a trusted infrastructure for secure and reliable transfer of (and access to) data and information.  
This includes installation, configuration, assured availability, and any alterations to accommodate evolving needs. Thales can also prioritise traffic typed on larger networks, whereby each active network port is assigned a particular role or function. This means any network device that's plugged in will have a specific configuration for that port. Thales can also allocate bandwidth to, and 'ring-fence' different types of traffic on the network, and ensure high-quality voice or video services over a LAN or WAN.
Connectivity in action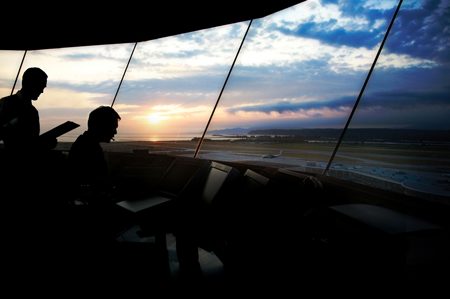 As an example, the Aquilla NTS programme from Thales carries ground-to-ground voice, air-to-ground voice and emergency voice over the network, and that network is designed to make sure information arrives in the right order and synched to radar images sent over the same network. 
Thales also provides a fully managed WiFi service for the UK Government that ensures any government employee can go to any government office, and connect wirelessly and enjoy their standard access permissions without having to request it in each location.
 

They key to Connectivity services, especially when providing for corporate and commercial networks, is how best to send and receive data and information via the internet and other external services. This is where Thales's expertise in gateways, and boundary protection for the network and IT assets, comes into play.
Thales can configure a web gateway to mirror a customer's acceptable use policy, and monitor web traffic for policy compliance – and also configure the email gateway to scan and protect against data loss, phishing and malware.
As the phenomenon of remote working continues to grow, Thales can provide two types of remote access service. The first allows a user's device to function as if it's on the office network, including access to shared drives and servers. The second can make information available to a supply chain, whereby the user can connect in, but with no 'resident' data on the connecting device there's no risk of data loss through remote access.
Assured Gateway Services
Thales can provide the same level of security of the gateway services to corporate customers as it does for central government. Each is accredited by the MOD, NCST, CST, or others, ensuring assured devices work alongside accredited Connectivity solutions.
Functionally, the experience will be the same. But for data that's official, official-sensitive or higher, this accreditation is a must-have.
Advanced secure gateways from Thales provide an additional layer of security for sending and receiving particularly sensitive information with other organisations. These are separate systems using advanced encryption, and are already in widespread operation with police and security forces across the UK and further afield.
Security Operations Centre (SOC)
This provides cyber monitoring for any attempted attacks or unusual activity taking place on connected devices, or on the gateways themselves. Any devices that are connected via web gateways, email gateways or remote access solutions are vulnerable to attack. Thales provides additional monitoring and protection against such attacks.
Technology-agnostic
Thales has expertise with the full range of available systems, so can offer and manage Connectivity services with the likes of Microsoft or Cisco, and provide expertise with a wide range of technologies. This makes working with existing systems, and specifying new ones from the CESG Assured Products Scheme, particularly straightforward and reassuring.
 
Private Key Infrastructure, or PKI, can be a useful addition to Thales's other Connectivity services. PKI involves securing the WAN at the point data leaves a premises, to the point it arrives at a different location or office, by tightening up security while the data is more exposed in transit between systems.
Thales provides PKI for central government, along with ex-government agencies now operating in the private sector, plus the banking and airline industries.
The financial services sector is a strong advocate of PKI services, for obvious reasons. Most end users have their data and information protected without ever realising it. For most people, it's a simply a small green 'tick' on their screen that confirms full end-to-end security.
The most important part of the PKI service is the way the PKI keys are managed and secured, and that's where Thales's renowned expertise is at play.
Inter Provider Encryption Domain (IPED)
IPED is a popular proposition for customers that have a secure corporate network (LAN or WAN) and wish to connect with another secure network that uses a different provider. This requires a way of connecting the two while maintaining the same levels of security. IPED does precisely that, and Thales is a leading provider.
World-leading capabilities backed by expert management
Thales provides a wide range of Connectivity services that allow public and private organisations, and security to connect, communicate and transfer data internally and externally, to the level of security their needs and preferences dictate. All are fully managed services, and modular in nature to meet the full scope of infrastructure needs under one expert eye.
All of Thales's Connectivity services are endorsed by NCSC CESG, the government agency that accredits all secure solutions.
 
One of the leading providers of accredited, secure and reliable connectivity services worldwide

One of only a few organisations accredited by the National Cyber Security Centre to offer multiple Certified Cyber Security Consultancy services

Leading provider of Inter Provider Encryption Domains, connecting secure corporate networks