Last updated: 25 June 2023 - Estimated reading time: over 10 minutes.​​

​
Detect the guilty, and protect the innocent.
The sequence is familiar to T.V. crime series aficionados.
Abby, the NCIS crime lab examiner, activates her powerful computer. She inputs a latent fingerprint collected from a crime scene and instantly gets a portrait of the bad guy with full identifying details. 
She is making an automatic fingerprint identification, a process that automatically matches one or several unknown fingerprints against a database of known and unknown prints.
Predictably, the reality is very different.
The latent print examiner must perform a quality check, plot minutia, and then search.
AFIS stands for Automated Fingerprint Identification System, a biometric identification system that uses digital imaging technology to obtain, store, and analyze fingerprint data. It's a crucial tool for law enforcement agencies globally, aiding in the rapid and accurate identification of individuals based on their unique fingerprint patterns.
But it is right to say that since they first emerged in the 1980s, AFIS systems, used for criminal identification, have become central to the work of police and other law enforcement agencies worldwide.
By dramatically increasing the potential for successfully identifying a suspect, these systems have fundamentally changed how authorities investigate a wide range of crimes and criminal activities.
In this article, we will focus on five topics:
The basics: biometrics for identification
The technical challenges of AFIS
The early stages: proving the value of AFIS
The building blocks: a comprehensive investigation tool kit
AFIS and the future of law enforcement
Let's dig in.
AFIS - six decades of research and development
At first glance, the principle of using modern technology to automate the laborious and time-consuming task of manually processing fingerprints taken from a suspect and crime scene appears straightforward.
However, the evolution of the AFIS into a highly efficient and effective tool, capable of scrutinizing vast databases and providing potential fingerprint matches in a matter of minutes, is the product of intensive research and development that now stretches back over five decades.
And the process is ongoing.
Alongside the ever-present 'traditional' crime, the onset of new challenges, such as global terrorism and illegal immigration, has only heightened the need for authorities to identify individuals that might pose a threat to homeland safety and security.
At the same time, new biometric technologies - including iris and
facial recognition​
– mean that the AFIS is rapidly transforming into the A
B
IS (Automated
Biometric
Identification System), providing law enforcement agencies with an even more powerful tool. These systems are also called Multimodal Biometric Identification Systems (MBIS).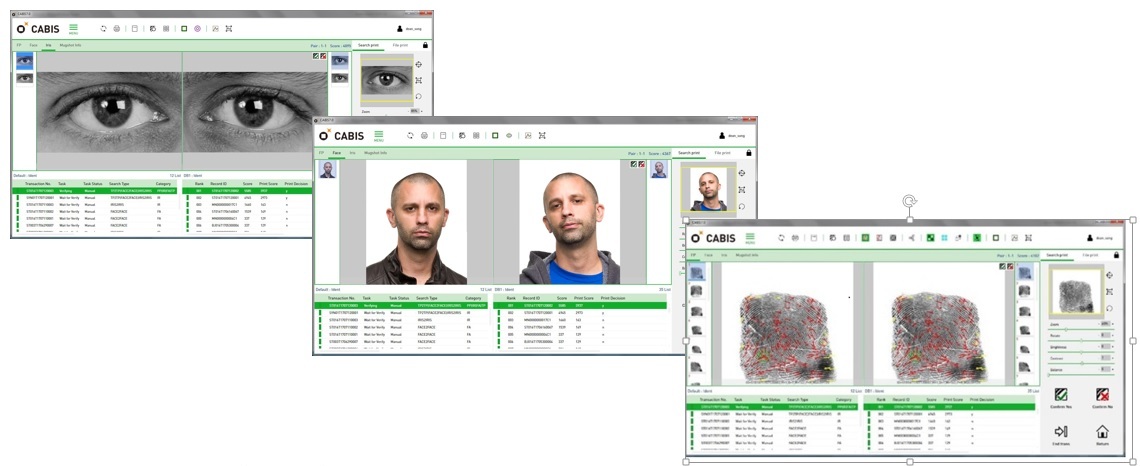 With the new generation of ABIS software, fingerprint examiners can process multiple complex biometric transactions with high accuracy and link face recognition to fingerprint or iris scanning. (source: Thales CABIS 7.0). 
ABIS can process multiple complex biometric transactions with high speed and accuracy and link, for example, face recognition to fingerprint or iris recognition, overcoming identification limitations commonly encountered in unimodal systems.
Fingerprints, biometrics, and identification
Biometric identification is based on the principle that each individual can have recognizable and verifiable data that is unique and specific. For fingerprints, according to Sir Francis Galton (Charles Darwin's cousin), the probability of finding two identical prints is one in 64 billion, even with twins.
Of course, using fingerprints to identify and convict offenders has a history that stretches back well beyond the AFIS.

Today's fingerprint scanner​ technology is replacing the traditional fingerprint ink pad in many countries (source Thales)
When did AFIS begin?
Criminal identification systems initially emerged in the late 19th century. They were triggered by the landmark development of the Henry System of fingerprint classification, in which fingerprints are sorted by physiological characteristics and anthropometrics, also known as the Bertillon system, in which measurements are obtained from suspects and filed.
In the U.K., the Metropolitan Police started using biometrics for identification in 1901.
In the U.S., it was initiated by the New York police in 1902, with French police beginning the same process in late 1902.
By the 1920s, the FBI had created its first Identification Department, establishing a central repository of criminal identification data for U.S. law enforcement agencies.
All needed to be classified manually by an ever-growing team of staff.
Similarly, laborious manual searches had to be undertaken every time a potential match was sought.
But that's just part of the story.
How does AFIS​ help law enforcement?
The AFIS itself can trace its roots back to the electronics revolution of the 1960s.
The arrival of computers coincided with widespread concern over rising crime in the developed world.
A report compiled by the RAND Corporation proved particularly influential in the U.S.
Significantly, it highlighted the opportunities for much more convincing physical evidence – notably fingerprints – to improve crime-solving performance.
Recognizing the potential of emerging technology to help achieve this goal, agencies including the FBI, the U.K. Home Office and police authorities in Japan and France undertook research initiatives. 
Together, this work helped to kick-start the development of the AFIS.
Automated fingerprint matching: the challenges
The evolution of modern AFIS required several more technological breakthroughs. And the scale of these challenges should not be underestimated.
Think about this for a moment.
To effectively replicate the work of skilled and experienced staff, several critical tasks had to be performed quickly, reliably, and accurately.
Specifically, these included:
reading and capturing the traditional ink-on-card fingerprint image;
detecting the 'minutiae' (distinguishing features) in the captured image;
indexing the records;
and comparing one set of minutiae data (taken from a suspect or crime scene, for example) with an extensive database of similar records.

This fingerprint capture shows linear valleys (white) and ridges (black). Minutiae are specific spots such as ridge bifurcations and endings (yellow and red). The tiny circular white dots are sweat pores. (Source Gemalto at Milipol 2017).  About 60% of all fingerprint patterns are loops, like this one-  visibly curving around to make a loop shape. 
Minutiae: the crucial detail in fingerprint analysis
In fingerprint analysis, the procedure starts with categorizing fingerprints based on their general patterns. 
These patterns can be loops, whorls, or arches. This categorization serves as a preliminary filter, helping to narrow down potential matches.
The next step involves studying the minutiae - unique characteristics within the ridge patterns of a fingerprint. These include features such as bifurcations (where one ridge splits into two) and ridge endings. Analysts scrutinize these tiny details closely (using an AFIS).

Consider the scenario where a fingerprint has been retrieved from a crime scene (image on the left). 
The analyst would first match its general pattern with known fingerprints in their database. 
Then they would delve into the minutiae, comparing the intricate details of this fingerprint with those of the selected known prints.
If a significant number of these minutiae correspond between the crime scene fingerprint and a known print (right image), the analyst can conclude that they originate from the same individual. 
This process requires careful attention to detail, but it's integral to ensuring accurate fingerprint identification.
Furthermore, the system needed to encompass 'tenprints' and latent prints.
Tenprints or known prints
As the name suggests, tenprints comprise a complete set of fingerprints taken from an individual and collected on a single sheet.
They are also referred to as "known prints" because the identity of the source of the impression is known.
Traditionally this has been done by applying a thin coat of ink across the fingers' ends and then rolling them across a card. However, more recently, electronic 'livescan' devices have increasingly been used instead.
Latent prints

 Latent palm print being lifted from a crime scene.
In contrast, latent prints are recovered from a crime scene or physical evidence using chemical, biological, and lighting techniques.
Inevitably, these are often partial or highly fragmented, posing real problems in reliable automated matching.
But let's see how a ten-fold increase in identification in latent prints in San Francisco changed the landscape for good.
AFIS: biometrics and forensics
Once the key technical issues had been addressed, the AFIS needed to prove its value in the real world.
In this respect, a system supplied to the authorities in San Francisco in 1984 proved particularly significant.
Notably, the city's new AFIS was part of a completely new 'crime scene to courtroom' philosophy.


This move included creating a dedicated crime scene investigation team, specially trained and equipped with its labs and vehicles. 
The impact was dramatic and widely publicized, including a ten-fold increase in identifying latent prints and a sudden decrease in burglary rates.
The use of an AFIS - and a more focused approach to collecting and analyzing physical evidence-  was justified. It became a must-have for large jurisdictions across the United States.
To know more about forensic analysts' work and achievements, we give a short insight into a video on how SFPD's Automated Biometric Identification System today helps enhance public safety in this iconic Californian community.​
​AFIS market
By 1999, 500 AFISes were deployed around the world.  
Today, according to a January 2022 study from Allied Research, the automated fingerprint identification system market size (hardware and software) is estimated to reach USD 68 Billion by 2030, at an estimated CAGR of 23.0% between 2021 and 2030.
North America is the largest market share and is expected to prosper during that period. 
Asia-Pacific is the second largest region.

A comprehensive investigative toolkit
The rapid adoption of AFIS inevitably led to further investment in development - a process still showing no signs of abating. Consequently, the typical modern AFIS can perform tasks that include:
Searching a known tenprint against a tenprint database
Searching a latent print against a tenprint database
Searching a latent against a latent database
Seeking a new tenprint against 'unsolved' latents
Further enhancements include introducing palm prints, interfacing the AFIS with other criminal justice information systems, digital mugshots and livescan devices, and using multi-modal biometrics (e.g., facial, iris).
Some ABIS systems may require multiple processing of hundreds of millions of biometric records within 1 to 2 seconds, so they now include gate-array technology. This processing architecture was initially designed for ultra-low latency applications in high-performance computing environments such as science or finance. 
Quickly and reliably finding potential matches in massive databases may require vast computational power.
But let's not forget one thing.
The human element is still critical.
Allow us to explain.
Success depends on various factors, notably the clarity of images and the degree of correspondence between the search print and the database print.
Success rates of 30% are typical for latents - and remain highly dependent on forensic technicians' skills.
The technicians must know what to look for, and knowing what to look for takes 12 to 18 months of intensive training.
For example, minutiae features will likely be reviewed manually before deciding which one to focus a search on.
Several searches may be needed using different parameters before a match is found.
In the case of latents, it is also probable that several potential matches will be retrieved, requiring further analysis and interpretation by experts before they can conclude.

​
Automated Biometric Identification Systems improve efficiency with specialized workflows, such as the Thales CABIS 7.0 Unknown Latent Workflow.
A latent image is marked up and submitted for a sequential search to the latent fingerprint database (LFP) and the latent palmprint database (LPP), thereby removing the need to remark and resubmit a second time.
How does AFIS operate?
The effective use of highly sophisticated algorithms is a crucial element of the process. Over the years, many such algorithms have been developed and enhanced continuously based on real-world experience. 
Commonly used examples include:
Image Enhancement
As the name suggests, image enhancement algorithms address the numerous issues affecting the basic quality of latent or tenprint images.
Feature Extraction
Feature extraction algorithms are designed to identify the minutiae points (usually ridge endings and ridge bifurcations) that distinguish one print from another. These might also be supported by algorithms locating non-minutiae points, such as pores or textures. Indeed the combination of minutiae and non-minutiae algorithms can prove incredibly powerful in searching for a match.
Indexing
Automatic indexing of fingerprints limits the sheer volume of data that an AFIS needs to process when searching for a match, significantly reducing the time taken to complete the task.
Matching
The design and choice of matching algorithms employed by the AFIS – and its operators - significantly impact the number of potential matches, false positives, and false negatives generated. An AFIS also uses algorithms to provide a 'matching score.' This reflects the confidence that a set of prints can be regarded as matching another found in the database.
Interconnection: IAFIS, IDENT (HART)​​ and EURODAC
As the number of AFIS applications snowballed from the 1980s onwards, so did the need for integration and cooperation. 
​IAFIS (now NGI)
What's the difference between AFIS and IAFIS? 
AFIS is the generic term, and IAFIS is the name of the FBI AFIS.
IAFIS stands for Integrated Automated Fingerprint Identification System.
Created in 1999, the IAFIS, upgraded to the Next Generation Identification (NGI), is the world's most extensive criminal history collection. 
How big is IAFIS (NGI)?
Maintained by the FBI Criminal Justice Information Service, it contains the fingerprints of more than 185 million criminal, civil and military individuals at the end of October 2023, according to the NGI fact sheet.
The NGI database includes over 16 million military-related fingerprints.
Cold case – This 1969 crime has been solved after almost 34 years in Houston, Texas.
​​Notably, the system architecture is designed to enable local, state, federal, and international law enforcement communities and civil organizations to efficiently access or exchange critical information around the clock, 365 days a year.
DoD Automated Biometric Information System (U.S. Military AFIS)
The United States military has been saving fingerprints, faces, irises, and DNA data in an AFIS system since January 2009. The biometric initiative initially collected fingerprints.
The Defense Forensics and Biometrics Agency (DFBA) manages the system, otherwise called the DoD Automated Biometric Information System.
The 7.4 million identities collected originate from military operations in Iraq and Afghanistan, according to OneZero (6 November 2019).
In the first half of 2019, biometric identification was used thousands of times to identify non-U.S. citizens on the battlefield.
IDENT (now HART)
In the United States, biometrics is also used to detect and prevent illegal entry, grant and administer proper immigration benefits and facilitate legitimate travel and trade.
The Department of Homeland Security provides biometric identification services ​through its Office of Biometric Identity Management (OBIM), which supplies the technology for matching, storing, and sharing biometric data. 
The Automated Biometric
Ident
ification System or
IDENT​
system holds over 200 million unique identities and processes more than 300,000 daily biometric transactions. 
IDENT is the largest biometric repository in the U.S. government and shares critical biometric data with the Department of Defense and Justice to support homeland security, defense, and justice missions.
HART
( the Homeland Advanced Recognition Technology) is the next-generation system that 
replaces
the current IDENT as of 2020. 
According to the U.S. Department of Homeland Security, the migration from IDENT to HART operations occurs in phases to minimize the impact on OBIM's mission partners, according to the U.S. Department of Homeland Security (24 February 2020 - Increment 1 Privacy Impact Assessment).
It will offer higher capacity, enhanced functionality, increased transaction speed, and improved user effectiveness. HART is also scaled to encompass biometrics for 500 million people. 
EURODAC and the European Entry/Exit System
Similarly, in Europe, the Eurodac biometric system (European Dactyloscopy System) is the largest multi-jurisdictional AFIS globally, serving 32 countries. 
Eurodac is the E.U.'s asylum fingerprint database and contains all asylum applicants' fingerprints from each Member State and fingerprints from persons apprehended in an irregular border crossing.​
There's more here as well.
At the end of November 2017, the European Council adopted the future Entry/Exit System (EES).
It will replace the current system of manual stamping of passports. In addition, it will electronically register the name, type of travel document, biometrics (4 fingers and face), and the date and place of entry and exit of third-country nationals visiting the Schengen area for a short stay.
Facial recognition will be a major component of this AFIS/ABIS system or systems, as each Schengen country will also have a national database.
This central and national biometric database was put in place in 2022. 

Budapest, Hungary – September 2015: Refugees are waiting to take a train to Austria. The Eurodac system compares fingerprints of asylum applicants and persons apprehended in connection to an irregular or illegal border crossing. 32 European states use it.
​
Shaping the future of law enforcement
We've seen that the AFIS has made tremendous strides over several decades.
But they are still far from a 'magic bullet.' They cannot replicate the complex analytical skills of a forensic expert completely.
However, the sheer speed and accuracy with which a modern AFIS can now work allow these skills to be deployed with the highest possible degree of efficiency.
As we advance, the role of the AFIS is only likely to grow.
Ultimately, introducing A.I. (Artificial Intelligence) may deliver another step-change in performance.
More immediately, a much richer array of biometric data is being embraced, increasing the chances of matching physical evidence, or a crime scene, to a suspect.
At the same time, this raises new ethical questions, and decisions will need to be made regarding how an individual's data is collected, stored, shared, and used.
Different societies will reach different conclusions.
But there can be little doubt that both AFIS and ABIS will provide invaluable support for a wide range of law enforcement teams as they seek to build safer communities and bring to justice all those who threaten the security and well-being of law-abiding citizens.   
Forensic science technicians
Forensic science technicians, also known as forensic examiners, support criminal investigations by collecting, identifying, classifying, and analyzing physical evidence. In addition, they serve as specialists in ballistics, fingerprinting, handwriting, pathology, or toxicology.
 
This description includes crime scene technicians in the field and the crime laboratory.
 
They are also referred to as criminalists or forensic scientists.
 
The Bureau of Labor Statistics (Department of Labor) reported 17,590 jobs in the United States in 2022. Forensic science technicians' employment will grow 14% from 2018 to 2028, much faster than the average for all occupations.
 
The growth is driven by the increasing use of forensic science techniques in solving and preventing crime.
Forensic technician salaries
In May 2022, the Bureau reported the mean yearly wage was $63,740 (annual salaries at the ten percentile were $39,710, and the 90 percentile were $104,330). Federal agencies usually tend to pay more. 
Some recent
job openings
(May 2023) have the following pay scales:
Forensic technician: 38,873 (FL)
Fingerprint technician: 43,350 to 54,680 (M.D.) 
Criminalist Latent Print Examiner: 73,057  to 91,321 (CO)
Police Identification Specialist: 47,271 (TX)
Latent Print Examiner: 48,800 to 61,800 (F.L.)
Latent Print Examiner: 52,600 - 66,600 (GA)
Latent Print Examiner I 47,825 - 50,116 (M.D.)
Senior Certified Latent Print Examiner: 86,600 to 110,000 (VA)
Latent print Examiner II: 59,900 to 75,800 (GA)
Forensic Examiner 1- latent print: 73,715 to 102,564 (G.A.)
Forensic services manager: 73,700 to 117,900 (NC)
Becoming a forensic technician
According to the Bureau of Labor Statistics, most forensic science technicians hold bachelor's degrees in the natural sciences and a master's degree in forensic science.
 
To become a forensic science technician, visit the Criminal Justice Degree Schools and the American Academy of Forensic Sciences websites.
 
We help forensic examiners find answers fast.
Leveraging over 30 years of biometric experience from trusted industry leader, Cogent, Thales Cogent Automated Biometric Identification System (CABIS) provides a multi-biometric tool to help examiners find answers quickly and efficiently.
Thales CABIS is used to investigate, identify, and verify in civil and border identification and law enforcement applications.
Cogent AFISes are deployed to over 200 applications, such as the US IDENT, Canadian AFIS, or EURODAC systems, in more than 80 countries worldwide.
Frequently Asked Questions about AFIS, Fingerprints, and Related Topics
What is FBI AFIS?
FBI's IAFIS, implemented in 1999, or the Integrated Automated Fingerprint Identification System, was a biometric database that stored and retrieved fingerprint records. Law enforcement agencies across the U.S. used it for criminal identification and background checks.
AFIS is a generic term, IAFIS was the name of the FBI AFIS. AFIS is like the general term "smartphone",  whereas IAFIS is like "iPhone", a specific brand name. IAFIS is a type of AFIS, but not all AFIS systems are IAFIS.
What replaced AFIS?
Next Generation Identification (NGI) system, an advanced biometric identification system developed by the FBI, officially replaced the Integrated Automated Fingerprint Identification System (IAFIS) in October 2014. NGI provides improved capabilities, including enhanced biometric services such as palm prints, iris, and facial recognition.
Are military fingerprints in AFIS?
Yes, the fingerprints of military personnel are typically stored in the NGI database (about 16 million in April 2023). This is for security purposes, background checks, and to assist in identifying remains in the event of casualties.
How accurate is the AFIS?
The accuracy of AFIS largely depends on the quality of the fingerprints submitted. However, it is highly accurate overall, with a lower error rate than many other identification systems. The probability of mismatching fingerprints is estimated to be extremely low.
How many fingerprints are in AFIS? How many records are in AFIS?
There are more than 173 million sets from individuals worldwide as of April 2023 in the NGI database.
Does the government have my DNA?
If you have not been convicted of a crime, the government does not have your DNA in most jurisdictions. However, your DNA might be collected and stored in certain cases, such as when convicted of certain crimes or after military service.
Does AFIS still exist?
AFIS has been enhanced and incorporated into the FBI's Next Generation Identification (NGI) system, which provides advanced biometric identification services, in October 2014.
How does AFIS search for a fingerprint?
AFIS compares the submitted fingerprint against its database of fingerprints. It uses algorithms to match specific features, like ridges and bifurcations. The system then produces a list of potential matches, which are then manually verified by trained technicians.
What is the difference between AFIS and CODIS?
While AFIS/NGI is a fingerprint(iris, face)-based identification system, CODIS (Combined DNA Index System) is a DNA database used by law enforcement agencies for matching DNA profiles during criminal investigations.
What are the 3 different types of fingerprints investigators use?
Investigators typically classify fingerprints into three main types: loop, whorl, and arch. Each type has unique characteristics that can help in the identification process.
What fingerprint database does the FBI use?
The FBI uses the Integrated Automated Fingerprint Identification System (IAFIS), now part of the Next Generation Identification (NGI) system, as its primary fingerprint database.
What is the 12-point rule in fingerprinting?
The 12-point rule is a guideline suggesting that at least 12 matching points of comparison (minutiae) should be found between two fingerprints for a match to be considered definitive. However, this rule varies globally and is not universally applied.
What are the rarest fingerprints?
The rarest type of fingerprint is the arch pattern. It's estimated that only about 5% of the world's population have this type of fingerprint, which includes plain arch and tented arch variations.
Can two people have the same fingerprint?
No, two people cannot have the same fingerprint. Even identical twins share the same genetic material and have different fingerprints. This uniqueness makes fingerprints a reliable method for identification.
Now it's your turn.​
If you've something to say on AFIS and ABIS systems, a question to ask, or have found this article useful, please leave a comment in the box below.
We'd also welcome any suggestions on how it could be improved or proposals for future articles.
And discover our Forensics Partnership Program.
We look forward to hearing from you. ​