The Thales Cogent Palm Scanner CS1000q is a brand new 1000 dpi palm scanner offering a superior fast acquisition speed and USB 3.0 technology. It comes with two different models in order to address all the applications where FBI IAFIS IQS Appendix F certified palm, tenprints and rolled acquisitions are requested.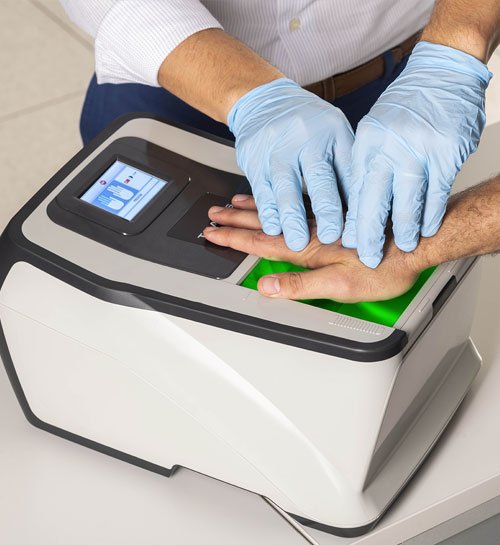 Thales Cogent Palm Scanner CS1000q Key Benefits:
FBI certified – Ideal for Police & Law Enforcement Environments
Easy to use: Intuitive Palm Scanner - Well studied ergonomics and a full color LCD touchscreen (optional) help to enhance workflow efficiency while reducing the need for skilled operators. 
Acquisition of every type of fingerprint
Key features
Superior image quality
Cogent CS1000q is able to acquire fingerprint images with a resolution of 500 and 1000 dpi.

FBI Appendix F and Appendix P Certified
It acquires not only 10-prints, rolls and half-palms but also all types of supplemental prints as per FBI standards: thenar (ball of palm), full finger (distal, medial and proximal) and fingertip impressions.
Faster acquisition speed
Cogent Enrolment scanners have a superior acquisition speed. With the USB 3.0 interface the CS1000q is one of the best performing scanner in the world.
Modern and very compact design
The Cogent Palm Scanner CS1000q is designed with a small footprint, it can be used in a desktop setting or integrated into other systems like kiosks.Rubbed edges will assure a better handling too.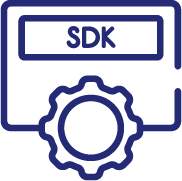 Supported by MultiScan SDK
Fully support by Cogent MultiScan SDK: one of the most advanced and complete SDK in the market including a wide range of checks, controls and enhancements. This feature-rich SDK for all common platforms makes the Cogent Palm Scanner CS1000q the perfect choice for system integrators and solution providers.

Prism Heater
An integrated heater based on innovative proprietary technology will automatically keep the prism's surface at the right temperature and provide assurance in achieving the best fingerprint acquisition of very dry

fingers in low temperature environments. With this added technological feature, the scanner can achieve superior image quality capture outcomes.
Silicone membranes
Cogent CS1000q can be provided with silicone membranes able to enhance fingerprints acquisition in the presence of cold/damaged fingers.
A perfect fit for Police & Law Enforcement Applications
Thanks to its FBI Appendix certifications, the CS1000q can be used in law enforcement environments, enabling users to save time and generate more reliable matches. With this palm scanner, no need to store paper fingerprint cards anymore !
CS1000q can be installed into ruggedized housing cabinets such as our LiveScan Cabinet, offering various components that can be easily incorporated to create a range of applications such as applicant fingerprint processing, border control, or inmate booking.
Target applications