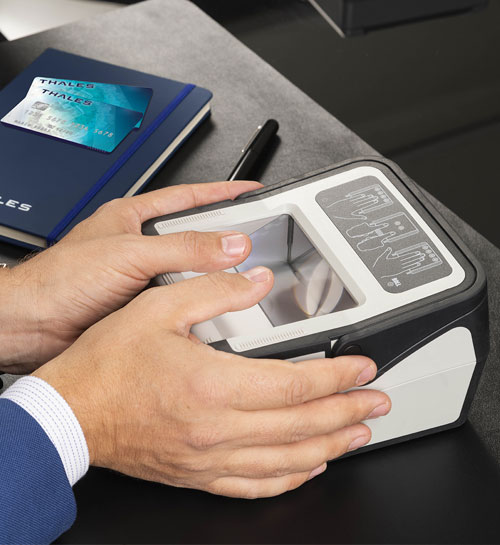 Thales Cogent Multifinger Scanner CS500f details:
Easy to use: Intuitive Multifinger Scanner – Acquisition driven by a software interface explaining which finger to place and the result of acquisition - User Interface tri-color LED interface
LFD: Patented technology for Liveness Detection
FBI IAFIS IQS Appendix F (FAP60) & Mobile ID Appendix F certified
Easy integration: MultiScan SDK, multi-OS compatibility, and OEM module available
Flat&Rolled: it can acquire FLAT and ROLLED fingerprints
A member of the Thales Cogent biometric fingerprint scanner family
Ideal for system integrators and solution providers
The Cogent Multifinger Scanner CS500f offers a superior acquisition speed and USB 3.0 technology.
It's a compact and FBI App-F certified 10-print device suitable for all applications in need of 4-slaps and rolled acquisition. The main applications are for eID document issuing and criminal identification.
An ergonomic design combined with an easy-to-integrate SDK architecture makes the Cogent Multifinger Scanner CS500f the perfect choice for system integrators and solution providers.
 
A user interface based on 12 tri-color leds facilitates the acquisition procedure by indicating the fingerprint(s) to be acquired and providing quality feedback thus eliminating the necessity for skilled operators and therefore increasing workflow efficiency. 
The scanner can be provided with a Fake finger Detection Solution (software based) in order to identify fake fingers.