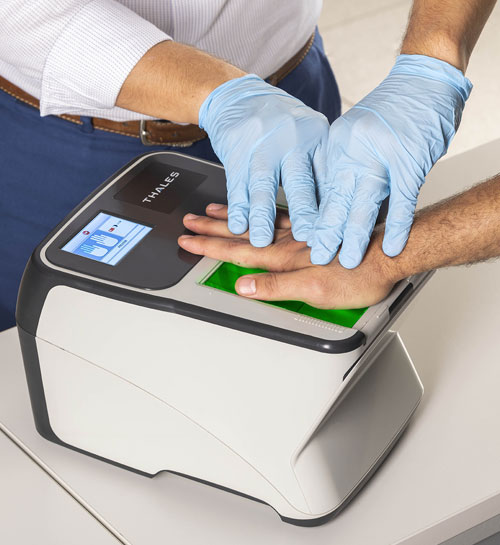 Thales Cogent Palm Scanner CS500q details:
FBI certified – FBI IAFIS IQS Appendix F certified and Appendix P compliant
Easy Integration: MultiScan SDK – Multi OS compatibility 
Easy to use: Intuitive Palm Scanner - Well studied ergonomics and a full color LCD touchscreen (optional) help to enhance workflow efficiency while reducing the need for skilled operators.
Acquisition of every type of fingerprint
The Cogent Palm Scanner CS500q is the new device offering a superior fast acquisition speed and USB 3.0 technology.
The Cogent Palm Scanner CS500q is used for law enforcement applications (police station, prisons, refugee camps, etc). 
It acquires not only 10-prints, rolls and half-palms but also all types of supplemental prints as per FBI standards: thenar (ball of palm), full finger (distal, medial and proximal) and fingertip impressions.
A feature-rich SDK for all common platforms makes the Cogent Palm Scanner CS500q the perfect choice for system integrators and solution providers.
The Cogent Palm Scanner CS500q, designed with a small footprint, can be used in a desktop setting or integrated into other systems like kiosks.