Biometrics are becoming part of our everyday lives.
Whether using facial recognition at border control or opening our phones with just one touch of our fingers, citizens are now increasingly comfortable using their credentials to verify who they are.
At the heart of this trend are fingerprint scanners, and leading the way in this field are Thales' Cogent Fingerprint Scanners.
Here we explain what they are, why they are useful, and how they can be deployed – while keeping users' information safe and secure.
Let's dig in.
How do Cogent Fingerprint Scanners work?
Cogent Fingerprint Scanners are optical devices designed to capture the unique qualities of a person's fingerprint.
But how do they work? 
When an individual places their finger(s) on the scanner's glass panel, the Cogent Fingerprint Scanner shoots a bright light onto a glass prism under the panel, which bounces off the panel and onto a lens to capture an image of the print.
Cogent's advanced optical system fully reduces the impact of ambient light and direct sunlight while permitting the capture of fingerprints from marked, stained, or dark fingers.
The image is captured by a state-of-the-art sensor that converts the ridges and valleys of the print into digital data, creating an individual's fingerprint code. This information is transferred to custom-built software and checked against pre-existing data to identify an individual. 
LEDs on the user interface facilitate the acquisition procedure by indicating the fingerprint(s) have been acquired and providing feedback on the quality of the prints.
The result?
This feature saves valuable time and ensures users give quality prints each time without a supervising party. 
What is a fingerprint scanner?
A fingerprint scanner can be defined as a biometric security device that identifies and authenticates an individual's fingerprint to identify them.
There are two main types of finger scanners, optical and capacitive, with new technologies such as thermal sensors.
Thermal scanners, such as the CSD201, operate by sensing the tiny thermal differences between the ridges and the valleys in the fingerprints. They are then converted into a greyscale image.
How are fingerprint scanners used?
There are a variety of applications for fingerprint scanners, especially in areas where the identity of individuals is required.
The Cogent is FBI certified and thus interoperable between all state agencies and private systems worldwide; it can be applied in situations such as border and immigration control, e-gates, citizen enrollment, banking enrolment, and front-desk identity verification.
The device can be used when verifying IDs and issuing documents, for example, passports, driver's licenses, and visas.
Cogent Scanners can also be used for non-official matters such as; granting access to computers, doors, or other barriers; or making payments.
The primary industries currently using fingerprint scanners are:
law enforcement,
government,
security
in some cases, health.
Fingerprint scanners do not always have to be operated by a supervising party.
The Cogent's compact and mountable design is perfect for self-operated services such as e-gates and kiosks. The user interface and operation modes allow self-registration or self-authentication.
What are the different types of finger scanners?
While optical and capacitive methods can categorize scanners, they can also be broken down into their functions.
In other words, not all fingerprint scanners are suitable for every application, and Cogent Fingerprint Scanners offer various types.
 
Single finger scanner – A single finger scanner, such as Thales Cogent Single Finger Scanner DactyID20, is a compact and portable option for identification and verification. The superior fake finger detection technology makes the DactyID20 the best choice for unattended applications like kiosks and computer logins. Verifying with a single finger also speeds up verification, increasing the efficiency of applications such as payment verification in busy stores.
Thumb scanner – A thumb scanner serves the same purpose and contains the same technology as a single-finger scanner. However, some users prefer using a thumb's large surface area. 
Palm scanner – Palm scanners are often used in cases of biometric identification, where the scanner is used to determine an individual's identity. Palm scanners such as the Cogent Palm Scanner CS500q are primarily used for law enforcement applications, for example, in prisons, police stations, and refugee camps. The comprehensive data that palm scanners collect, including 10-prints, rolls, half-palms, thenar (ball of palm), full finger (distal, medial, and proximal), and fingertip impressions, meet FBI standards and provide a wide range of information required by authorities.
Dual finger scanner – Dual fingerprint scanners can capture two prints simultaneously and are becoming preferred over single-finger scanners due to their enhanced accuracy for identification and verification. Adding a second finger to the scan increases the likelihood of acquiring a quality print. Though significantly more accurate than single-finger scanners, the lack of expensive technology such as palm scanning keeps the cost and bulkiness of dual scanners down.
Multi-finger scanners perfectly balance detailed palm scanners and portable dual or single-finger scanners. The Cogent Multi-finger Scanner Dactyscan84c is compact and fully compliant with the FBI's "10-print capture scanner & software user group requirements". Multi-finger scanners can have more extensive hardware interfaces, and the Dactyscan84c and the CS500f both use an LED interface system that indicates the fingerprints have been acquired before providing feedback. These scanners are used primarily in e-ID document enrollment, voter registration, border control applications, and other public authority-related applications.
| | |
| --- | --- |
| Type of Scanner | Key Features |
| Single Finger Scanner | Compact and portable with fake finger detection. Ideal for unattended applications like kiosks and logins. |
| Thumb Scanner | Similar to a single-finger scanner, but designed for thumb use. |
| Palm Scanner | Collects comprehensive data for biometric identification. Primarily used in law enforcement. |
| Dual Finger Scanner | Captures two prints simultaneously for enhanced accuracy. Less expensive and bulky than palm scanners. |
| Multi-finger Scanners | The balance between detail and portability. Mainly used in e-ID enrollment, voter registration, and border control. |
Fingerprint scanning: risks and concerns
While fingerprint scans have several benefits, there are some prevailing concerns about their widespread use, which companies should bear in mind when rolling out their programs:
Turning police officers into border guards – Many have difficulty using portable fingerprint scanners because the scanners discourage immigrants and asylum seekers from going to the police due to fear of deportation, even when in danger. Some immigration and asylum databases collect biometric information on every immigrant and asylum seeker and can be connected to portable scanners. These spot checks can be viewed as intrusive and unnecessary.
Over-surveillance – Many are opposed to the use of fingerprint scanners on the basis that they feel nobody, but themselves should own their biometric data. Some believe that surveillance should not extend to their biology and that they have a right to hold their data.
Lack of privacy – Linked to surveillance, some believe that widespread adoption of fingerprint scanning and fingerprint identification technologies would allow authorities to track the actions of an individual.
More resources: We invite you to visit our recent web dossier about biometric data, privacy, and data protection.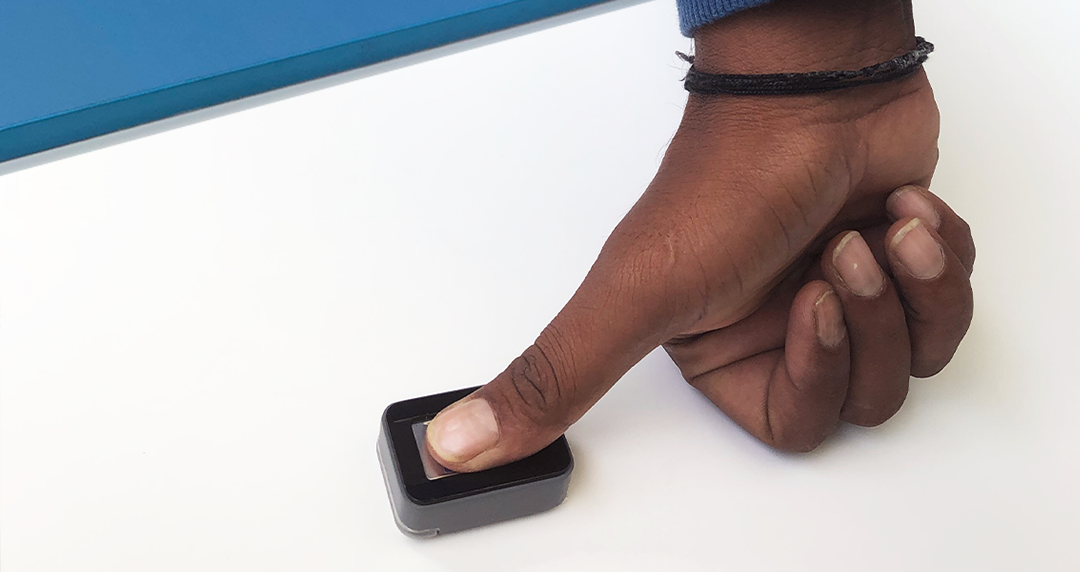 Why use fingerprint scanners?
A fingerprint scan, especially with anti-spoofing technology, is one of the most accurate and safe ways to secure data and identify individuals.
Fingerprint scanners and anti-spoofing software are meticulously tested and given accuracy certifications.
One of the most accurate anti-spoofing certifications is the iBeta ISO 30107-3 Presentation Attack Detection.
The anti-spoofing capability used by Thales Cogent DactyID20 became the first PIV FAP20-certified scanner that was ISO 3017-3 compliant. 
The absence of passwords, ID cards, and keys makes fingerprint scans ideal for restricting and granting access to areas or information. Security systems can be set up with a simple enrollment procedure, and unlike passwords and keys, fingerprints cannot be lost or forgotten. 
Biometric data is also used to identify those who may be involved in crime and is vital evidence in criminal cases. It can assist in tracking criminals who operate under different personas and carry fake identification.
Implementing a fingerprint scanning system can be challenging without the help of an expert partner. For 14 years, Thales has been the trusted FBI-certified partner of thousands of organizations as they roll out biometric programs. 
We're here to guide you through your journey of integrating biometrics into your systems.
Seize the benefits of biometrics
The world of fingerprint scanners might seem as intricate and unique as the fingerprints they process. Still, hopefully, we've managed to make it as easy to understand as checking your reflection in the mirror.
With Thales' Cogent Fingerprint Scanners, you're not just investing in a tool but in the promise of safety, accuracy, and efficiency.
Ready to leap into the future of security?
Now it's your turn
If you have a question about fingerprint scanners or want to find out how we can help you develop a best-in-class biometrics program, please get in touch with us.