​​The Thales Cogent Automated Biometric Identification System (CABIS) 7.0 supports multimodal processing, editing, searching, and storing of fingerprint, palm print, latent, facial, and iris data.
Our signature CABIS solution is enhanced with a redesigned backend system and advanced features and workflows to achieve a high operational performance and system reliability.
Its modern GUI provides an intuitive and user-friendly interface that improves user experience and requires minimal training.
Web access is also available for agencies to access their systems simply via a web browser. CABIS 7.0 incorporates our new algorithm library and takes our matching accuracy and speed to the next level.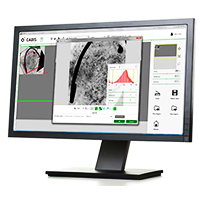 We understand each agency has different needs and business rules.
So, we work proactively and corporately with you to provide customized CABIS 7.0 solutions for law enforcement, civil, and border management agencies to advance public safety while increasing productivity and efficiency.​
What's new in CABIS 7.0?
Accuracy and Speed: New algorithm library provides higher accuracy and faster matching speed.

Availability

: Enhanced data synchronization and reduced system downtime on

new configurations

keep the system highly operational with minimal interruption. 

Comprehensive workflows and features: provide better tools to enable users to work efficiently.

Centralized Management System: Offer robust web-based administration suites for rapidly deploying, configuring, and testing our full ABIS solution in a central location.

Latest Technology: Builds upon SOA (Service Oriented Architecture), Java, and Spring framework to adapt to future technology while remaining platform agnostic.

Enhanced Security: Strong encryption option for data at rest and data in transit to protect critical information in the system.