Last updated: 19 January 2021
Biometrics  -with photographs and ten fingerprints taken at ports of entry and consular offices abroad of foreign nationals seeking admission into the United States- is a cornerstone of the country's border management.
Similarly, IDENT, the Automated Biometric Identification System, is at the heart of the central Department of Homeland Security (DHS) system to store, match, and process biometric and associated biographic information.
Let's dig a little deeper.
What is IDENT?
IDENT is a continually growing database that holds biometric information and other personal data on over 200 million people who have entered, attempted to enter, and exited the United States of America.
IDENT was the original fingerprint border control system established in the mid-1990s with Cogent as the fingerprinting provider to identify persons attempting to illegally cross into the United States via the north and southwest borders.
The system was expanded in 2003 and made operational in 2004 as the US-VISIT system.
The US-VISIT program increases the IDENT capability to include fingerprint biometrics processing of international travelers arriving at international airports within the United States.
 In 2013, the DHS NPPD Office of Biometric Identification Management (OBIM) became the managing group for all DHS biometrics activities. Some of the stakeholders and users of the DHS OBIM repository include:
Immigration and Customs Enforcement (ICE),
Customs Border Patrol (CBP),
Citizenship and Immigration Services (CIS)
and the Department of State.  

Los Angeles, USA - 28 April 2013: U.S. Immigration officer checks documents of a tourist arriving in Los Angeles. U.S. Customs at LA Airport, a bustling port of entry.
IDENT is central to OBIM's mission to use biometric data to help numerous stakeholders at all levels of government build a secure nation: accurately identifying the people they encounter in the course of their duties and determine whether they pose a risk to the United States.
IDENT enhances citizens' and visitors' security, facilitates legitimate trade and travel, ensures the integrity of the immigration system, and protects the privacy of anyone entitled to enter the country.
So how exactly does IDENT help achieve these goals?
IDENT is built around an Automated Fingerprint Identification System (AFIS) supplied by Cogent Systems, now part of Thales. As the name suggests, this AFIS enables OBIM to check the fingerprints of an individual seeking to enter the country against watch lists of:
known or suspected terrorists,
criminals,
immigration violators.
There's more. IDENT allows identity verification.
Furthermore, checks against the database of all fingerprints collected at U.S. borders can identify whether the individual in question uses alias and fraudulent identification documents.
Why is this important?
Because studies show that many people not entitled to enter the USA will make numerous attempts to do so, using different names and credentials to deceive border staff.
Biometric data is also crucial for departures. Using only biographical information, such as names or passport numbers, provides no assurance that the person departing is the one whose original arrival was recorded.
Combined with the skilled staff at OBIM, potential matches can be retrieved from a database that now runs to many millions of records in a matter of seconds.
Now, look at these numbers. They are impressive.
​In 2017 alone, OBIM: 
processed over 100 million subjects
identified 175,000 known or suspected terrorists 
added more than 15 million new unique identities to IDENT 
also performed 3.8 million latent print comparisons.​
Where does IDENT's biometric data come from?
Since OBIM was established, a biometric identity record comprising of fingerprints and a facial image is created for every overseas visitor and visa applicant.
This is done by taking a digital picture, and ten digital fingerprints, via a fingerprint scanner.
In March 2009, DHS upgraded its biometric collection requirement from 2 to 10 digital fingerprints. This enhancement gives more information against which to verify a traveler's identity and increases fingerprint matching accuracy,
The ABIS is interoperable with several different identity databases, which can be searched quickly and accurately. Border staff and other officials can immediately get photos and fingerprints of any individuals of interest that offer a potential match.
The FBI's Integrated Automated Fingerprint Identification System (IAFIS),  created in 1999, is a different biometric database.
The Criminal Justice Information Services (CJIS) Division of the Federal Bureau of Investigation maintains this system.

Miami, United States - 20 June 2015: Passengers have landed in Miami International Airport on international flights from other countries. They are walking through glass doors to enter the United States Customs area.
Why is the use of biometrics so important?
As far back as the late 19th century, the potential to use fingerprints for reliable identification purposes was recognized.
More recently, technological advances such as face recognition have offered authorities an ever wider range of tools to establish beyond doubt the individual's true identity.
Given the ever-increasing sophistication of fraudsters' attempts to deceive border staff with the use of counterfeit credentials, the absolute certainty provided by biometrics is an invaluable asset.
U.S. entry-exit system: facts and figures
The facts and numbers listed below go a long way towards demonstrating the importance of the IDENT system to the government agencies responsible for both expediting legitimate trade and travel and preventing the admission of undesirables into the USA.
Daily:
More than 200,000 fingerprints captured/extractions and quality checks performed/1-to-many comparisons.
100,000 traveler transactions at U.S. Ports of Entry (POE) – two-finger and tenprint transactions
150,000 1-to-1 comparisons (for travelers who have already visited the U.S. and have fingerprint records on file)
100,000 tenprint transactions processed from State Department and OBIM point of entries and searched against a combined unsolved latent (e.g., fingerprints recovered from a crime scene) database of 284,000 records
700 latent transactions against a database of more than 200 million fingerprint records
Combined peak hourly workload exceeds 15,000 total database searches, with over 30,000 users at any given time.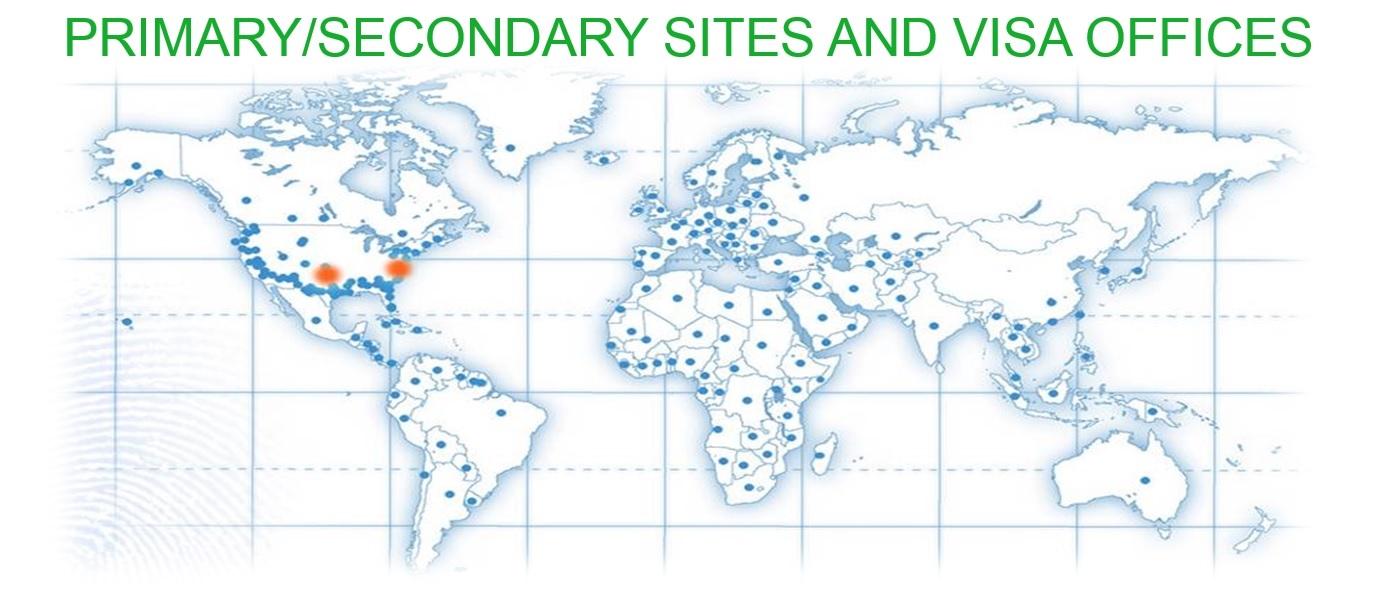 The system is a common reference system for the U.S. government and collects in 115 airports, 15 seaports, 100 land border stations, and 211 visa offices worldwide.
What's the story behind IDENT?
A closer look at the history of DHS's IDENT further illustrates the central role it plays in helping government departments meet a series of key political objectives.
The use of an automated biometric entry-exit tracking system has now been at the heart of efforts to deal with some of the country's most pressing challenges for over two decades.
The Thales Cogent AFIS was first implemented on a trial basis in 1994, for what was then the Immigration and Naturalization Service (INS). More widespread deployment was initiated in 1996.
In the same year, the Illegal Immigration Reform and Immigration Responsibility Act was passed. This required the government to develop and implement entry/exit data systems for visitors, including biographical information.
In particular, the aim was to identify 'overstays': individuals who enter the U.S. legitimately but remain in the country beyond the time limit set by their visas and/or other conditions.


 There are severe penalties for overstaying a U.S. visa that can end with being banned from the country for some time or permanently.
At this point in history, the main concern for legislators was the impact of illegal immigrants on the U.S. labor market, along with broader social issues that might be associated with a growing population of unidentified aliens living beyond the reach of official programs for health, welfare, taxation and the like.
September 11th,  2001, changed everything.
With domestic terrorism placed top of the agenda overnight, border control was similarly thrust into the frontline of efforts to protect the state from those that would do it harm.
Notably, five of the 9/11 attackers were subsequently identified as overstays.
The response of political leaders was fast and wide-ranging.
Domestically, it included creating the all-new Department for Homeland Security (DHS) and the introduction of the US-VISIT (United States Visitor and Immigration Status Indicator Technology) program – the predecessor of IDENT.
Passed in 2004, the Intelligence Reform and Terrorism Prevention Act required rapid acceleration of the implementation of an automated biometric entry/exit system.
In the same year, US-VISIT began collecting biometric data on aliens entering the U.S. at 115 air and 14 seaports of entry. By 2015, this had been extended to collecting such data on all aliens entering the US at all points of entry. Subsequent years have witnessed further study of, and investment in, biometric exit systems.
As already noted, 2013 saw the creation of OBIM and the evolution of US-VISIT into IDENT.     
What next for IDENT?
Border integrity remains a crucial concern for many American citizens.
And government authorities are committed to more intensive use of biometric identification in general and the IDENT system.
For example, in April 2016, the DHS issued a biometric entry/exit plan.
The Secretary of Homeland Security stated that he had directed US Customs and Border Protection (CBP) to begin implementing a biometric exit system in 2018, starting at airports.
The Executive Order on Immigration and National Security, one issued January 27 and the revised version issued March 6, affirmed mandate for US-VISIT Exit by DHS (Customs and Border Protection) and stated: "The Secretary of Homeland Security shall expedite the completion and implementation of a biometric entry-exit tracking system for all travelers to the United States."
As such, it marked the latest step forward for a program that has captured and stored biometric data from visiting foreign nationals since 2004 and lawful permanent residents of the country since 2009.
Thanks to the work of OBIM, this vast resource is easily accessible to relevant agencies throughout the United States and interoperable with several other critical biometric databases and watch lists.
As of early 2017, the system has over 200 million identities and is conducting over 300,000 transactions per day while simultaneously adding in face and iris biometric matching technologies.
Homeland Advanced Recognition Technology
HART ( the Homeland Advanced Recognition Technology) is the next-generation system that replaces the current IDENT as of 2020. 
The migration from IDENT to HART operations occurs in phases to minimize impact to OBIM's mission partners, according to the US Department of Homeland Security (24 February 2020 - Increment 1 Privacy Impact Assessment).
It will offer higher capacity, enhanced functionality with increased transaction speed, and improved user effectiveness.
HART is designed to include voice data, DNA profiles, scars, marks, and tattoos, and other biometric modalities if required. 
DHS is expecting close to 260m individuals to be in the database by 2022, according to a recent presentation done by the Agency.
HART is also scaled to encompass biometrics for 500 million people.
Where does Thales fit into the picture?
From the outset, Cogent (now part of Thales) has played a crucial role in the U.S. government's biometric visitor identification programs IDENT, US-VISIT, and OBIM.
Furthermore, in the aftermath of 9/11, it enabled the DHS to enhance and develop this solution, seamlessly supporting the evolution from US-VISIT to IDENT.
This uniquely powerful database is still built around Thales Cogent's industry-leading ABIS technology.
Representing the most extensive Thales application of its type anywhere in the world, there is probably no more explicit demonstration of the company's ability to help border control authorities meet the various challenges of the 21st century.
Furthermore, its long history at the heart of the government's fight to combine easier transit for legitimate travelers with a water-tight defense against illegal entry attempts highlights the outstanding flexibility it offers to cope with a fast-changing environment.
In particular, Thales' advanced biometric passport​ technologies are being used in over 30 different countries. Thanks to their outstanding security and the faster, more convenient border crossings they facilitate, the company's solutions help authorities strengthen homeland protection and improve the traveler experience. ​
Now it's over to you.
If you'd like to find out more about Thales' biometric entry-exit tracking systems and AFIS/ABIS solutions in particular, please get in touch with us.
Biometrics has become a foundation for intelligence and law enforcement investigations within the United States.
See how Thales Cogent AFIS/ABIS systems contribute to protecting our communities better and helps forensic examiners find answers fast across the nation.
To understand why biometrics is vital for stronger authentication, visit our web report on biometrics.
Discover many similarities in the recently passed E.U. regulation on Entry-Exit System for the European borders (in place by 2022) with our web dossier.
We'd also welcome your comments on this article – please add them to the form below.