​​​​​​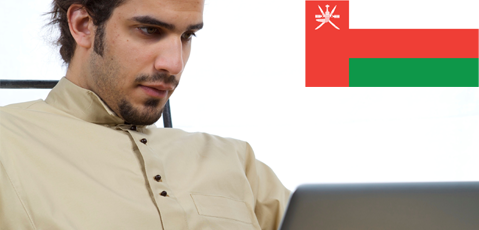 Oman's National ID Card program
The Sultanate of Oman is an Arab state in the Arabian Gulf with 4.6 million in 2023, including over 2 million expatriates. 
The Sultanate's national ID program started in 2006 and has reached 100% of its population.
Every citizen and resident with an ID card also has their unique civil number.
Smart ID cards enable the Sultanate of Oman to provide secure public services to its population. 
The computerized card is an authentication tool to access 
Omanuna
, the Official Oman eGovernment Services Portal. And other online services.
The Omani National Identification card is a mandatory identification document for all Omani citizens. It's a small, credit-card-sized ID card with advanced security features.
The front side of the card bears the holder's photograph, full name, ID number, and the card's expiration date. The photo is on the left, with the individual's name written in both Arabic and English.
The national emblem of Oman – a pair of crossed swords with a khanjar (a traditional Omani dagger) overlaying them – is also present on this side.
The back of the card includes details like the holder's date of birth, sex, nationality, and the holder's signature. It also has machine-readable zones compatible with international travel standards, making it a useful document for identification purposes even outside of Oman.
Inside the card, there's an embedded electronic chip. This chip stores personal data of the cardholder, biometric information (including fingerprints), and digital certificates to authenticate online transactions and digital signatures, thus serving a dual function of identification and digital accessibility.
The Omani National ID card is an important document, useful for a variety of services ranging from government transactions, banking, healthcare access, to facilitating travel. It's an emblem of national identity, connecting every Omani citizen to a wide array of services and facilities.
Let's dive in:
Multi-application biometric ID card
Oman's national smart ID card and resident card, the size of a credit card, is a personal identity cards. 
It can also integrate a driver's license (visually printed on the back of the card), an e-purse for payment, and a digital signature.

Oman's citizens' and residents' credentials are securely stored on the cards, including name, address, digital color photo, and fingerprints. 
The national ID card provides secure access to three main applications: identity, driver's license, and border control.
​Enrollment and issuance for a decentralized solution
Thales was selected to provide the complete range of its solutions to the Royal Oman Policeto set upf a smart card-based national ID program in the Sultanate. 
This solution was comprised of the following:
Enrolment, 
eGovernment, 
eBorder,
as well as card issuance.
​The company also supplied consultancy, project management, integration services, and software and equipment for a decentralized personalization environment.
A first in the Middles East
The Oman ID program is the first smart card-based eGovernment solution ever deployed in the Middle East. It aims to make the Sultanate's ID system and processes more efficient and secure, both for authorities and citizens.
More resources