Most powerful passport in 2020
Swedish epassports are regarded as one of the world's most secure travel documents and enjoy a strong reputation. It's been also rated as one of the most powerful and desirable for many years as Swedish citizens can enjoy visa-free travel to many countries around the world.
There's more in 2020.
According to UK's Express (20 May 2020), the Swedish electronic passport is ranking #1 as the world's most powerful passport along with Luxembourg and Ireland.
The factors taken into account included visa-free access and what it can do for you.
A global infrastructure for electronic passport and national eID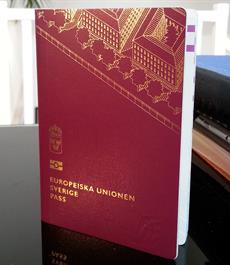 In January 2012 Sweden started to issue the new generations of its electronic passport and national electronic ID card. 
Thales manages the end-to-end delivery process, including the live enrollment solution in Sweden, production of all secure travel documents, as well as operated issuance services. 
The contract signed in 2011 with the local authorities includes the enrollment solution including the software for registering the applicants' data, along with enrollment kiosks for instant capture of the holder's photograph, fingerprints, and electronic signature.
Thales supplies the operated issuance services, which ensure document personalization from its premises based in the Stockholm area. 
The same infrastructure and procedures are maintained for the National eID card as for the ePassport.
The result?
This common infrastructure leads to significant savings in terms of equipment, processes, systems and staff training.​​
The Swedish passport: a distinctive design 
The Swedish ePassport is undoubtedly one of the most advanced secure travel documents rolled out in recent years and definitively a piece of art. 
Collaboration with the Royal Swedish Police was vital to deliver a unique and distinctive passport and a symbol of pride in the hands of millions of Swedes. 
This combination of stylish design and passport security features both illustrates the Swedish identity and makes the passport one of the most secure in circulation. 
The familiar burgundy B7 passport format remains unchanged.
Here is the inside cover page under normal light and UV light. Under UV light, shadows of cars with their lights on are appearing in light blue ink on the roads.


Thales has developed a comprehensive approach to passport security design that we believe can lead to superior results. 
More security 
As of 15 April of 2016, to increase security, a new act entered into force including three major rules:
Swedish citizens may be granted a maximum of three regular passports during five years
The regular passport will be revoked and canceled when a provisional passport is issued
The validity of a passport for children under 12 is reduced to three years.
The Swedish ePassport is undoubtedly the most advanced secure travel document rolled out in recent years and definitively a piece of art. Find more in the brochure below.
More resources on electronic passports and eIDs
How to apply for a Swedish passport (video)