Humans have always relied on the unique characteristics of the face to identify one another. Now, the emergence of mature and proven facial recognition systems offers unprecedented opportunities to automate and enhance this age-old practice.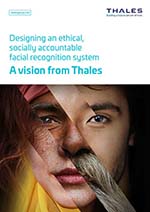 Learn about our vision of this fascinating emerging technology 
For more insight into the technology behind facial recognition systems, how and where it is being employed, the rules and regulations that control its use, and Thales' commitment to ethical deployment and operation.

Fast and accessible, the latest systems deliver speed, accuracy and reliability far beyond what is possible with the human eye.
However, while many of us are comfortable with the idea of using our face to unlock a smartphone, there are significant concerns regarding its use in areas such as public surveillance and law enforcement. 
The ethical implications of facial recognition encompass many fundamental rights, including privacy, protection of personal data, and consent.
As a leading supplier of facial recognition solutions, Thales is fully committed to a responsible approach, in line with the growing body of rules, regulations and laws that apply in this field. 
In this manifesto, we offer an overview of facial recognition technology's key characteristics and applications.
We also explore the broader ethical aspects of facial recognition systems in public places.
What are the risks of misidentification and bias?
How are governments and regulators protecting the rights of citizens?
How can suppliers ensure that their facial recognition systems are transparent and accountable? 
Spot the difference: identification or authentication?
How many faces can you recognise?
The answer might come as a surprise. According to researchers at York University in the UK, for the average human, the figure is around 5000.
For a so-called 'super-recogniser', the number can be double that. 
But consider this.
When it comes to matching someone's face with a picture, such as a passport photo, even the best-trained pair of eyes is only correct about 80% of the time.
In contrast, with the help of AI (Artificial Intelligence), the latest facial recognition systems can deliver exceptional levels of speed, accuracy and reliability. 
That's why facial recognition is on a steep upward curve.
According to one study, by 2025, the global market will be worth $8.5 billion. That compares with $3.8 billion in 2020, representing a CAGR (Compound Annual Growth Rate) of 17.2% over the same period.
In broad terms, facial recognition use cases fall into two categories: identification and authentication. 
Identification is used to answer a simple question: who are you?
The facial image of an individual captured by the system is compared with templates that have already been enrolled and stored on a database. These are known as 1:N (One-to-Many) use cases. 
In contrast, authentication determines whether a person is who they claim to be. The template captured by the facial recognition system is compared with a single template obtained from a picture on the subject's passport, ID card or driver's licence.
These 1:1 (One-to-One) use cases can therefore determine whether the individual is the rightful holder of the credentials being presented.  
So how does facial recognition work? 
Whether it's being used for identification or authentication, the core technology on which facial recognition is based remains the same.
A 2D or 3D scanner 'captures' a face (from a subject who can either be static or on the move) and uses an algorithm to transform it into digital data in the form of a template.
This template is then compared with templates held on a database (or another single template, in the case of a 1:1 application).
The system automatically identifies or authenticates the individual, utilising facial features and geometry such as the spacing of the eyes and bridge of the nose. 
The latest systems can do this even if the subject is wearing a medical mask or in the middle of a crowded and dynamic environment.
But in all cases, the system will need a reference template to identify or authenticate the individual concerned. 
Flexible, effective - and sometimes controversial: what are the pros and cons of facial recognition?
The technology behind facial recognition isn't just fast and accurate. It is flexible too. As a result, a diverse array of facial recognition use cases is emerging:
Physical access control
Deployment of facial recognition for access control to buildings and secure areas is growing fast.
In contrast to physical ID badges or passes, facial recognition is faster and less vulnerable to fraud and ID theft.
There's more.
It eliminates the inconvenience, security risks and additional workloads associated with lost, forgotten or stolen credentials. 
In addition to 1:N use cases, where authorised persons are enrolled on a database and matched with an individual attempting to enter a building or space, access control also encompasses 1:1 systems that authenticate a badge or pass holder. 
Secure customer onboarding
Facial recognition technology can enable convenient and robust mobile, online and remote onboarding journeys for customers and citizens.
For example, to combat the growing threat of fraud and ID theft and meet KYC (Know Your Customer) regulations, banks are increasingly turning to facial recognition to underpin their enrolment and authentication processes. 
But the possibilities extend far beyond banking.
Governments can provide citizens with safe and seamless access to public services.
Facial recognition is also an increasingly important asset for critical processes such as issuing identity documents, where it can further strengthen the fight against fraud and ID theft.
Equally, hotels and airports can enhance the customer experience by using facial recognition to enable remote check-in.
In retail, innovative use cases include customer behaviour analysis and a growing number of pioneering 'pay by face' deployments.  
Seamless biometric travel experiences
For travellers, facial recognition opens the door to a so-called 'fly-to-gate' experience: a stress-free, contactless, end-to-end passenger journey within an airport terminal.
First, passengers are enrolled instantly, using self-service identity verification.
After that, biometric authentication of a passenger's face enables a swift and secure experience at every touchpoint: check-in, bag-drop, security and final boarding.
The hassle of carrying and retrieving physical tickets and passes becomes a thing of the past.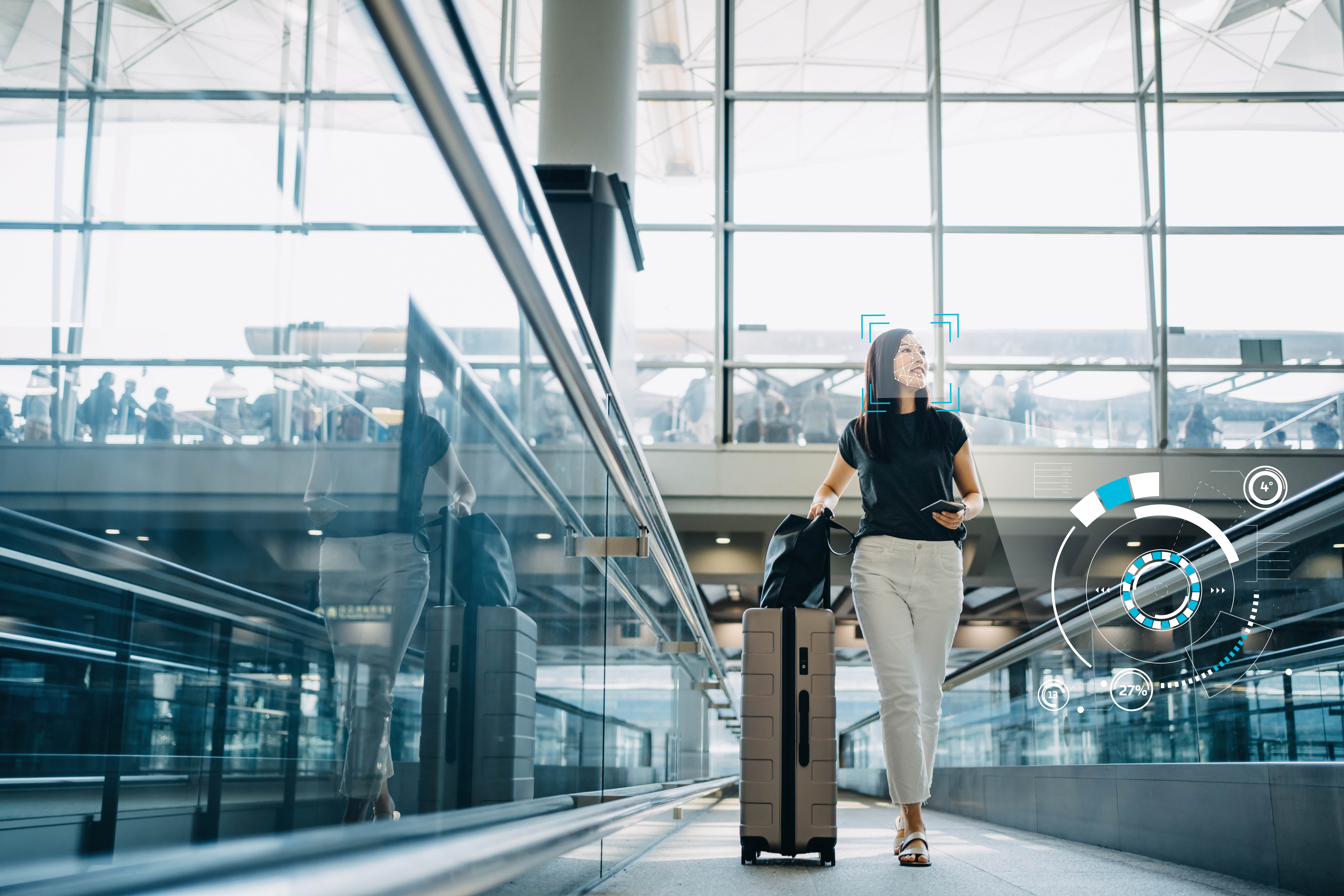 Even in a standalone deployment, this technology is also a powerful tool for increasing the speed and security of border checks.
For example, a new generation of self-service eGates at airport terminals is cutting queues by enabling the portrait in a digitised biometric passport to be compared instantly and automatically with the holder's face.
And it's not just the passengers who benefit.
Freed from routine inspection of travel documents, the border control staff can instead address security threats and manage passenger flow.
Security and law enforcement
Facial recognition can be employed in police checks or lead generation.
In the EU, this is subject to rigorous control.
In the context of the broader ethical debate, it is undoubtedly one of the more sensitive issues being considered by citizens and lawmakers worldwide.  
Public security
The use of face recognition in public spaces, typically in conjunction with CCTV networks, is another area subject to considerable discussion and reflection.
The technology's use in the public domain offers benefits beyond identifying and tracking criminals, suspects, and persons of interest.
For example, facial recognition can help find missing or exploited children and vulnerable or disoriented adults.
However, fundamental questions regarding privacy and consent need to be resolved before deploying facial recognition in this type of use case. 
How is COVID-19 impacting the deployment of facial recognition?   
The unwelcome arrival of COVID-19 has added further momentum to the fast-growing market for facial recognition systems.
By enabling an entirely contactless process, facial recognition can help minimise the risk of virus transmission and reduce queues and crowding.
Moreover, the latest innovations in this field combine facial recognition with fast, accurate and unobtrusive high-temperature detection, further enhancing the public health benefits.
Crucially, these approaches can provide both staff and end-users with greater confidence in the identification and authentication experience. 
 
What are the ethical implications of face recognition?
The future roll-out of facial recognition will not be determined purely based on cost/benefit analyses by operators in the government and enterprise sectors.
There are significant ethical issues with facial recognition technology in several use cases that need to be addressed. 
Right around the world, we see the ethical implications of facial recognition being actively debated and regulations implemented to control how and where facial recognition can be employed.
Specifically, these seek to define the obligations of system operators in terms of ethics and accountability, the rights of citizens in terms of privacy, and precisely how and when their data can be captured and stored. 
Let's consider these issues in more detail.
Misidentification and bias: myth or reality? 
One common area of mistrust is the perceived risk of gender or ethnic bias and the potential for misidentification.
To a certain extent, the answers here lie more in technology than regulation.
Many of the fears regarding misidentification reflect results derived from old and outdated systems and datasets.
However, system suppliers have an absolute obligation to demonstrate that the algorithms on which facial recognition relies are free from conscious or unconscious bias. 
Concerning the accuracy, as datasets have grown, the risk of false matches has declined.
The use of AI in facial recognition ensures that a continually earning process is built into facial recognition.
In essence, the more it is used, the better it gets. 
Independent tests such as those conducted by NIST (National Institute of Standards and Technology) provide unequivocal benchmarks for the standards of performance that are now possible.
For example, in 2020 tests, the best facial identification algorithm demonstrated an error rate of just 0.08%. That's fewer than one error per thousand facial templates. 
What's more, NIST's tests confirmed that the leading facial recognition systems are free from bias. 
How are the lawmakers ensuring privacy and consent? 
While technology suppliers have an essential role, issues related to privacy and consent demand intervention by lawmakers and regulatory bodies. 
Here the EU can rightly claim to be a global trailblazer.
In 2018, the GDPR (General Data Protection Regulation) introduced guidelines for protecting personal data (including biometric data) that apply to 500 million citizens across 28 countries.
Fundamental principles, all pertinent to facial recognition, include the user's right to free, specific, informed and unambiguous consent and the right to be forgotten.
A patchwork of local and state-level initiatives applies in the current absence of federal legislation in the US.
Several states, including California, have implemented laws on biometric data.
Several cities, including San Francisco, have introduced blanket bans on facial recognition or, more specifically, its use by law enforcement agencies. 
Other states, cities and local jurisdictions may implement similar rules and regulations over time.
Federal legislation is also a distinct possibility.      
How is Thales supporting ethical facial recognition?
Thales firmly supports an ethical and accountable approach to deploying facial recognition systems.
Our solutions are designed with clear principles in mind.
Alongside biometrics, Thales' expertise encompasses the robust cybersecurity needed to protect biometric and other personal data.
This is further coupled with a TrUE AI approach, a commitment to transparent and ethical artificial intelligence that ensures adherence to relevant laws and standards.
It also means that users can see and understand the justifications and explanations of results generated by this technology.  
As with almost any technological advance, facial recognition brings with it the potential for harm as well as benefit. Swift development over the past few years has taken us to a point where accuracy and reliability can now be assured in a diverse array of environments.
However, the ethical implications of facial recognition still need to be given careful consideration.
All the relevant stakeholders need to be engaged.
For its part, Thales is fully backing the efforts of governments and citizens to develop robust and effective frameworks that will protect against misuse and provide the foundations for ethical facial recognition solutions that deliver security, convenience and trust. 
 
More information about face recognition