​​​​​​Tackling document and identity fraud is high on the agenda of public authorities and financial institutions.
Today, our customers are relying on advanced solutions to authenticate all types of ID documents.
Thales Gemalto eVerification Solution consists of the combination of mobile biometric eVerification terminals, software, terminal management system​ and integration services delivered by Thales and enabling authorities to perform authentication of documents and identity checks for all types of documents such as ePassports, Identity Cards, Resident Permits, Driving Licenses or Health Cards.
The eVerification offer is covering all eVerification form factors in secure and flexible solutions and is part of Thales' identification and authentication solutions​.
The Mobile eVerification Terminals are multi-ID document readers designed for use in environments where mobility and flexibility are decisive factors in protecting against identity fraud.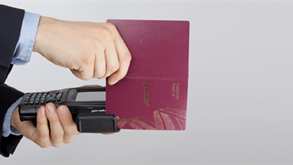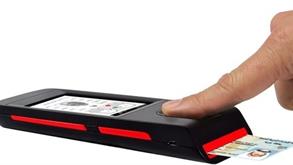 State-of-the-art ID authentication: smart, small and powerful
The Mobile eVerification solution delivers the most extensive electrical security features verification set to check document authenticity and Identity authentication.
The ultra-light model (right picture) for example is a completely integrated mobile biometrics device that combines a FIPS-201 certified, 500 DPI fingerprint sensor, a 5 MP Autofocus camera and contact/contactless smart card reader with Android, the most widely deployed open-source mobile operating system.
The components boast a dual 1GHz Cortex™-A9 application ARM processor, and an integrated 4-in-1 connectivity combo that provides support for dual-SIM 3G communications, dual-band 802.11n Wi-Fi, Bluetooth 4.0 and GPS. This components architecture designed in a modular approach permits to integrate additional devices (as MRZ reader ...)
Tailored to your project and your implementation
The terminals can be customised and support many languages and display modes for inspectors.
The solution can work with any type of watch list systems (textual watch lists, AFIS watch lists, immigration databases etc.) and linked to any kind of information databases (document status, additional document information requirement).  
These watch list checks can be executed online and offline with automatic synchronisation thanks to The Terminal Management System (TMS).
The TMS helps you optimise the management of terminals in the field with simple tools.
It centrally monitors the devices, checks their status, generates asset and activity reports, installs and updates software, and controls the devices remotely.
You can also troubleshoot, diagnose and fix problems, configure and provision the system, manage the network and the security properties of every terminal – even lock down a device if you need to.
Now you can mobilise Thales document verification solutions and experienced service teams to support your project.  Our customers trust us to deliver. So you can.​​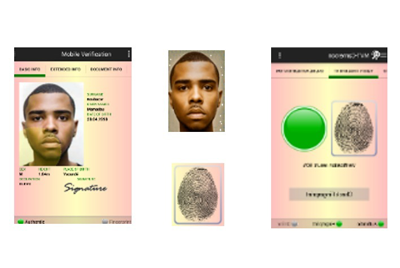 ​​