Mobility with unparalleled readability
​Secure, reliable and comprehensive enrollment and ID verification are the foundations of citizen registration, voting processes and border controls.
The new Thales Gemalto Biometric Tablet​ will help transform the agility and efficiency of your identification and enrollment processes – ensuring they are available precisely when and where needed and moving them far closer to citizens, passengers or customers.
Now you can mobilise Thales' enrollment, identity authentication and document verification solutions on Android to slash document and identity fraud with this new mobile unit.
The Gemalto Biometric Tablet enables authorities to manage large scale mobile enrollment programs and electronic ID verification solutions for effective identity verification and registration. 
The large 10-inch screen offers unparalleled readability.​
This new, full-featured 10 inches mobile biometric and credential reading tablet enables rapid registration, verification and authentication of user identities from any location. Enrollment-capable biometrics are combined with a complete e-document reading suite for electronic ID verification.
The Biometric Tablet is designed for: 
Police, 
Law Enforcement Agencies, 
Electoral Authorities,
Healthcare.
​In the private sector, the tablet enables combined usage of national electronic ID cards and ePassports to provide robust protection against fraudulent ID attempts, such as opening new SIM card registrations or bank accounts with fake or stolen IDs.
​​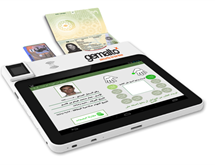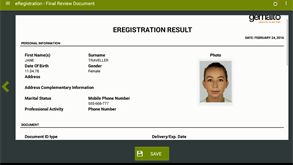 Mobile enrollment and ID verification​
The new tablet is ideally suited where mobility combined with security is vital, creating a highly portable enrollment station for elections and registration programs, for example. It provides irrefutable identity verification during election processes and is an essential tool for the management of polling results.
With the Thales Biometric Tablet, you will:
Reduce ID fraud with cardholder authentication
Read eID documents and ensure accurate data collection.
Minimise manual errors and speed-up processes
Automate data entry for future data-mining analysis
Enhance the customer experience
The biometric solution is capable of supporting both government and private sector initiatives.  It meets registration regulations that require high-level ID verification and enables registration services using identity documents.
Empowering government programmes around the world
Government programmes very often require partners with industrial strength.
Thales' DIS global presence is key to the way we serve governments and authorities, with 15 manufacturing sites and 34 personalisation facilities spread strategically across every continent.
Beyond this, it's our team of 15,000 employees, encompassing some 114 different nationalities, that makes the difference.
Having taken part in 7 voter registration programs in the past five years and over 13 citizen registration initiatives for identity and passport programs, Thales has considerable hands-on experience of enrollment and document verification and the use of biometrics for strong identification and authentication.
Thales has also contributed to significant programs for eHealth cards, as well as many e-Driver license projects.
Thales has succeeded in developing solid relationships, built on trust, with public administrations worldwide. Thales is now contributing to more than 200 government programs around the world​.