The new science of identity
More than our signature, fingerprint or even voice, our face is the most fundamental form of identification.
With technology now able to capture, analyze and compare data about the distance between forehead and chin, or the contour of our eye sockets, we take
the application of facial recognition
very personally. And rightly so. In the online economy, where activity happens remotely, reliable authentication and identification can be hard to achieve. An email is not a failsafe proof of identity, people forget passwords and PINs, which is why attention has turned to biometric alternatives and the potential of facial recognition.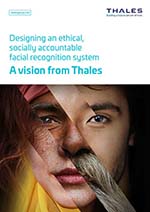 Thales Statement Paper Facial Recognition (Oct 2021)
Thales addresses the main concerns around facial recognition, and highlights our vision for the ethical, socially accountable use of the technology.
Facial Recognition Statement Paper