Discover 11 use cases for facial recognition.
#1. We are reaching new heights in airport boarding.
Every year, more than 100 million passengers pass through Paris-Charles de Gaulle and Paris-Orly airports.
In 2009, the airports' owner – the ADP Group – introduced PARAFE fingerprint recognition technology to speed up the process. However, only 4% of people could use it, as access to fingerprint biometrics was protected within the passports chip. And there was often confusion among users. Which finger? Which hand?
In 2017, the airport authorities decided to upgrade PARAFE with facial recognition systems provided by Gemalto. The new system, which comprises 105 smart gates, delivers the following benefits:
MORE USERS:
Almost half of the travelers have passports compatible with facial biometrics.
LESS ACTION REQUIRED
Facial recognition requires virtually no effort from the subject.
FAST AND ACCURATE MATCHES
The average processing time per passenger is twice as fast as fingerprint scanning – not subject to passenger error. In the pilot study, boarding times were reduced by between 30% and 40%.
Of course, the new systems complement 'human' security measures. Border police can still monitor passengers in real-time, make random checks, and block the opening of gates.
Since 2018, many more airlines have started to use onboard facial recognition technology. In the US alone, more than 15 airports have set up face-matching systems to help board passengers faster and more safely. Trials have occurred at Los Angeles and San Jose airports, among many others.
The technology is creating a lot of interest in Europe too.
For example, the airport specialist Amadeus has successfully tested facial recognition technology for flights operated by Adria Airways, Air France, and LOT Polish Airlines at Ljubljana airport.
It found that introducing biometrics has also cut the average boarding time. The trial was conducted across 15 flights on which 175 passengers volunteered to enroll with their passport or ID card and a selfie check.
The live picture was sent to a server and then used to match the passenger when they passed in front of the camera at the departure gate.
It took fewer than two seconds. With this simple enrolment of their data by smartphone, 98% of passengers were matched successfully and able to board their flight.

#2. Biometric border checks in Europe
The Schengen Area comprises 26 states in mainland Europe. Inside the zone, there are no passport or border controls. This is convenient for nationals that live inside it. But it presents a problem for border guards, who must track the forecasted 887 million non-EU citizens visiting the area annually by 2025.
Currently, there is no central system for recording all entries to or exits from the EU-Schengen zone.
The guards of each member state stamp passports with entry and exit dates, but they do not record cross-border movements.
The stamps they use can be counterfeited or challenging to read.
No electronic record is kept, and no automatic calculation of the duration of the authorized stay.
Yes, you read that well.
The guards make these calculations manually.
Now, an upgrade is underway.
The Large IT Systems Agency (EU-LISA) is developing an entry/exit system to record the biometric data of all non-EU nationals crossing the external borders of the EU. This will include facial data.
The new system should abolish the need for manual stamping of passports.
It should help guards to detect travelers attempting to use multiple identities. Other bodies, such as Europol, will also have regulated access to the data. The system is set to be initiated in 2022.
#3. Unlocking your cash in Australia Bank
Bank customers are familiar with using facial identification to unlock their mobile apps.
But ATMs?
That's still the domain of plastic cards and PINs. Regrettably, there is a lot of fraud in this area. Criminals routinely use skimming devices to hack into ATMs.
In 2018, National Australia Bank and Microsoft joined forces to test a system for unlocking cash machines with a face scan. The partners did not store images locally and erased all biometric data following the experiment.
The new system should abolish the need for manual stamping of passports. It should help guards to detect travelers attempting to use multiple identities
Steven Worrall, Managing Director of Microsoft Australia, said: "We want to deliver great connected customer experiences. It's a look into the future for how our customers access banking products and services."
#4. Home run for Major League Baseball
Getting thousands of people in and out of sports stadia safely and quickly is a considerable challenge.
Digital ticketing and payment systems have helped. The next stage is a full biometric entry/exit process.
Major League Baseball (MLB) is already working on this in the US.
The MLB is partnering with tech specialist CLEAR to introduce biometric authentication scanning at participating ballparks in 2019. Visitors who link their CLEAR profile with their MLB.com account can gain entry with a finger press and, shortly, facial biometric technology.
Fans can also use the system to pay for refreshments and validate their age.
#5. The Mastercard selfie
Existing identity verification methods for e-commerce present problems for both shoppers and merchants.
Shoppers forget their passwords or abandon purchases when the sign-in process is too time-consuming.
Merchants lose business whenever this happens.
To address this, Mastercard turned to facial biometrics.
In 2016, it introduced Identity Check Mobile. Here, the cardholder takes a selfie on their smartphone to securely – and quickly – authenticate their identity with the card network and the retailer.
#6. Protecting problem gamblers
Many casinos now give problem gamblers the option to self-exclude from their locations.
Now, they are using facial biometrics to deny entry to these individuals.
The system monitors people entering casinos and checks their faces against a voluntary photo database of problem gamblers who have requested to be barred from specific venues. Staff is alerted to check the person's ID when the system finds a match.
Australia's Crown Casino is one of these and says the system worked even when a self-excluded gambler tried to disguise his appearance.

#7. Speeding up the hotel check-in
For all the tech in hotel rooms and booking systems, check-in is still stuck in the 1960s.
There are queues. It can take ages.
With biometrics playing a significant role in the hospitality industry, enabling guests to skip front desk lines and cutting the check-in process, hotel chains are prepared to jump in, just like Marriott, which recently started testing face recognition.
#8. Buying burgers
Fast food outlets have been busy replacing their human cashiers with self-service kiosks in recent years.
The next logical step could be letting people order with a simple face scan.
In California, the burger chain CaliBurger is already testing such a setup. Customers at its Pasadena outlet can use its kiosks to order, pay, and log into the chain's loyalty/rewards program. "Our goal is to replace credit card swipes with face-based payments," said the firm's CEO, John Miller.
Biometric payments are already flourishing in China. Motivated by positive customer feedback, hundreds of restaurants nationwide have rolled out digital technologies to improve customer experiences, growth, and operational efficiency.
#9. Making an entrance at events
The 2019 Brit Awards used facial recognition technology to enhance its event security, deploying it to screen guests at multiple entrances to the O2 in London.
The system linked to mobile apps enabled trained staff members to make secondary face-to-face identity verification checks.
#10. Driving the future
After 100 years of relatively incremental change to cars, the sector is full of innovation. Facial recognition is of particular interest to manufacturers.
China's Byton, one of the newer car makers, has revealed a concept model that lets drivers unlock it with a simple face scan.
Looking to the future, as the automotive industry shifts away from personal car ownership towards a shared model, face recognition will be able to lock car doors or engines until the registered user needs their ride and change the car settings to their preferences.
#11. Taking the school register
"Here, Miss." The school register is an unchanging part of school life. Children have been saying this for decades.
But in Australia, schools are trialing an alternative.
Victoria's Department of Education uses facial recognition to monitor students' whereabouts. Teachers and staff can access the information on a web dashboard or mobile app to save time.
Book-lending library systems using built-in face recognition could also become common, scanning the person holding the borrowed book and updating its database.
Who's working on face recognition technology?

A large number of tech companies are developing facial biometrics systems.
Facebook uses the technology to identify and tag the millions of photos its users post daily. It says its 'DeepFace' tech has a positive rate of 97.25%.
Google developed a similar product called FaceNet. It claimed 99.63% accuracy when matching 13,000 pictures of faces across the web.
Amazon has developed a cloud-based facial recognition service called Rekognition. 
Microsoft has a similar tech: Face API. Both companies license their tech to third parties.
Gemalto's Cogent Live Face Identification System recognizes faces even in dynamic, uncontrolled environments. Its SDK lets developers create applications that match live faces with faces from documents.
In tests, Cogent Live Face achieved a face acquisition rate of 99.44% in less than five seconds.
Facebook uses facial recognition technology to identify and tag the millions of photos its users post every day. It says its 'DeepFace' tech has a true positive rate of 97.25%
One promising application of this tech is in financial services. Xavier Larduinat, Head of Marketing for Digital Banking and Payment at Gemalto's parent company Thales, says facial identification could invigorate high street banking.
"Banks don't want to close branches. They want to reinvent them," he says.
"We're working on kiosk systems that work 24 hours a day. They will let people scan a physical document, such as a passport, and then take a 'liveness detection' selfie. The tech will then compare the two images, confirm a match, and process the transaction."
Larduinat believes that the concept is secure too.
"The system doesn't store any image data here. It just makes a real-time, one-to-one comparison. This concept might also reduce the vulnerability presented by the human agent, who can pose a security risk – there have been cases of tellers that work with criminals, for example."
More resources
​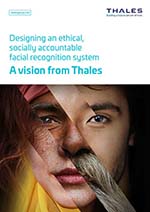 Thales Statement Paper Facial Recognition (Oct 2021)
Thales addresses the main concerns around facial recognition, and highlights our vision for the ethical, socially accountable use of the technology.
Facial Recognition Statement Paper