Digital ID verification service speeds up ID checks.
Telefónica Deutschland is making ID verification for prepaid SIM customers faster with Thales' Digital identity and document verification service.
Since July 2017, customers of prepaid SIMs and pay-as-you-go phones in Germany have to prove identity. Before that date, the law only requested that those clients give a name, address, and date of birth – which authorities say can be fake if not verified.
 
Telecommunications providers must review such documents before activating the SIM card on the network. 
Telefónica Deutschland attaches great importance to making this process as easy and as fast as possible for its customers. 
Today, Telefónica prepaid customers can provide proof of ID:
in stores, 
online (PCs and tablets),
via their mobile phone.
This is a big step forward as, until now, verification had been carried out manually.

ID verification will be faster and more secure.
Telefónica Deutschland is working with Thales' German office to optimise these processes even further. 
"With the new service from Thales, we are complementing our existing identification process," says Thorsten Wagner, Director of the Partner & Business department at Telefónica Deutschland. 
"The digital solution automatically compares the data that the customer has provided online or in the shop with the entered identity document. This accelerates the review and also makes it more secure."
The range of identity documents that can be reviewed with the Thales Service is wide and includes passports, identity cards, and residence permits.
The good news?
In-store processes remain unchanged for customers.
Telefónica Deutschland customers will benefit from the solution by getting faster access to their new SIM card. 
The other good news?
Nothing will change for them about the purchase process. 
To purchase a new Telefónica brand SIM card in an O2 or partner store, they show their ID document to staff members. 
She/he will review the document for obvious forgeries, collect the legally required data, scan the document and send it to Telefónica Deutschland's back office where it is checked using Thales' Digital identity Verification service. 
If everything is correct, the card is activated immediately.
Online customers can choose between video identification and Deutsche Post verification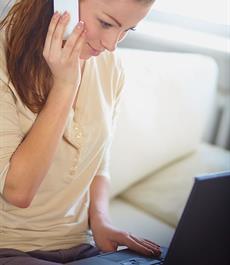 Customers purchasing a Telefónica SIM card online will receive it by mail and can then choose whether to present their ID:
using a video-identification service, 
or at their local post office.
Video authentication
They are directed to a partner website for video identification and can use their camera to show an ID to a specially-trained employee. 
The service provider then sends the data to the Telefónica Deutschland back office for verification. 
At their local post office
Customers can generate a coupon after online registration to present with their ID at one of more than 8,500 Deutsche Post offices, where their data is sent to Telefónica for verification.
The same process applies to SIM purchases in supermarkets, for example. 
Here too, customers register online and then select either the video-identification procedure or the Deutsche Post option. 
The only thing that will change is the speed of ID verification to get them connected faster.
More resources