5G promises to be rich in new business models for users and the ecosystem key players (mobile network operators, network & cloud vendors, system integrators…).
The requirements imposed on the storage, compute, and network domains introduce sizable new risks to the confidentiality, integrity, and availability of users' data and applications.
This White Paper provides Thales' recommendations to the 5G world to build:
 
A new trust model for the 5G era
Download a copy of this White Paper to find out: 
How to cope with new data protection challenges necessitating a fabric of trust across 5G virtualized networks.
 
How to provide a trustful 5G IoT device lifecycle management.
 
How wireless modules can address new 5G IoT use cases (e.g., massive IoT, high speed & ultra-reliable communications)
 
Which new roles the 5G eSIM will endorse.
 
How software licensing can help in VNF consumption monitoring and fraud prevention.
Download the whitepaper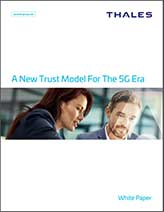 A New Trust Model For The 5G Era