Last updated: 20 June 2021
Cars are getting more connected, and autonomous driving is becoming a more factual reality. 
In this context, V2X communication, part of connected car solutions, will be a critical factor in the success of autonomous cars.
So let's jump right in.
What is V2X?
V2X stands for 'Vehicle-to-Everything,' or 'vehicle to X,'  and refers to passing information from a vehicle to any entity that may affect the vehicle and vice versa.
​

V2X technology covers:
V2I, or 'Vehicle-to-Infrastructure,' is the exchange of data between a car and equipment installed alongside roads, generally called a 'roadside unit' (RSU). V2I can be typically used to broadcast traffic conditions and emergency information to drivers.
V2N or "Vehicle-to-Network" is when a vehicle accesses the network for cloud-based services, also known as V2C "vehicle-to-Cloud."
V2V or 'Vehicle-to-Vehicle' relates to the transfer of data between vehicles. Compared to what sensors can provide to the car, information transmitted via V2V technology can come from cars a few hundred meters ahead or even hidden cars from behind trucks or buildings.
V2P, or "Vehicle-to-Pedestrian," is the exchange of data between the car and pedestrians.
​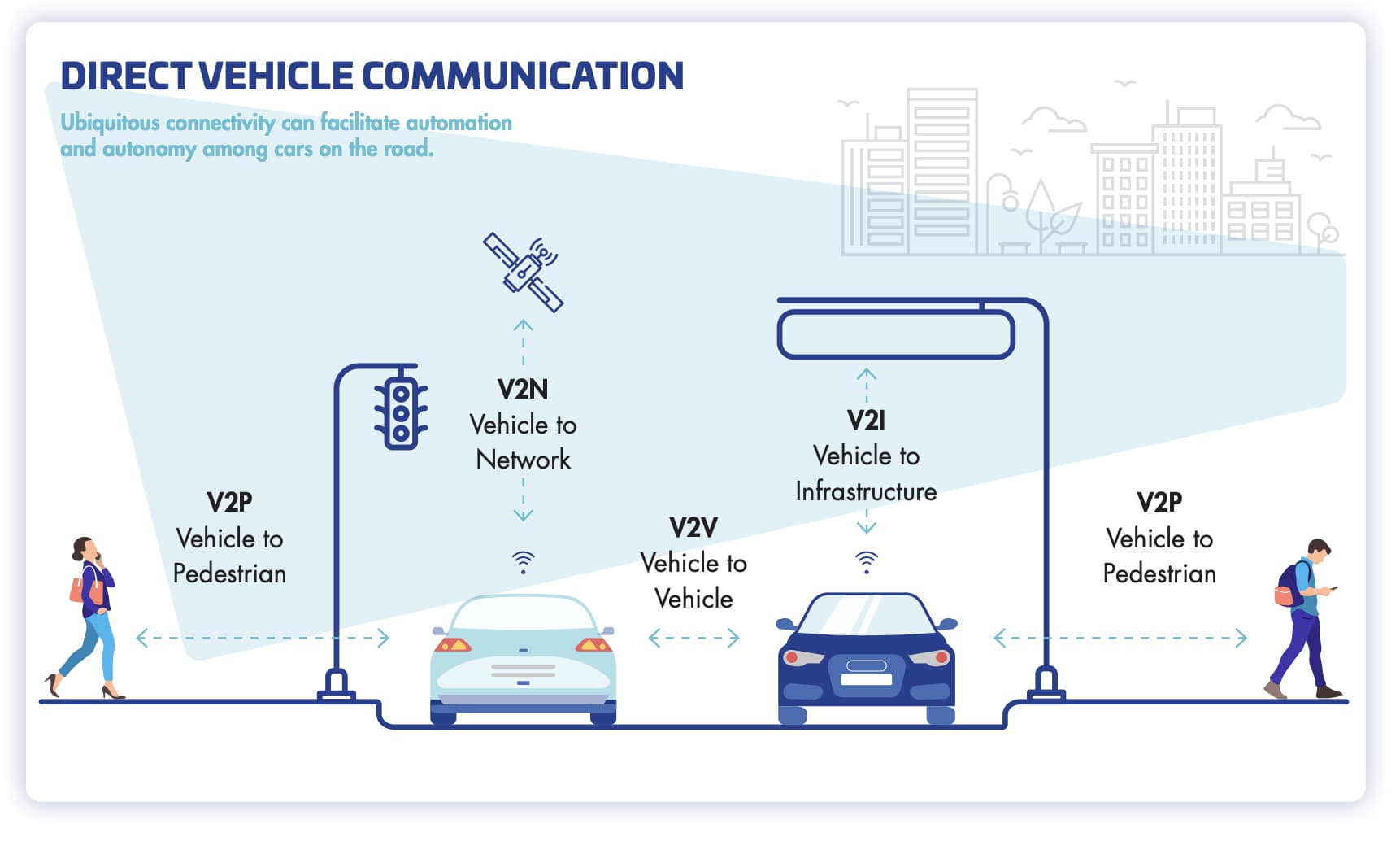 Standardized V2X communication
The automotive industry has been working with regulatory bodies to standardize V2X communication.
The objective being to ensure all stakeholders can manage interoperability between vehicle brands and the road infrastructure to get standardized messages.
In most countries, governments consider V2X technology as a critical factor in reducing road fatalities. As a result, they are pushing the industry to shorten the deployment schedule for the technology.
For car manufacturers, V2X, and more specifically V2V, is a milestone in the path towards fully autonomous cars.
V2X technology: DSRC or C-V2X?
The challenge of choosing the optimum communication bearer (DSRC aka Dedicated Short Range Communications, C-V2X aka Cellular Vehicle-to-Everything or hybrid) keeps the industry and the mobile community very active with two main contenders:
DSRC uses an extension of IEEE 802.11 p derived from a Wi-FI version (IEEE 802-11).
C-V2X or LTE-V2X uses the same SIM technology you'll find in your cell phone.
The bad news?
The two technologies aren't compatible.
In November 2020, the (US) Federal Communications Commission clearly favored C-V2X technology, according to Forbes magazine (16 February 2021).
The FCC decided to open to Wi-Fi the reserved communication band (aka the safety band or 5.9 GHz) for DSRC.
One of the reasons may be that Ford, a US industrial champion, already selected C-V2X.
The company stated that it plans to start deploying C-V2X in China in 2021 and the United States in 2022.
Volkswagen set the tone for Europe in 2019 when it picked up DSRC.
Toyota dropped DSRC in 2019.
According to Car and Driver of 15 December 2020, the switch to cellular V2X (C-V2X using 4G LTE and 5G) is on its way, but the technology requires a new round of security testing.
V2X and the Security/privacy challenge
Meanwhile, the security of V2X communication is also a key topic.
Regulators request the user's privacy to be protected and preserved, so the drivers' journey cannot be easily tracked or reconstructed by listening and compiling all messages a car sent and received in a period of time.
And things are changing here.
Automotive cybersecurity standards: A breakthrough
That's precisely why the United Nations Economic Commission for Europe's new WP.29 regulations (approved in June 2020) come in.
They provide a single automotive cybersecurity standard framework.
Adopted by the EU, they will be mandatory by July 2022, so pretty soon.
Japan and South Korea are joining up as well.
These new regulations provide a valuable benchmark for the industry.
They define the 'what' and not the 'how.'
In other words, regulators define the objectives, not the technology to be used.
Read more on WP.29 on our page: UNECE WP.29 – the same automotive cybersecurity standard for everyone?

V2X and vehicle automation: immediate benefits
So is V2X dedicated to autonomous vehicles only?
No, it is not.
V2X can improve safety and traffic efficiency at all levels of vehicle automation. 
How is that?
Basically, at levels 0 to 2, V2X can significantly enrich all types of information to drivers: avoid accidents (vehicles out of sight in a curve, on-road hazards…), or smooth traffic congestion.
Level 0

100% human – no driving automation

Level 1

Some driver assistance (i.e., adaptive cruise control, lane keep assist)

Level 2

Partial automation (vehicle can control steering and speed – keep distance from the car ahead, center your car in the lane, speed down to a stop)

Level 3

Conditional automation – the vehicle has the capabilities to drive itself under ideal conditions.

See Honda Sensing Elite video (March 2021)

Level 4

High automation (the vehicle does not require human intervention in most cases)

Level 5

100% automation (the vehicle does not require human intervention – it does not have a steering wheel nor pedals)
The six levels of vehicle autonomy are based on the Society of Automotive Engineers (SAE) definition.
At levels 3 to 5, V2X can give information to sensors that they cannot detect and can enhance early deceleration or breaking. 
There's more.
Speed harmonization can seriously impact safety, and traffic efficiency as a more comprehensive implementation occurs in the future when cars can communicate with each other and link to smart city infrastructure, for example. 
As we go up the ladder of automation, V2X increases in importance. 
V2X safety is meaningful at every step of the way, now and in the future.
V2X mobility will bring more to higher levels of automation.
As far as now, V2X and autonomy are evolving in parallel with their own roadmap.
Where do we fit?
To support its clients in the automotive industry, Thales delivers innovative wireless IoT technology that streamlines and speeds digital transformation.
For almost 30 years, our clients - in a wide range of industries - trust our IoT connectivity, security, and management solutions to seamlessly connect and secure their IoT devices, maximize field insights, and accelerate their business success.
Thales is proud to contribute to road safety initiatives and a key actor of the European e-Call initiative, a pioneering European emergency-call system for vehicles that aims to bring rapid assistance to road traffic incidents, anywhere in the European Union.
Topics related to V2X communication

End-to-End Cybersecurity for Connected Vehicles
Cybersecurity is complex and quickly evolving. Leveraging advanced and proven expertise in digital security and IoT, the Thales Trusted Key Manager provides car makers with support for digital transformation while ensuring the end-to-end security of the automotive ecosystem.
Read more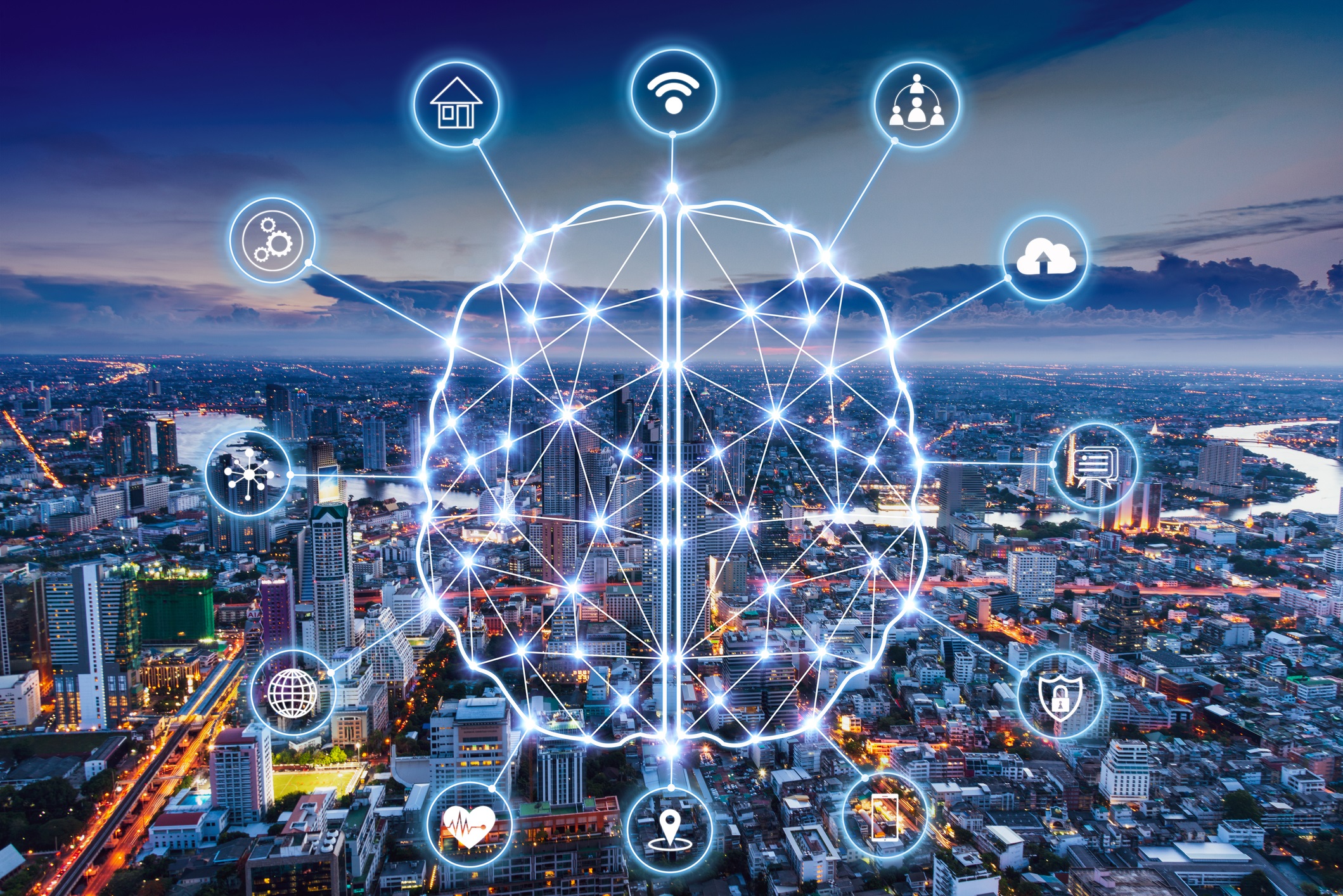 Stay up to date on the latest industry news, trends, and IoT innovations and learn about our award-winning Cinterion solutions, services and platforms.