Being a socially engaged company
Developing our people
For Thales, as a socially committed company, investing in the development of talent – against a constantly changing economic and technological backdrop – brings major challenges in terms of employability and professional fulfilment. Giving each employee the opportunity to benefit from a constantly evolving training offer as well as rich and diversified career paths is at the heart of Thales's commitment.
Support for talent development is also based on anticipating changes in job families and trades, with the involvement of employee representatives and individual employees, who play an active role in their own development.
 
7th
in Universum rankings among experienced engineers, 2021.
4th
in the LinkedIn Top Companies France 2021 ranking.
1st
from Greater Toronto's Top employers in 2021.
98%
of employees are on permanent contracts.
---
Sparking interest in technical and scientific careers
Thales promotes awareness of technical and scientific fields and the professional opportunities they can offer to young people, especially young women, in order to encourage them to consider scientific careers in industrial and technology companies.
Partnerships with educational institutions
More than 450 Thales female employees act as sponsors for the association Elles Bougent, whose objective is to attract young women to engineering careers. The Thales sponsors share their passion for their profession in order to encourage young women in their career choices. They take part in the association's activities (such as round tables, forums and school events) and regularly welcome secondary school students on site so that they can find out more about working in the engineering professions at an industrial group like Thales. Elles bougent network includes: 236 companies and higher education institutions, 1,065 partner high schools and colleges in France and abroad, and over 500 events in France and abroad.
Thales collaborates with schools and universities in France and abroad, notably by participating in forums, round tables and conferences, in an effort to attract the Group's future employees and help young people launch their careers. 
By pairing mentors with students, the Article 1 association helps students from less privileged backgrounds to receive mentoring support from professionals throughout their studies, during their search for internships, and when choosing their career.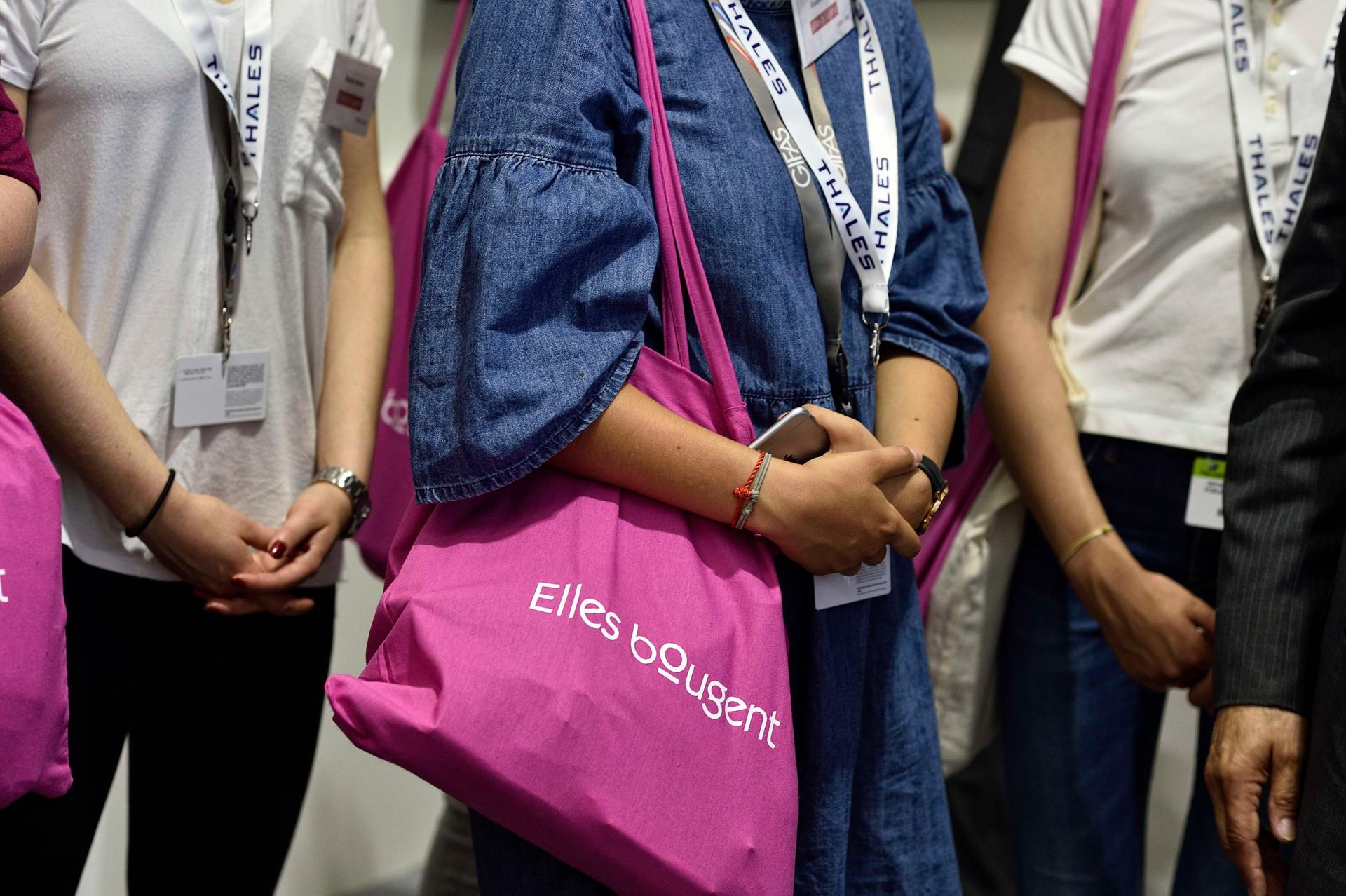 The Thales ambassador network
Nearly 120 Campus Managers
take part in an internal network made up of former students of partner schools now working for the Group who act as Thales ambassadors with students.
---
Developing and rewarding talent
Thales's success and performance depend on its ability to retain talent, support employees' professional development, anticipate changes in the way work is organised, and reward employees in the performance of their activities.
Thales also employs a global and responsible compensation policy that gives employees a stake in the Group's results and rewards their efforts and commitment. 
The Group's employment policy has always been characterised by the desire to create long term jobs and limit the use of short term contracts (fixed term contracts and temporary staff).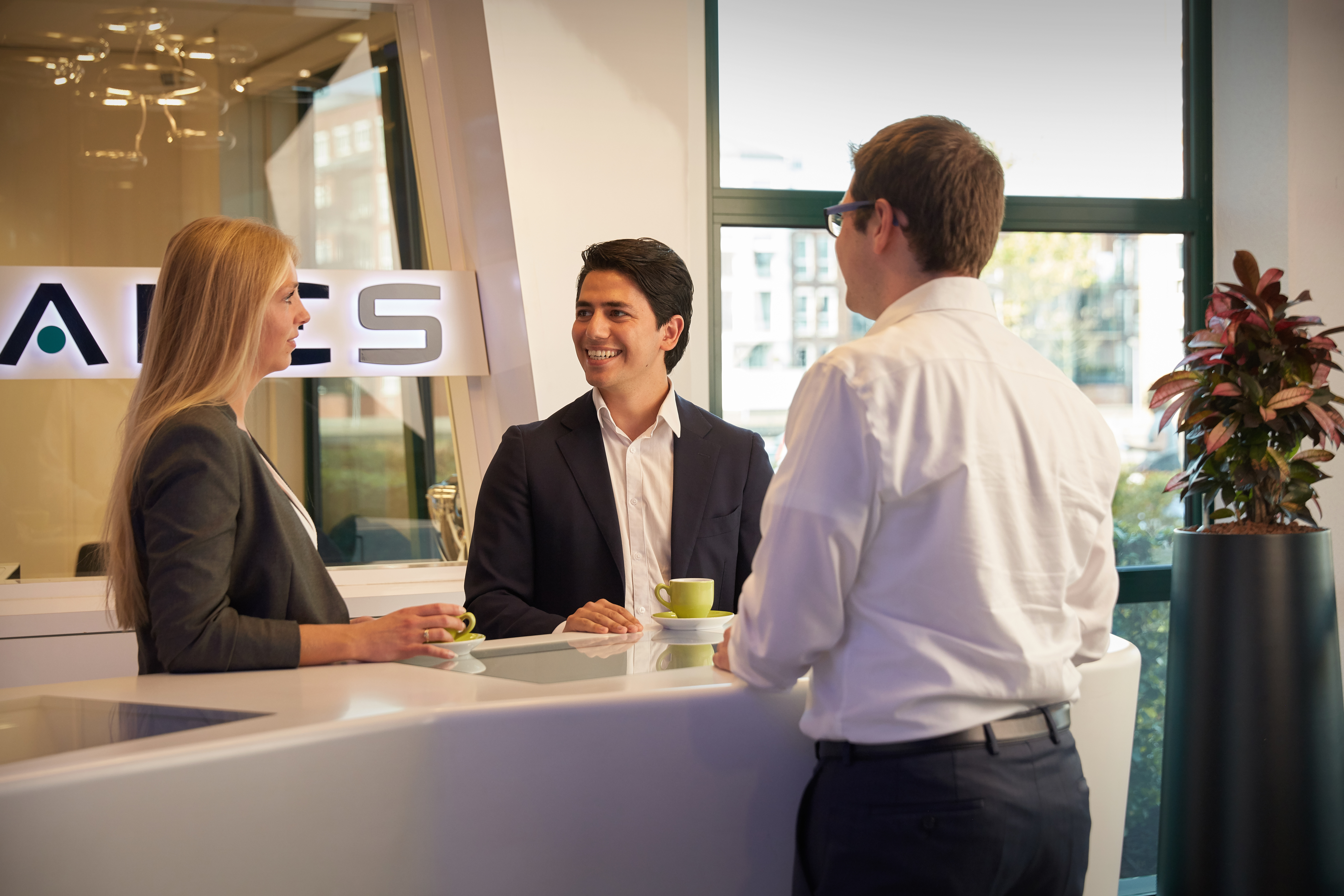 Skills management by job family: a dynamic and forward looking approach
Employees are divided into 15 job families, each with an operational lead and an operational committee, an HR contact, and a training support team to anticipate short- and medium term changes and future trends, and put forward a collective professional development action plan. 
The Group has developed a "skills management" initiative for six job families (R&D, Industry, Customer Service, Quality, Purchasing, and Bid & Project Management), centred on the identification and sharing of available technical skills. This enables teams' key skills to be maintained by ensuring that professional development plans (in terms of transfer of skills, coaching, training, and recruitment of candidates with specific backgrounds) are more closely matched to future operational needs. 
Professional support for employees
In order to improve the "employee experience" and contribute more effectively to employees' professional development, the Group launched "Check-In" discussions in 2020.
Scheduled regularly throughout the year, the discussions provide an opportunity for line managers to meet with each employee several times a year to talk about their objectives, provide feedback from colleagues, identify training needs, and talk about their workload. 
"Check-In" discussion
Check-ins are regular and constructive discussions between managers and employees, which can be initiated by either of them throughout the year.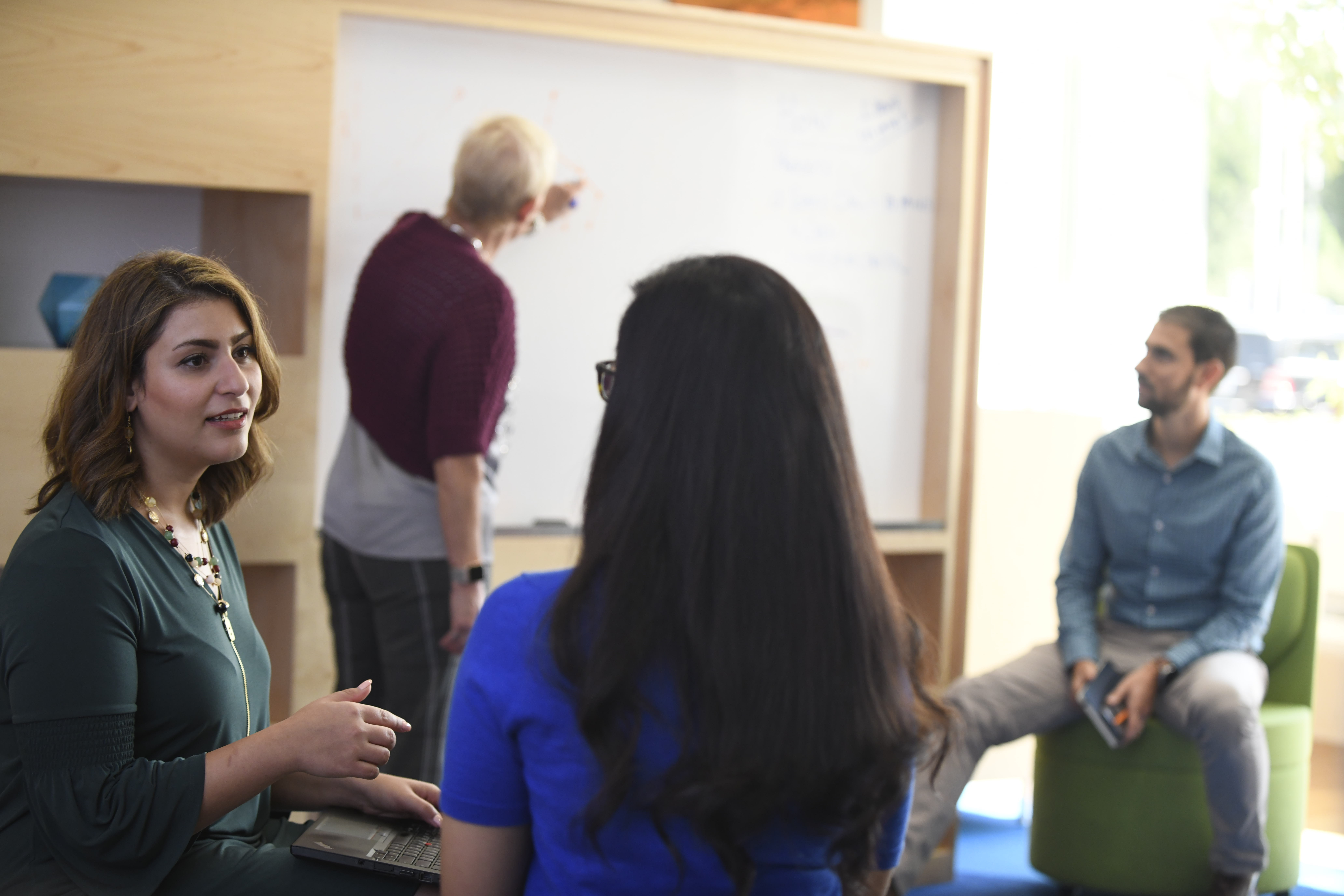 Training sessions: maintaining every employee's expertise
Thales's commitment to training stems from the view that building a successful career path means maintaining every employee's expertise at all times. The Group's training policy has a dual aim: 
•    To meet the Group's training needs in order to implement growth and performance improvement projects, and support transformation initiatives.
•    To take account of employees' individual aspirations in terms of professional development, mobility, and the acquisition of new skills. 
The Talent & Culture International Learning Department contributes to the training and professional development of employees in the various countries where the Group operates by creating a shared training culture. Its tasks include helping employees to adapt their individual and collective skills to changing job roles while supporting the Group's strategic goals. It is also in charge of managing the Digital Learning portal, a user oriented interface available to all Group employees which offers customised experiences and tracks the user's learning progress.  
Thales Learning Hub
In the major countries where it operates, the Group has 12 corporate university campuses called Thales Learning Hubs, which have special facilities for organising seminars, training sessions and workshops. 
Thales Learning Hub offers a wide range of training opportunities, helping employees stay abreast of the latest technologies, understand trends in the job market, and shape their career development plans.
Founded in 1988, Thales University (now operated under the "Thales Learning Hub" banner) designs and delivers training programmes tailored to employees' demands and the needs of the company. The corporate University operates in 10 countries, offering local training opportunities to 90% of our global workforce. 
An attractive mobility and expatriation policy
International Mobility
Thales' International Mobility policy consists of favoring a local approach to certain destination countries (Singapore, the United States, Canada and Australia) by concluding local employment contracts that offer a wider range of solutions in terms of installation conditions and compensation to employees."
The international Business Volunteers (VIE) programme makes it possible for young  people aged between 18 and 28 from the European Area to benefit from an assignement in a foreign country for 6 to 24 months.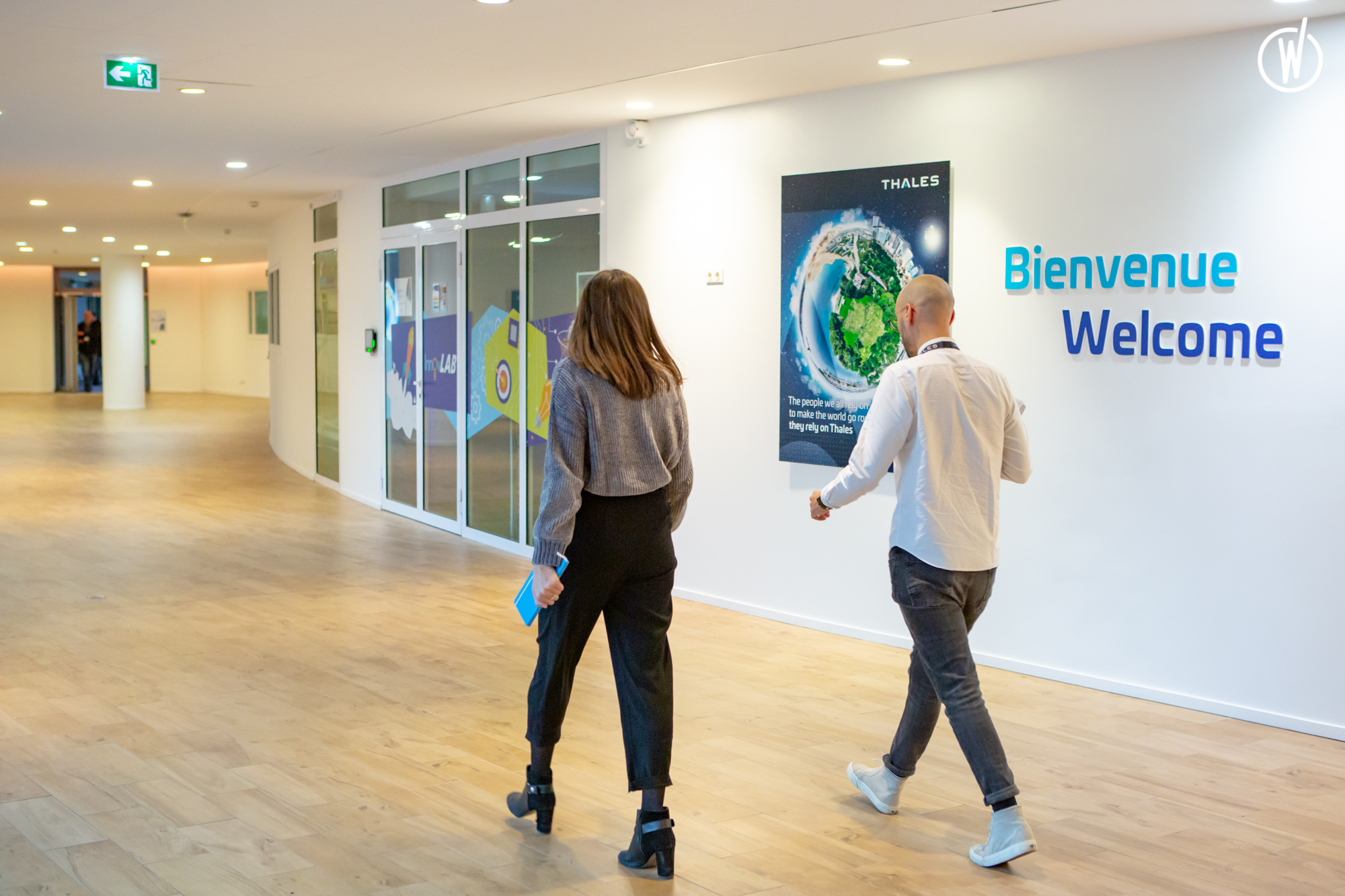 At the end of 2021,
the Group had 675 employees with international mobility.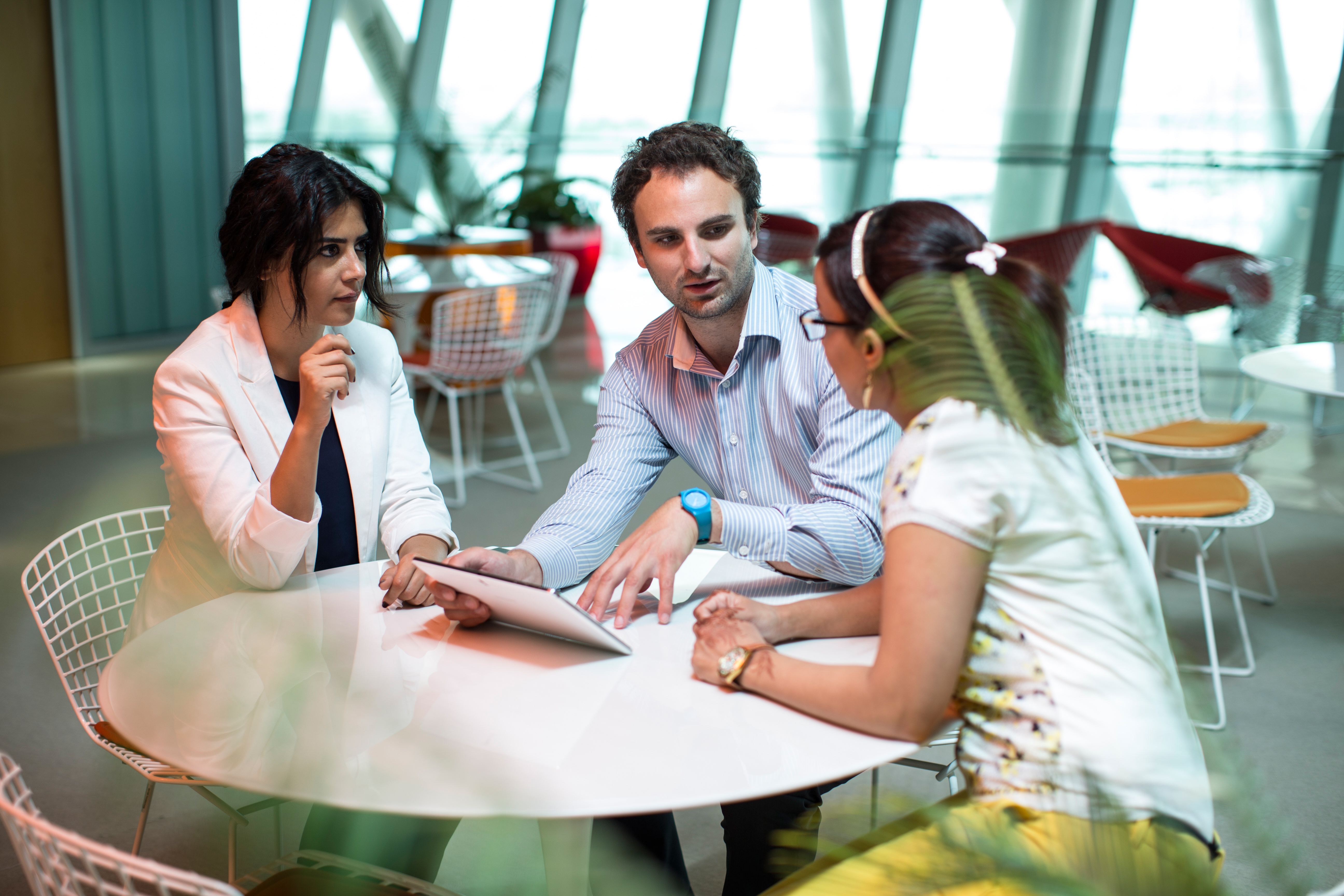 The Group's compensation and benefits policy is based on transparency, fairness and dialogue
Compensation is a key component of Thales's employment policy, aimed at encouraging performance, recognising skills and retaining talented employees. It combines collective results and individual performance and takes account of market practices in the countries where the Group operates. 
More than 54,000 people, benefited from variable (performance-related) compensation within the Group in 2021.
For more than 20 years, the compensation policy applied within the Group for employees in grades 8 to 12 has included a variable compensation plan – applicable worldwide – that defines a target rate of variable compensation for each grade. Receipt of this variable compensation component depends on the achievement of individual objectives and the collective results of the business.
From 2020, the Group's Management sought to strengthen the financial portion of variable compensation and to involve all employees more closely in CSR policy. Accordingly, it was decided, from 2021, for employees eligible for variable compensation, to link 10% of this amount to CSR targets corresponding to the Group's commitments in the four key areas of its strategy:
Diversity and inclusion
Compliance (the fight against corruption and influence peddling)
Workplace health and safety
Environment and low carbon strategy