A comprehensive array of capabilities for the full spectrum of vehicle platforms
Targeting and surveillance solutions are a key high-tech component of Thales's vehicle optronics offering. We work with platform manufacturers and armed forces to develop and manufacture leading-edge, fully integrated systems with performance and features matched to every vehicle's role and armament. Our solutions – packed with an array of sensors including thermal imagers, day cameras and laser options – are suitable for use in conventional, asymmetrical and high-intensity conflicts, in urban as well as open battlespace environments.
---
Thales's combat-proven targeting and surveillance systems give users the planning, manoeuvre, lethality and protection capabilities that they need to detect, identify, track and engage targets on the move, day and night, even in obscured battlefield conditions.
Our range of cutting-edge products includes turret- or mast-mounted gunner's and commander's sights and standalone panoramic surveillance systems, as well as the Panoramic Above Armour Gimbal (PAAG), which combines targeting, reconnaissance and surveillance capabilities in a single package.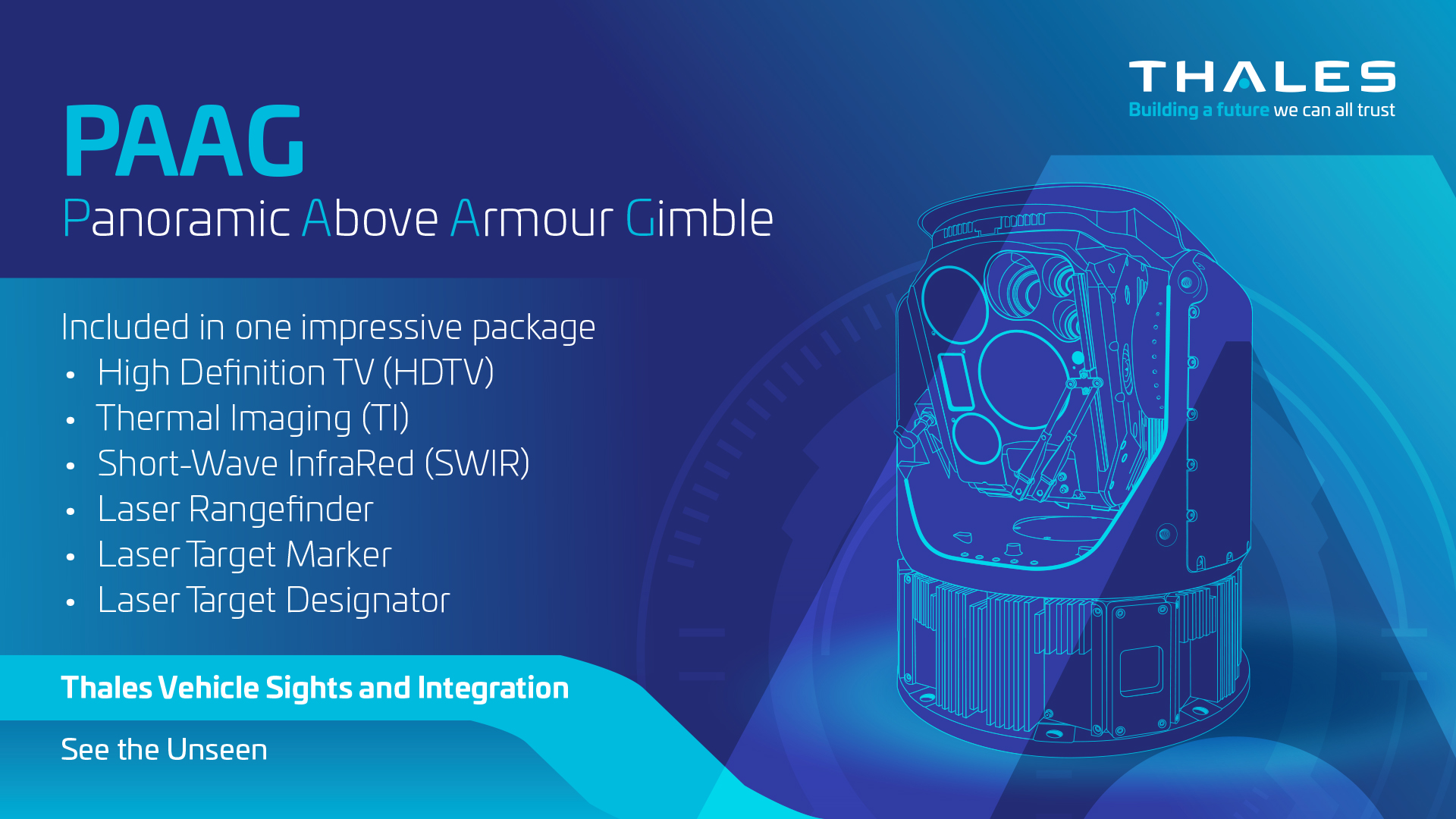 By involving users (platform manufacturers and armed forces) in the co-development process, Thales works hard to meet the needs of manufacturers and end users in terms of range and resolution, spectral band, field of view, ruggedness and reliability – to name but a few of customers' key areas of focus for product performance.
Thales targeting and surveillance solutions have been in service on armoured fighting vehicles (AFVs) for more than 50 years, going right back to the first laser sight on the UK's Chieftain main battle tank in 1969. With more than 4,000 units now in service all over the world, Thales's systems and equipment are the go-to choice for armies looking for the very latest in vehicle-mounted sighting and surveillance technology to meet their specific needs.
The best choice for targeting and surveillance systems
Thanks to its long experience, service-proven product range, and mastery of key technologies in thermal imaging, lasers, optics, mechanics, electronics, stabilisation, hardware, and software, Thales is a trusted, low-risk partner for vehicle-mounted targeting and surveillance systems.
Thales's key vehicle optronics products and product families in targeting and surveillance include the following :
The PAAG Panoramic Above Armour Gimbal, an independently stabilised long-range commander's/gunner's sight with powerful integrated electronic surveillance capability, for operation on the move.
MARGOT vehicle-mounted panoramic surveillance systems (including MARGOT 3000VM, a remotely operated thermal observation sight for day and night-time operation).
The DNGS day/night gunner's sight family, including the latest member of the family, the DNGS T3 dual-axis stabilised gunner's sight.
Closely related to the DNGS family is the ORION hunter-killer commander's sight, a stabilized independent panoramic sighting system for long-range surveillance and target identification, independent of turret orientation.