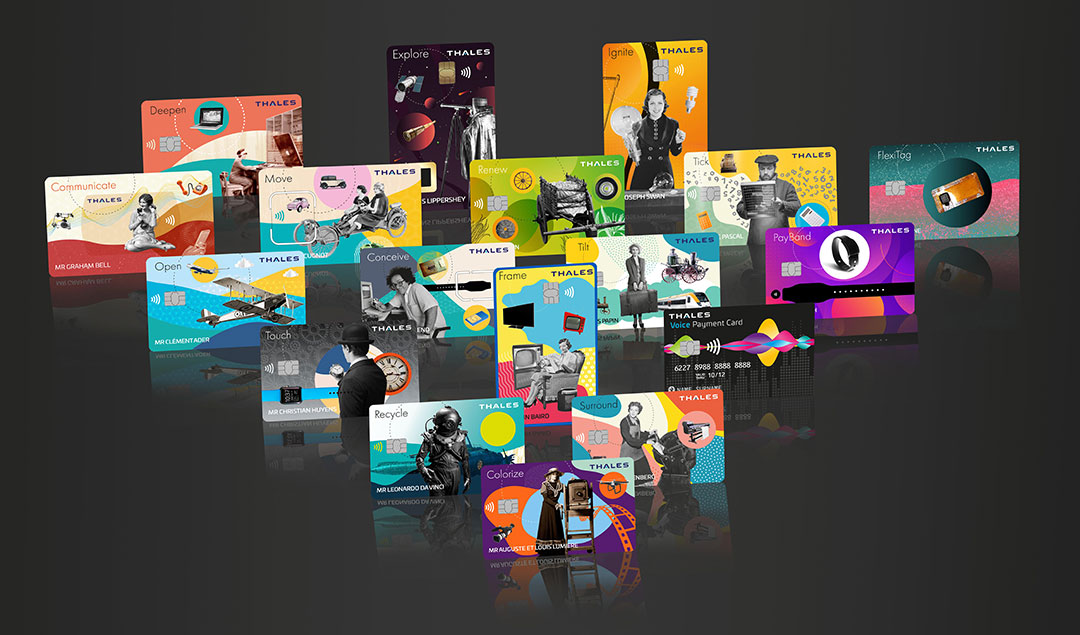 ​​Discover Thales DIS' extensive range of cards and options and deliver your customers the most exciting payment experience.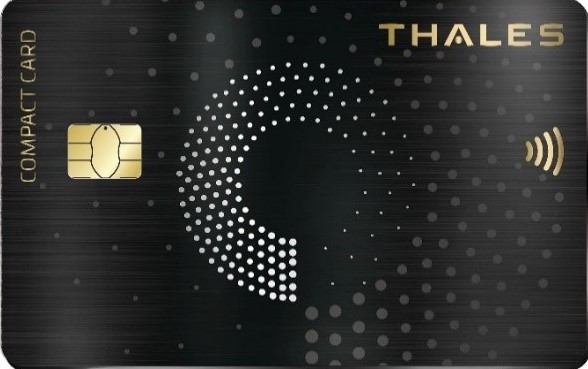 Thales Gemalto Metal Core cards
Prestige at your fingertips!
​Metal Cards are a powerful tool associated with premium services to strengthen your link with your high-value customers and make your brand stand out from the crowd.
---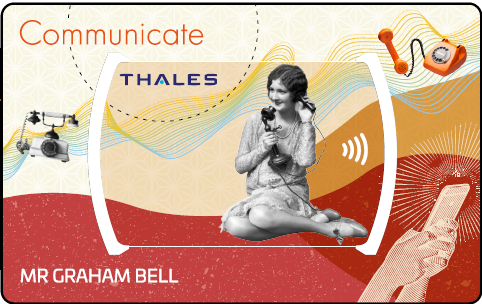 Thales Gemalto Sticker
Pay using your favourite device
A banking card that you stick on, a device, or a wearable. Even if your device has metallic or electronic components, such as a mobile phone, Gemalto Sticker's contactless performance is ensured thanks to its specific card structure and ferrite layer. Discover and enjoy transforming wearable devices into your new, regular means of payment.
---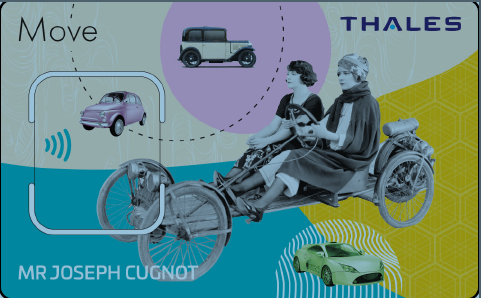 Thales Gemalto MiniTag
Move to a smaller card for a great payment experience
A compact, easy-to-use PVC bank card that you simply pop out and insert into a wearable device. Slip a MiniTag into your wearable so you've always got a device for payment with you, ideal for use at events and in silicon devices.
---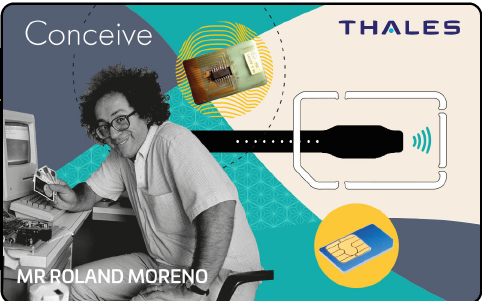 ​
Thales Gemalto MicroTag
An even tinier card for even more freedom
Simply pop out and insert our smallest PVC bank card into a wearable device to turn it into your new regular means of payment. This card's small size makes it easy to insert into various devices, such as bracelets and key fobs, so your customers can enjoy a convenient, hands-free payment experience.
---
Thales Gemalto Wearable FlexiTag
Turn your jewellery or branded wearable into a means of payment
Our smallest flexible banking card can be pre-integrated into a wearable device to make payment technology invisible to the end user. It's so thin and flexible that it can be adapted for use in fashionable means of payment such as bracelets, jewellery and clothing. Start experiencing paying with style!
---
Thales Gemalto Wearable PayBand
Fast time to market with high-quality silicon payment wristbands
Whether they're intended for use by event-goers or cardholders, these silicone wristbands are ideal for regular use and can take a Mini or a MicroTag. They're made of eco-friendly recyclable silicon and are customisable. Simply let us know the colour and logo you want to add.
---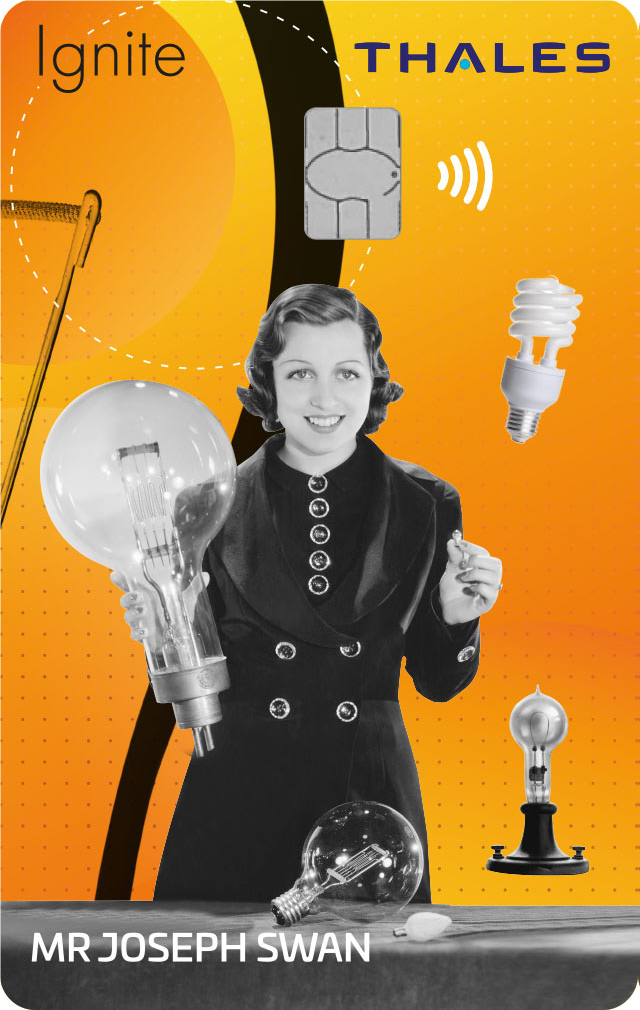 Thales Gemalto LED Card​
Ignite your imagination
Light up your payments with an integrated battery-less LED to add a modern touch to your card!
Thales Gemalto Fsquare (Foil) Card with tactile varnish
Add a touch of difference to your card
With its metallic layer, this card can be made sleek, sophisticated, and v, vibrant to suit all desires.
The attractive mirror or matt touch varnish can be applied to the entire surface or just s areas for a stylish appearance.
---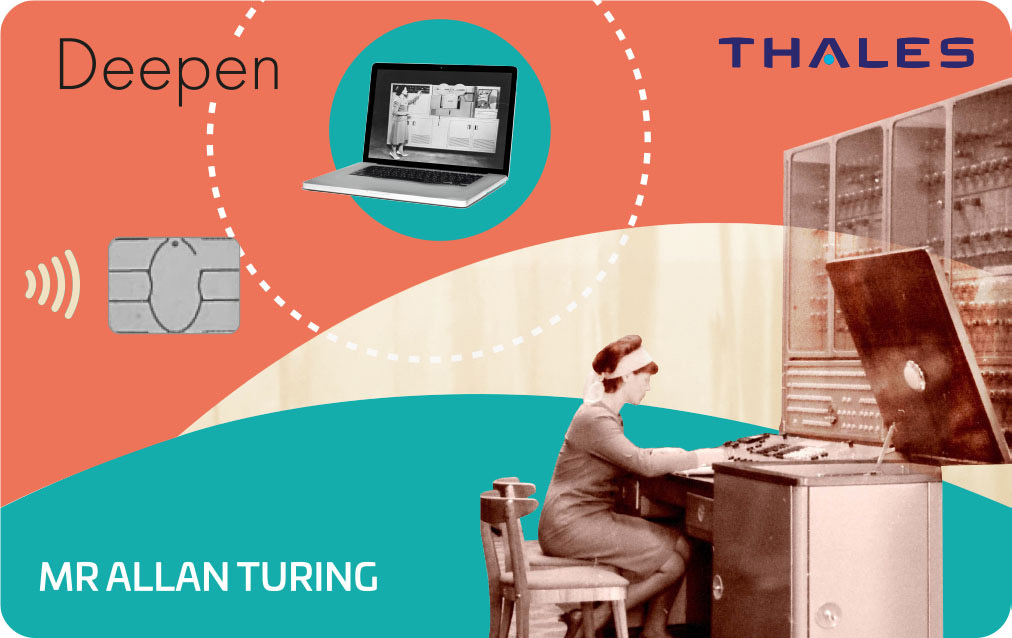 Thales Gemalto Encapsulated Pattern Card
Deepen your design
With our texturised layers, you can develop an innovative design to ensure a unique look for your card.
---
​
​
Thales Gemalto Coloured Core Card with pearlescent
Colour your wallet... and put a sparkle into your branding
Please choose from our wide selection of coloured cores and make your cards instantly recognisable in customers' wallets. By applying our special mix of glitter inks, you can add a subtle metallic effect that enhances any colour.
---
​
​
Thales Gemalto Flip Flop Card
Tilt your card and show your colours.
Tilt your card to discover how this special ink applied selectively or across the full surface subtly changes colour and transforms your design.
---
​
​
Thales Gemalto Transparent Card with magstripe printing
Open your card to the world
Experiment with the transparency of this card and display only what you want.
Use the magnetic stripe surface to add assistance numbers, websites, logos and more...
---
​
Thales Gemalto Dynamic Code Card
As secure as a new card every 30 minutes
Protect your cardholders from banking data phishing and limit the cost of fraud by offering the dynamic code card. Give your customers the peace of mind they expect during their eCommerce journey.
---
Thales Gemalto Bio-Sourced (PLA) Card
A card made from sustainable material
One way to avoid plastic waste is to use alternative eco-friendly materials. Gemalto Bio-Sourced PLA cards replace 84% of fossil-based PVC with bio-sourced PLA made from non-edible corn.
---
Thales Gemalto Reclaimed Ocean Card
Leave no plastics in the oceans
Plastic waste is having a devastating effect on our oceans, so we make Thales Gemalto Reclaimed Ocean cards using 70% plastic retrieved from coastal areas. One card contains roughly one reclaimed plastic bottle.
---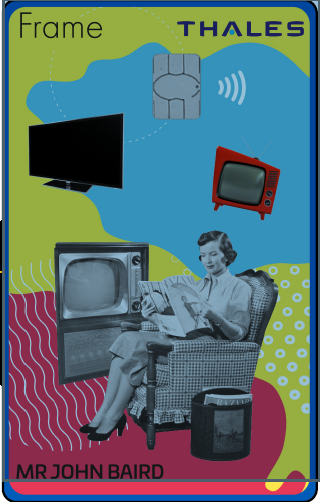 Thales Gemalto Frame In Colour Card
See the true colour 
Display your card's core colour from the front and from the edge.
---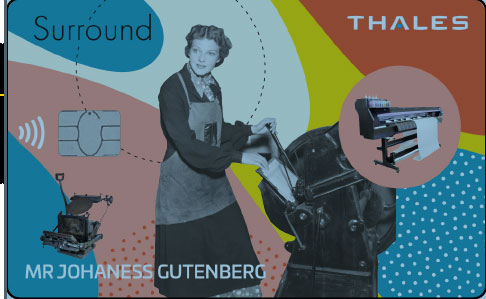 Thales Gemalto Funky Effect Card
Push your design to the edge
The edge of your card is no longer the limit of your design.
---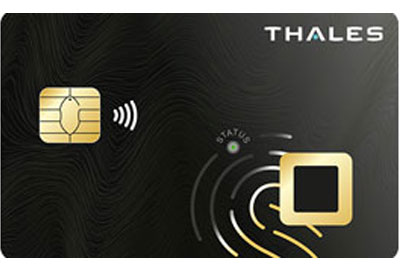 Thales Gemalto Biometric Payment Card
Pay using your finger for more convenient and safer transactions
By examining the unique patterns on your skin with an embedded fingerprint scanner, this new-generation card offers you an improved payment experience without needing to touch the payment terminal – and without any transaction limit.
---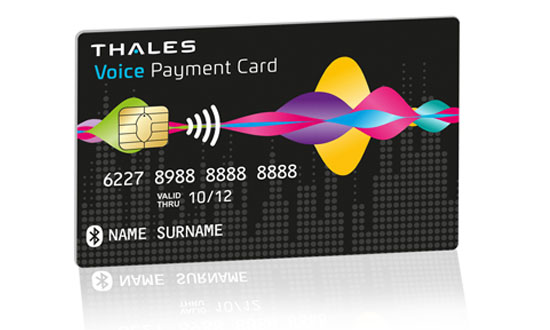 Thales Gemalto Voice Payment Card
Hear what you are paying for
This innovative card is paired with the cardholder's smartphone and provides an audio description for each payment step to reassure the visually impaired or those needing extra guidance.
---
Graphical Personalisation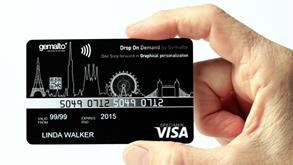 Card personalisation is a sophisticated process involving carefully handling sensitive data printed on the card surface. A dedicated process is necessary to ensure success and includes a complete infrastructure, organisation, equipment and trained staff.
Thales offers card issuers a range of graphical personalisation techniques such as embossing/indent, thermal transfer and laser with options such as barcode, photo and label to be printed on the card.​
Learn more about Graphical personalisation​​​​​​