There's a bunch of frequently asked questions on Google about credit cards end-of-life, such as: "What to do with old credit cards" or "How to dispose of old credit cards" or even "How to destroy credit cards." 
Usually, these questions come to your mind whether your payment card has expired or if you want to renew your card before the expiration date. 
As an eco-conscious consumer, you may also look for some guidance in doing the right thing. 
We'll answer these questions precisely.
We'll also unveil a recycling process we've successfully implemented for some of our clients.
But let's first understand what credit cards are made of.
What are credit cards made of?
A banking card is usually composed of the following raw materials:
Several layers of plastic laminated, usually using synthetic resin, alternatively a bio-sourced material.  
Inks for printing credit cards with a magnetic stripe. Metal oxide particles with solvents are often the basis for inks.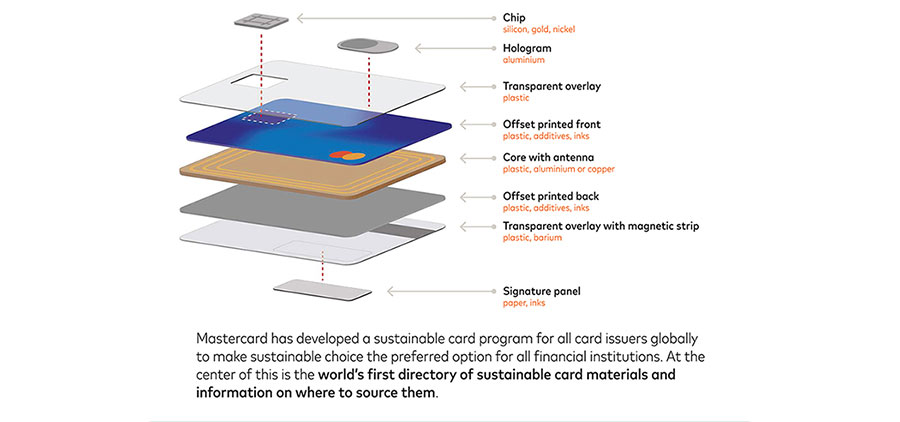 There are different types of cards, all using different materials (plastic, plastic substitute, metal, and chips…). 
As a consequence, the way we should dispose of them should be adapted to each component. We can easily imagine the metal within the card shall go to a different recycling stream than the plastics.
Do financial institutions give any recommended process?
There is no regulation to impose how we should manage cards when they expire or are replaced.
The truth is that there is no clear indication either, as it depends on local regulations.
The result?
Most of the time, consumers throw them away in a bin after cutting the card into pieces. 
Needless to say, there's still room for improvement for these 6 billion payment cards in circulation in 2020.
So, we searched the web for best practices. 
Here's what we found.
Nerdwallet (the American Banker Association) recommends sturdy scissors and a good skill for cutting plastic cards. 
Another piece of advice is to "feed the plastic card into a paper shredder designed to handle them." 
Others would demagnetize the magnetic strip. This can be done if your card is in close contact with a magnetic field. A refrigerator magnet can also do the trick. You'll make sure the card can no longer be swiped if any hackers want to use it.
Other suggestions included: "destroy the chip," "cut up the card, and then dispose of the fragments in multiple bags."
There are many other ways to get rid of an old credit card, but none gives us the solution to dispose of an old credit card properly. 
That means making sure we do NOT throw it into a trash bin.
Because the card will come back to us.
Why is that?

The toxic journey of a credit card
What happens to the banking cards after we throw them into the trash bin?
Every year we use 30 million kg PVC for banking card issuance, the equivalence of the weight of about 150 Boeing 747s. 
In most cases, banking cards will either go to the landfill or be thrown into nature. This is the worst-case scenario as it will gradually turn into microplastic and gets back to us.
You read that well. 
It will get back to us because we will ingest the particles through the food chain. It's already happening now. In fact, according to a study by the World Wildlife Fund, you are probably swallowing microplastic equal to the weight of a credit card each week!
That's where recycling fits in.
What benefits does recycling bring?
According to Wikipedia, recycling means converting waste materials into new materials and objects. 
When we talk about materials, we mean paper, glass, cardboard, metal, plastic, tires, textiles, batteries, and electronics.
The main benefits of recycling are to bring service to the community and the environment.
The underlying idea is to fight for a healthier and better planet. Global warming and other related environmental topics, such as deforestation, need to be considered.
There is also a different way to dispose of waste: reducing greenhouse gas emissions.
Recycling has many advantages as it significantly decreases the amount of waste that would typically end up in landfills (reducing water pollution) and incinerators (reducing air pollution).
It also enables to preserve the natural resources of material.
It prevents pollution as there is no need to collect new raw materials.
It saves energy.
It creates jobs in the recycling and manufacturing industries.
When we speak of recycling, we usually refer to the 3 R's Reduce, reuse, and recycle as a waste hierarchy used as guidance for creating a sustainable life. 

The principle of the 3Rs is:
The first "R" Reduce, means less production as there will be less to recycle or reuse. This can be applied to a material or a process. This can also mean buying products with less packaging or limiting the waste of your production.
The second "R" Reuse stands for the action of using something again.
The third "R" Recycle means transforming something into a new raw material used to create a new item for a 2nd life. 
In essence, these 3Rs translate into a lighter manufacturing footprint, fewer virgin materials to buy and process, and less waste ending up in landfill.
Can credit card plastic be recycled?
The answer is YES, but it's not that obvious.
Every banking card is a well-designed compound made up of metals (copper, nickel, gold, aluminum, iron), resin, glass, silicon, and plastics (PVC, PET).
This complexity makes recycling credit cards challenging.
Here comes the good news.
As part of many other eco-friendly initiatives, Thales DIS decided to have a closer look at reducing and neutralizing the footprint of a banking card, including a responsible and trustworthy service to dispose of it correctly. 
What is the process? 
How does the recycling process work?
It's all about being responsible and trustworthy.
The bank will be the one in charge of collecting the cards from their customer, and Thales DIS acts as an aggregator to shred and store everything in the secured facility. It will then be sent to a recycling facility once it reaches a specific volume.
This is what happens in the recycling facility:
Recover plastic energy: 
The cards contain plastic (like PVC, PLA, PET): all will be incinerated to recover the energy, meaning the heat out from the process.
In such a process, Bio-sourced material such as PLA (Poly Lactic Acid) is a better option than PVC, as it will not generate toxic gas during incineration.
Recycle metals: 
The heat from the previous process will then be used to recycle the metals within the cards, including gold, palladium, and copper. 
The metal will be sent to manufacturing for a second life: gold for jewelry and other metals for wires.
The two-step process is simple. It's about recycling the metals with the energy recovered from the plastics.
Thales' recycling solution benefits
Thales DIS's mission in recycling cards is fully aligned with its Corporate Social Responsibility chart. 
The process prevents card material from being dropped off in any landfill as we collect and recover the plastic. Thales DIS also ensures the process is eco-responsible by choosing a European partner to reduce its carbon footprint dramatically. 
To sum up:
0% landfill: The entire process recycles the metal and reuses the energy from the plastic, which results in 0% of waste going into landfills.
Eco-friendly process: The process is 100% conducted in France and the EU region to minimize the carbon footprint. The environmental impact of the process is regulated and monitored by French regulation.
Proven experience: Our partners have already processed and recycled over 10 tons of waste from Thales DIS. 
More resources on our carbon offset program and eco-friendly cards
If you read this dossier through, this means that you're concerned about the environmental impact of cards as much as your customers are, and we are. 
That's why we offer a full set of tools that enables our clients to build a consistent, environmentally sustainable strategy.
Thales focuses on collaboration and eco-innovation. More precisely, we support banks in every aspect of a bank card's life, from green credit cards to carbon-offset programs. 
We'll be delighted to talk with you about your eco-projects. Don't hesitate to contact us.
Where do we fit in?
You can discover more about our response to climate change in Thales' CSR report. 
In a nutshell, Thales DIS is committed to Corporate Social Responsibility:
In 2009, we launched carbon footprint programs to reduce gas emissions from our operations and freight. 
We have a carbon offset program to support our customers in reaching carbon neutrality (25,000 tons of CO2eq so far)
We also propose a range of eco-friendly products with bio-sourced payment cards made from PLA (corn-derived polymer replacing petroleum-based plastic) and reclaimed cards using plastic from the oceans.