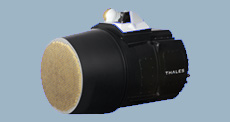 Active Electronic Scanning in the RBE2 radar represents a major step in the evolution of radar technology. All radar functions are performed in the same flight:
Air Defence
• Very long detection and track ranges
• Fully automatic, sorting and ranking of tracked targets
• Fully target tracks independent of search volume.
Deep low-level penetration
• Automatic terrain following and avoidance
Strike mission
• En Route update of target area situation
• High resolution imagery modes (SAR) - Designations
Sea skimming attacks
• Detection and multi-tracking
Active electronic scanning makes it possible to switch radar modes quickly, thereby enabling operational functions to run simultaneously.
AESA has incorporated expertise coming from the current RBE2 Rafale radar, in the tradition of electronic scanning array radar.
The RBE2 has been in production since 1997 and was combat proven in multinational operations in 2001.
It can be fitted on large or medium fighter aircraft.
TECHNICAL FEATURES
Antenna block
• Active electronic scanning
• Very low side and scattered lobes in azimuth and elevation
• Very high reliability (T/R modules)
Active transmit / Receiver modules and exciter / Receiver
• Multipole Waveforms
• Coherent X band frequency generation
• Excellent spectral purity
• Wide bandwidth
• Full monopulse
• MMIC/GaAs technologies
Programmable signal processor and data processor
• Target detection and ECCM processing
• Fully programmable
• Anti-obsolescence solutions: open architecture - COTS components
• Tracking computation
• High resolution map generation