The TopAxyz Inertial Navigation System has been designed with the most advanced Inertial Measurement Unit (IMU), Ring Laser Gyro (RLG) and GPS & GNSS receiver technology to support land forces and military platforms in all environment condition. 
Thales mastering land domain and Inertial Navigation Solution (INS)
Capitalizing on over 40 years of experience, Thales has forged a solid reputation by delivering interoperable high performance solutions to support more than 50 land forces across the world. From sensors to systems, Thales expertise is multiple: weapon systems, munitions, communications, command and control, radars, optronics, navigation. 
As a key player on flagship programs such as SCORPION for French land forces, Thales solutions are used to increase land force capacities to give them operational superiority within a digital world to maximize future collaborative combat operational efficiency.
Thanks to its recognized experience in designing high-end Inertial Navigation Systems (INS) based on RLG (Ring Laser Gyro) technology, TopAxyz is the latest generation INS, benefitting from cutting-edge developments and major investment in brand new industrial resources, enabling the limits of RLG technology to be pushed back.
The TopAxyz Inertial Land System is a high-end ruggedized Inertial Navigation System designed to provide high-precision pointing, localization and navigation functions.
The highest pointing and navigation performances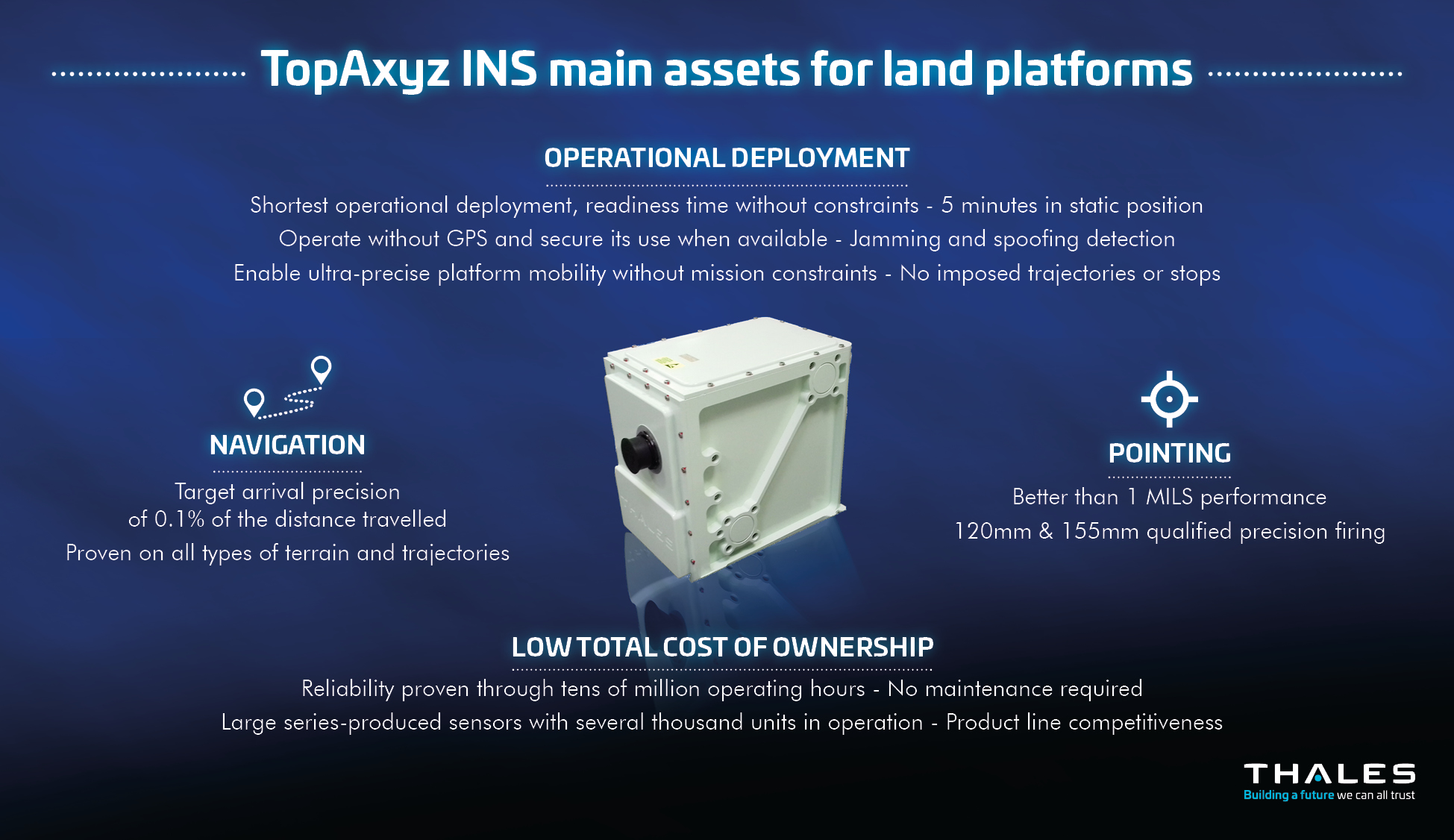 Fire qualified and proven
Artillery plays a major role in the battlefield to give land forces superiority on the ground. Beyond accuracy, resistance to repetitive high shocks is vital to ensure mission performance, availability and reliability. TopAxyz meets these stringent operational requirements and has been qualified and fired on 80-120mm mobile mortars. On the 155mm Self Propelled Gun Howitzer, TopAxyz has also demonstrated its capability to deliver precision strikes under any conditions.
Accurate targeting and pointing
Today collateral damage combining with mission readiness and efficiency in a dense operational theater where GPS is denied are key drivers for every type of land operation. Targeting and pointing accuracy in the shortest possible time is a major contributing factor to attain these operational needs. To achieve this, TopAxyz provides best in class performance, better than 1mils, independently from GPS information. Full performance is reached in less than 5 minutes without any mission constraint (static mode) bringing you the highest operational readiness on the market.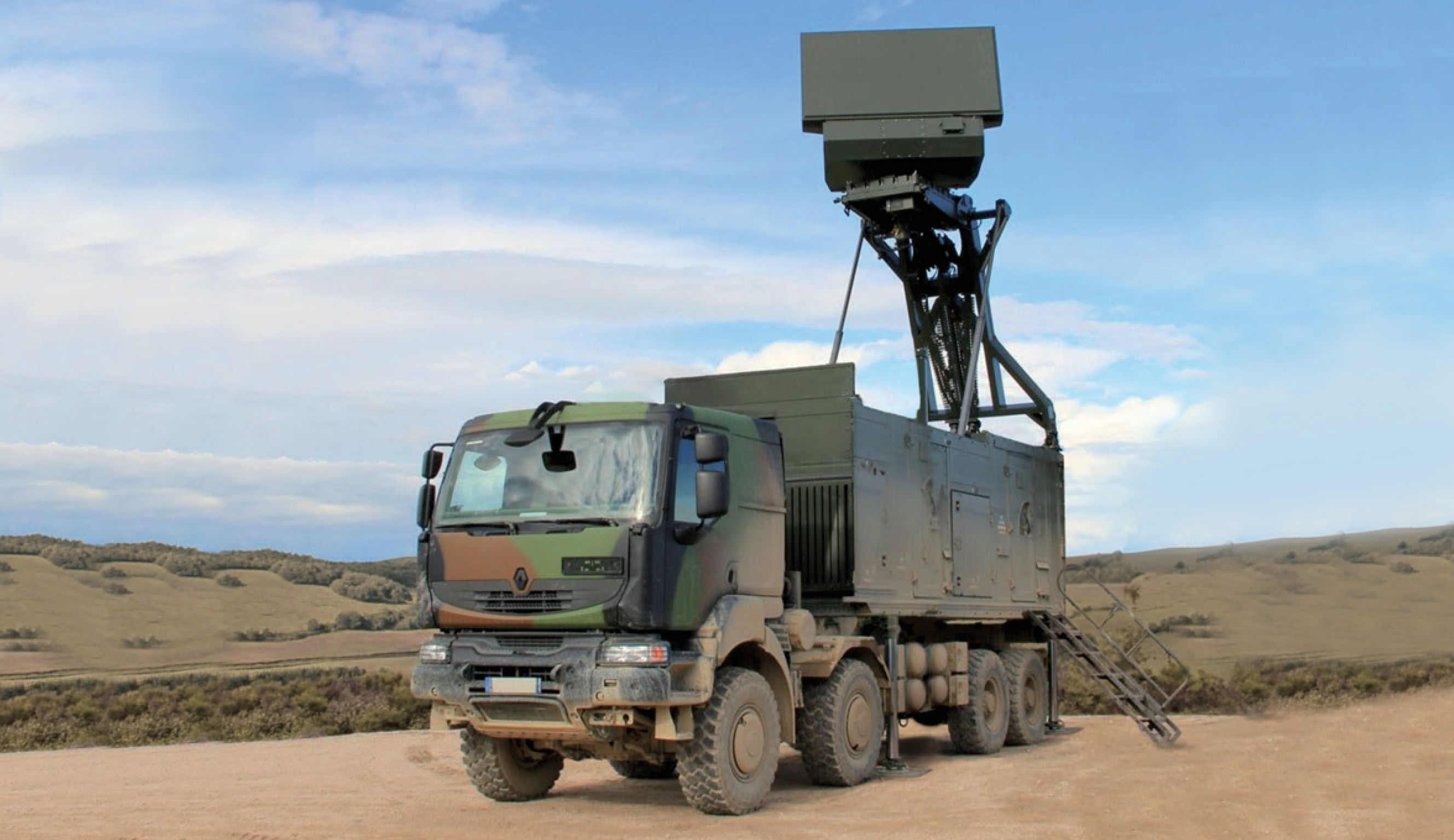 Resilient navigation in GPS denied environment
In modern battlefields where low-cost jammers and spoofers can be easily deployed, GNSS signal availability cannot be granted and Position, Navigation and Timing (PNT) information cannot be fully blind trusted. To maximize mission continuity and efficiency, TopAxyz uses GPS information data when available and deploys a cutting-edge new GPS spoofing detection algorithm allowing you to rely on a trusted and accurate navigation. When GPS spoofing is detected, it provides safe recovery resilient navigation capabilities to safely pursue your mission.
In a complete Electronic Warfare (EW) environment conditions where GNSS is denied (GPS, Galileo, Beidou...), TopAxyz offers an unrivalled resilient navigation accuracy of up to 0.1% Distance Travelled (DT) without any constraint in your mission such as required stop (ZUPT), manual position update (PUPT),  trajectory constraints, etc.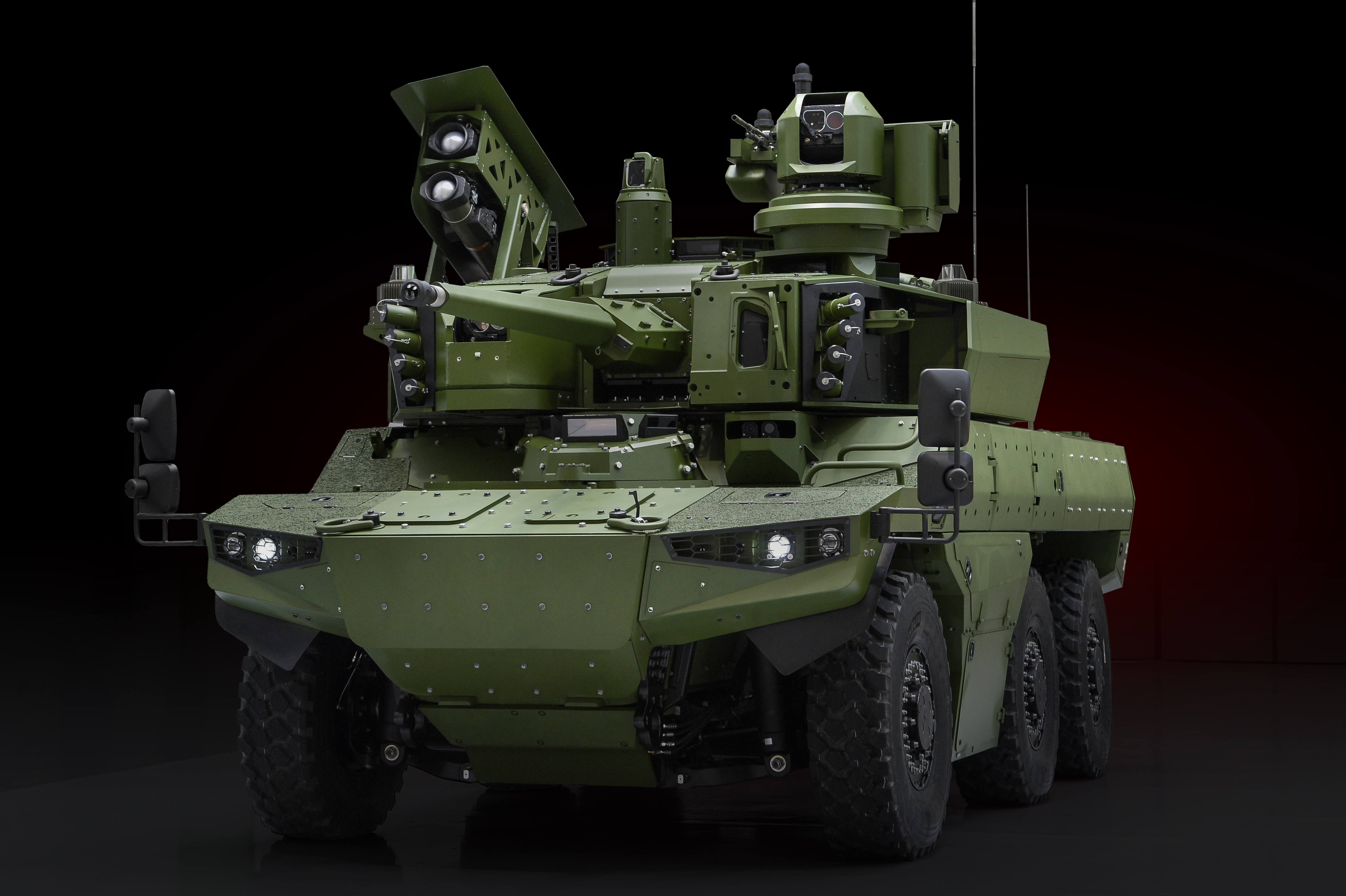 An Inertial Navigation System (INS) computes multiple vital and critical information used by the mobile platform system to operate its mission. The smooth equipment integration of TopAxyz is guaranteed through truly generic performance that is independent from vehicle characteristics and can be demonstrated during the first navigation. Standard interfaces (NMEA 0183, IEEE 802.3), associated with automatic and autonomous equipment behaviour, will contribute to your program success. TopAxyz has also been developed and qualified against the latest international standards (MIL-STD-1275-E, MIL-STD-810-G, MIL-STD-461-F) ensuring compliance with your processes and environment.
Maintenance-free and proven reliability
Armies are under constant pressure to reduce their operational and maintenance costs to maximize their budgetary effectiveness. Equipment reliability and availability are major contributors to achieve this goal. TopAxyz is maintenance-free (no calibration) throughout the product lifecycle and its Inertial Measurement Unit (IMU) boasts reliability levels superior to 150,000 hours of Mean Time Between Failure (MTBF) proven on tens of millions of cumulated operating hours since 2015. This demonstrable track record contributes significantly to your system availability in operation and reduce drastically your customer cost of ownership.
Adopting a new solution can generate some doubt regarding the ability of the equipment to fulfil your commitment in your environment without any constraints on your program. Therefore, Thales proposes a courtesy loan product within a short lead-time to enable comprehensive evaluation in your operational environment, by demonstrating its pointing and navigation performance in order to fulfil your needs. 
Product availability and program support
Thales owns and masters all critical technologies from accelerometer to high-accuracy Ring Laser Gyrometer (RLG) that are designed and manufactured in its factory in France. 
Thanks to its involvement in major civilian (Airbus A350) and flagship defense programs (SCORPION - French MoD), TopAxyz is offered with a very short lead-time, and product support is guaranteed throughout the longest program lifetimes.