GEONAV IoT is an innovative Thales IoT solution, allowing real-time Indoor/Outdoor precise (<1m) tracking at PNT (Position, Navigation, Timing) User level and available worldwide.
GEONAV IoT positioning algorithms take advantage of two existing positioning technologies that have already proven themselves: E-GNSS (European Global Navigation Satellite System) and Ultra-Wide Band (UWB).
In constrained areas, the GEONAV IoT solution improves GNSS positioning, by deploying a light UWB infrastructure computing an augmented GNSS-UWB PVT (Position, Velocity, Timing) information.
The main specification for this solution is portability, making it possible to run the software in conventional IT infrastructures like PCs and servers but also on mobile platforms like smartphones, tablets and embedded devices like IoT platforms.
The GEONAV IoT solution offers the following benefits:
Locate people or assets with high precision in all environments, even in constrained areas.
Move from indoors to outdoors (and vice versa) without discontinuity on location.
Integrate embedded intelligence (specific sensors, autonomy, packaging etc.).
Use IoT to transmit computed data (position, intelligence etc.) in real time on a public or private network.
Choose the best communication protocol for each use case (5G, Lora, Sigfox etc.).
Display computed data on a supervision tool.
In 2019, the European Global Navigation System Agency (GSA) chose the GEONAV IoT solution to take part in Horizon 2020 (H2020), an European funding programme made to support research, technological development and innovation. Under this programme, the GEONAV IoT solution will be further developed for three use cases (elite sport, asset management, autonomous drones). For this purpose, Thales set up a consortium with various European partners.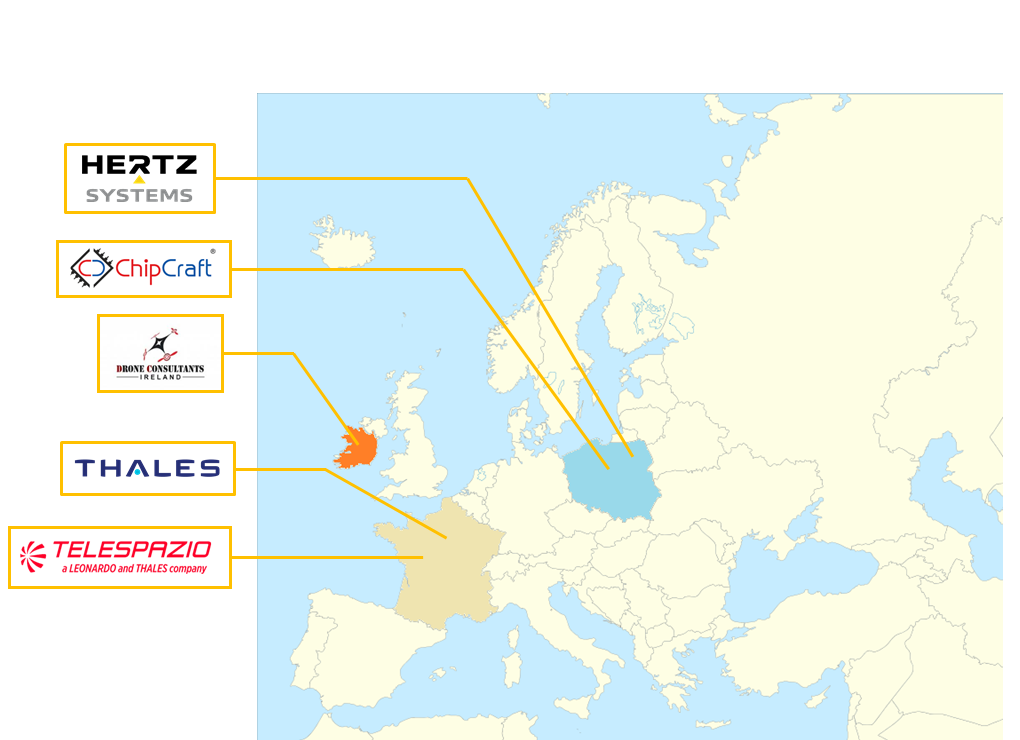 Thales, as leader of the consortium, has responsibility for the overall solution and development of all GEONAV IoT firmware and software (positioning library).

Hertz Systems is in charge of GEONAV IoT hardware production and its industrialization.

ChipCraft is providing a dual-frequency GNSS chipset, called NaviSoC which will be integrated in GEONAV IoT devices.

Drone Consultants Ireland, a drone manufacturer, is in charge of integrating and testing GEONAV IoT for the autonomous drones use case.

Teles

pazio is in charge of dissemination activities in order to prepare for operational use.
12/2/2020
6/18/2020
12/16/2019

Thales participated in GSA User Consultation Platform as part of the European Space Week. GEONAV IoT has been presented during the Mass Market session with the Elite Sport and Asset Tracking use cases.

Telespazio France and Thales have presented GEONAV IoT during the "Power-efficient positioning for the IoT" Webinar organized by the #GSA gathering more than 100 participants.

> To know more read the article: IoT positioning in the spotlight at GSA webinar

The project has been launched for a 24 month journey!
The kick-off meeting took place in GSA headquarters in Prague with consortium representatives from Thales, Drone Consultants Ireland, Telespazio France, Chipcraft.

 
 
 
The GEONAV IoT solution follows the following architecture:
GEONAV IoT is composed of:
User terminal devices:
Location algorithms based on GNSS and UWB.

Embedded intelligence to manage IoT information depending on each use case.

Specific firmware.

Communication module to receive GNSS & UWB measurements and transmit IoT information.
UWB beacons (pseudolites):
Specific firmware for calibration and time synchronisation functions.

Communication module to provide UWB measurements and receive synchronisation information.
Under the H2020 programme, the overall solution will be updated with two new functionalities to improve performance:
Integration of the dual-frequency GNSS chipset.
GEONAV IoT is primarily aimed at location based services (LBS) markets. Thales has tested this solution on three specific markets with partners.
Elite Sport
Example : monitoring of  Rugby players
The GEONAV IoT solution can be used in elite sport to monitor player position and performance.
This use case has been investigated for rugby players, in partnership with the French Rugby Federation's R&D department. The partners have tested the ability of the solution to monitor players' performance and safety in three types of environments: indoors (covered stadiums), indoors/outdoors (partially covered stadiums) and outdoors (uncovered stadiums, training fields, etc.). In this case, the GEONAV IoT device computes and transmits a set of information on the player in real time (1 Hz frequency):
Position and speed.

Acceleration.

Heart rate (by Bluetooth connection to the cardio belt).

Battery remaining.

Impact detection.

Etc.
Devices are also designed in order to respect World Rugby regulation (size, weight, resistance to impacts etc.).
 Find out more about our research partnership with ESA entrusted by the performance department of the French Federation of Rugby!
Industry - Asset management
Example : location of high-value equipment inside industrial sites
The GEONAV IoT solution can be used industry, to monitor the positions of equipments and tools inside industrial sites.
This use case has been tested for military vehicle parts in partnership with Nexter Systems.
Nexter Systems uses the GEONAV IoT solution to precisely locate equipment at regular intervals (every 6 hours), and to track machines and tools on their production sites and during inter-site transit. GEONAV IoT meets the requirements of two industrial use cases:
Production process monitoring: precise indoor/outdoor location of equipment to monitor physical position of assets in the workshop throughout the production process (integration, tests, quality and shipping).

Value-added tooling geolocation for specific tools (crimping pliers, torque wrenches, power supply or tests modules, etc.) used on two production sites 40 km apart: permanent location of assets improves production planning and efficiency and monitors tool calibration.
This use case needs specific autonomy management to reach up to 18 months of autonomy.
Autonomous drones
Example : location of autonomous drones used for meal delivery
The GEONAV IoT solution is currently being adapted to be integrated inside autonomous drones, in order to replace the GPS chipset they currently use. Position and speed are computed in real time and directly sent to the drone.
This use case is being developed in partnership with Drone Consultants Ireland, an autonomous drone manufacturer, and an end user, Manna Aero, which uses drones for home delivery.
This project has received funding from the European GNSS Agency under the European Union's Horizon 2020 research and innovation programme  (grant agreement No 870249).
The opinions expressed in this document reflect only the author's view and in no way reflect the European Commission's opinions. The European Commission is not responsible for any use that may be made of the information it contains.